In an Asian sky, on a Japanese plane,
I remembered Pearl and the Enola Gay.
No more apologies, no more guilt;
On love and light, let peace be built!

Southeast Pacific
May 1995
Osaka, Japan - July 2000
Richard Seibert
Just checking in from a great trip to Osaka. The city of Osaka is about 4 - 5 hours away by car. On base, we can rent cars/vans or rv's and the rental includes free toll passes. The toll fees are the most expensive part of traveling in Japan by car.

Anyway, with Alisa in Australia until Aug 15th, Nick, Allie and I went on a trip to Osaka for a fun adventure. Originally, we planned a camping trip on an island on the Japan Sea. But do to a tropical cyclone warning, we decided to go city instead.

We arrived at Osaka around 12:00 noon on Saturday. We checked into our hotel. The Hotel Seagull, every room has a view of the Osaka Bay. We then went straight into the Osaka Aquarium (Kaiyukan). This is an incredible facility. It is entitled "the ring of fire" as it highlights various marine environments found around a belt of volcanic activity around the Pacific. Some of the exhibits were the Aleutian Islands, Coast of Chile, and of course Monterey Bay.

The highlight of the visit was the giant whale shark. It is HUGE! and we got to see it during the feeding.

After the aquarium, we went on a ride on the World's Largest Ferris Wheel (it took about 20 minutes to go all the way around) IT was night time and you could see all around Osaka Bay.

The next day we went to the Suntory Art Museum. They happened to have a visiting exhibit entitled "Snoopy in Museum" with Snoopy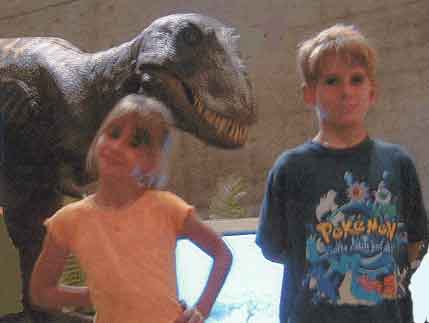 stuffed dolls that were wearing different outfits from designers around the world (Even LLBEAN had a designer snoopy). It was like its a small world, only with snoopy. There was also artwork by Tom Everhart, he paints "peanuts characters with his feet, hands and other objects (yes brushes) but sometimes shoe horns. And we saw a IMAX movie entitled T—REX (see picture)

Anyway - we had a great time and got to miss the whole storm here in southern Japan.

---
Tokyo, Japan - April 1999
A Post Card from
Richard Seibert

Dear Nana & Granddad:
We are having a great time here in Tokyo. I am glad we did this even though it would have been more fun with Alisa. We visited the Imperial Garden (it was part of the Discovery Video - The Littlest Duckling that Nana got Allie). We had dinner at Tomy Roma's and Johnny Rockets. We walked around the Ginza and Roppongi District - we did not, however, visit the "Gas Panic" District - newly named after the gas terrorist incident. Love, Rich, Allie, Nick

Kanilnarimon --Asakusa depicts a typical Japanese atmosphere. The picture shows the famed Kanilnarimon paper lantern, the picture of which remains for a long time in the memories of it's foreign visitors.
Continued on:
Iwakuni, Japan by Vicky Blitz (Parts 1-3)
Iwakuni, Japan by Vicky Blitz (Parts 4-6)

THINK GLOBALLY - ACT LOCALLY - PRAY FOR WORLD PEACE