Zimbabwe
Paola Gianturco and Toby Tuttle
from their book
In Her Hands: Craftswomen Changing the World
Monacelli Press, 2000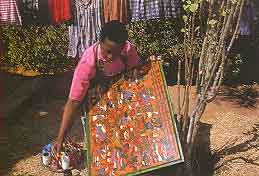 Women in Weya, a communal area in eastern Zimbabwe, created and internationally recognized art style based on vivid, animated illustrations of traditional Shona life, which is rooted in reverence for ancestors and a belief in spirits. This detail from Faina Shonge's painting describes village life; sitting among other musicians with indigenous instruments, a woman plays the thumb piano.
Five years ago, at age sixteen, Faina Shonge was among the youngest artists selected to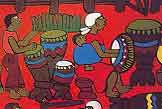 study at the Weya Community Training Centre. She and other art students assumed the teacher was joking when she told them that they could earn money from painting. An exhibition at the National Gallery of Zimbabwe in Harare, at which much of their work sold the first evening, provided persuasive, heartening proof.
Gianturco and Tuttle photographed and interviewed ninety craftswomen in twenty-eight villages in twelve countries on four continents. For more information, visit:
Editor's Note: The above was obtained from the calendar, In Her Hands - Craftswomen Changing the World, published by Pomegranate Communications, Inc., Box 6099, Rohnert Park, California 94927, USA. For more information or to place an order: 800-227-1428; www.pomegranate.com
Think Globally - Act Locally - Pray for World Peace