Switzerland - August 1995

Vicky Blitz

For thirty-five years I had dreamed of a visit to Switzerland. Of course, in those early years,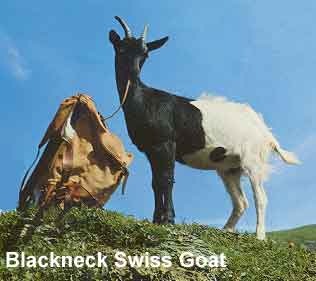 having been a ski instructor for ten years in what was jokingly called the Banana Belt (Pennsylvania and Maryland), those dreams were of Switzerland in the winter. Now, in the winter of my life, I would be seeing Switzerland in the summer, instead. However, winter or summer, this is definitely a rewarding trip with vistas so beautiful that I won't even attempt to describe them.

My friend, Kay and I booked onto a Globus Tour of fifteen days, entitled the Alpine Countries, which was to take us through Southern Germany, Austria, Northern Italy and Switzerland. We were in Switzerland for five glorious days and had 38 people in our tour group. Upon arriving in this country of my dreams, we had already been on tour for nine days and gone through Germany, Austria and dipped once across the boarder into Italy.

Our tour guide, Wesley Carl, was very interesting, filled with enough fascinating information to choke a horse. He spoke of the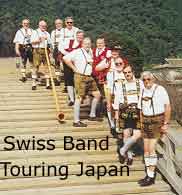 land-locked, topographically challenged Swiss, who, for many years had only the mountains to protect their boarders, and a small army that found it difficult to be at the right spot at the right time, to ward off invading armies. Today, however, with the world's advanced technology, we find a different situation. For example, Wesley Carl said, the Swiss have built many of their military installations, especially the runways, inside the mountains, so that when another country tries to invade, they open their camouflaged runway doors and the planes take off, right out of the mountain. And, to prevent tanks from coming down the highways to invade, the Swiss now have designed and built into the roads, heavy iron spikes, that come right up out of the ground and will deter any foreign tank invasion. Good for them!

The road from Innsbruck, Austria, down into St. Moritz, Switzerland certainly must be unsurpassable in beauty by any other place in the world. It was truly, truly awesome! Steep mountains (some peaks exceeding 12,000 feet), waterfalls, rivers, green grass patches, rocks, larch tree forests, deep blue lakes! Sometimes, all of the above in the same panoramic view.

After a night in St. Moritz, we went on, dipping into a section of Italy that included the Maloja Pass with its thirteen hairpin turns, and going down into the Bregaglia Valley. Pretty exciting stuff. Our wonderful bus driver, Salvatore, had to be the best. He maneuvered that bus, not only through those hairpin turns, but through ancient streets in little towns which were originally designed to accommodate nothing larger than a farmer's cart. We were impressed.
Our drive took us along the shore of the beautiful Italian Lake Como and then back to the southern tip of Switzerland, and Lugano, where we spent the night. Next morning we took a ferry across Lake Lugano and into the elegant little Italian town of Stresa on the shore of Lake Maggiore, where, surprise, surprise, they had palm trees, which I never expected to encounter on an Alpine trip. It seems that vegetation south of the Alps is Mediterranean, so in addition to the palm trees they also have chestnut groves, vineyards, olive and fig trees ... only two or three hours away from glaciers.. .I've learned to expect the unexpected on these trips.

After crossing the Simplon Pass into the Swiss Valais, we finally reached Tasch and boarded a train for an "overnight" in Zermatt. This lovely little town is a mecca for skiers, mountain climbers, hikers, etc. and there are only electric wagons, here, to take your baggage to your hotel or inn. No cars. You are expected to walk. So, Kay and I felt we were quite lucky they took pity on us, (Kay with her bad foot and me with my bad knee) and let us ride up the steep hill to our chalet. It was raining, off and on, while we were in Zermatt, so we skipped the $50.00 train ride over to a glacier to view the Matterhorn. We were right to do so. Those who went did not get to see the Matterhorn, as it was socked in with rain clouds.

Instead, we did a little shopping in town, and took the opportunity to purchase souvenirs and gifts for friends and relatives back home. At the appropriate time, we settled down at a
table, on the balcony of a cafe, with our coffee, to watch the local goat herders, bring their goats through town. Now, having raised Toggenberg and Alpine Goats, fifteen years earlier, I had expected to see THOSE types of goats, coming through the town. But in Zermatt, they raise Blacknecks! I had never heard of them. The front half of the goat is black and at the middle, the coat changes to white. Just imagine this. As the herd approaches, you see a herd of black goats, and as it leaves, you seem to be looking at the rumps of a herd of white goats. This was, indeed, the surprise of the entire trip. And, every single goat in that herd was marked the same. They must cull out the ones that are born with different markings.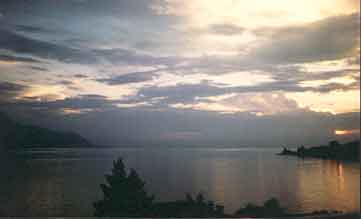 Several unavoidable delays brought us into Lake Geneva late. Tired, Kay and I settled into our room, while the rest of the group went on the see the famous Chillon Castle. But we had such a lovely view of the lake, the French Alps on the opposite shore, and the sun set, and it was such a peaceful moment, we felt we had chosen the better deal. No regrets!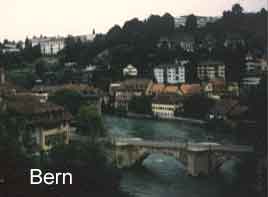 Next day's drive took us through beautiful Bern, the Swiss capitol, which was just as I had imagined. Charming. We stopped only for pictures. At Interlocken, a pretty little town, Kay, our new friend, Ann, and I took a delightful horse and buggy ride through town during our lunch hour.

After going through the Brunig Pass, we arrived in lovely Lucerne early enough to take a ride through the city, visit the transportation museum, and view their Swiss-a-rama movie. We also stopped to see "The Lion", a bias-relief, carved in the side of a cliff--a memorial to the men who were killed, after they had surrendered to Napoleon, with the promise they would be spared and returned to their homes. The lion is wounded, sad, but still alive, and will rise again, someday. Perhaps it was the tone of our tour leader's voice, but I found it very moving.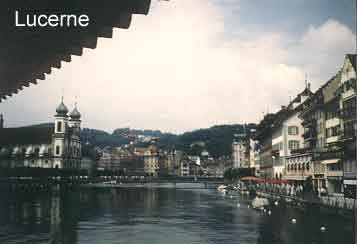 Later, we returned to the area to visit the Glaciereum Museum which showed how the alps were formed, what Lucerne looked like in 1792, different types of home architecture, what the Alps looked like from the air, and how pot holes were formed in rock by glaciers. This museum was adjacent to an area of rock, with those pot holes, which had been preserved for the public to see. Fascinating!

Back at the hotel, we learned that there had been an avalanche, on the road between Lake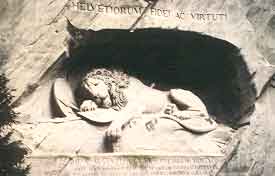 Geneva and Bern, within hours of our passing through it. Every so often, you get lucky. Had we been trapped on the other side, it is only speculation as to how much of our trip route would have been cancelled. I certainly would have hated to loose out on Lucerne. Such a lovely spot! A boat ride on the lake, surrounded by the Alps, and the verdant green shores just topped it off for me. What a lovely place to retire! If only I spoke the language, that would be the place!

THINK GLOBALLY - ACT LOCALLY - PRAY FOR WORLD PEACE