Sweden has recalled all civilian weapons. Carl came across this sculpture, made of bayonets and fire arms, during his trip there in the spring of 2001.
Isaiah 2:4 - " ...and they shall beat their swords into plowshares, and their spears into pruning hooks; nations shall not lift up sword against nation, neither shall they learn war any more."
We just returned from a conference of leaders of international churches in Stockholm.
It was great fun to be with colleagues and friends for a week and to hear gifted and talented people share thoughts on the challenges of "being Christian in different cultures". One speaker, Runar Eldebo, a Seminary Professor and Consultant to Business was especially good. He talked about his own struggle in Sweden where few people go to church but where nearly everyone is baptized, confirmed, married, and buried in the church.
During the Conference we took an overnight Ferry to Helsinki for a day of meetings with church officials there. Let me tell you, this was no Wash Island type of Ferry. this one could accommodate 400 autos, 50 trucks and had 952 rooms---a floating hotel fifteen stories high; complete with four restaurants, ship's cafeteria, nightclub shows, a casino, shops and stores and even a circus act twice each evening with Russian performers. In all about 3,000 people can live on this ship and I understand that the new Carnival Pride will be able to accommodate 5,000 people. Needless, to say it was nice for Luray who never had to cook a meal for two weeks. I think we both gained 10 pounds.
Worship is always a central part of such an event as you can well imagine. What else would 65 Pastors and church leaders be expected to do. With such variety and talent present we experienced a smorgasbord of worship styles and experiences using the facilities of the Stockholm international church. These facilities are exceptional and include the Birger Jarl hotel attached directly to the Church and accessible from the lobby; the main sanctuary for the Swedish Congregation; a smaller side chapel for weddings and baptisms; the auditorium or theater used by the English Speaking Congregation; and still another sanctuary used by the Korean Congregation. It has take about 25 years of long range planning and persistent effort to create this international ministry in Stockholm, but it is now a dynamic, flourishing complex of social ministry, educational and worshipping fellowships comprised of Swedish, Korean, and English Speaking Internationals. A day-long event was also held up on the shores of the Baltic about 30 miles out of the city at the congregation's retreat center called Stensnas. It would be comparable to one of our Church Conference or Retreat Centers in the States. There are programs in the summer and winter for various age groups, but individuals can also go and enjoy the surroundings. I took time to go canoeing on the Baltic with one of the former Pastors of our Vienna Church, Susan Thomas. Susan and her husband, Michael, used to be the Pastors of the University Church in Cambridge, MA.
[Continued: Click on Countries - Norway]


Sweden - July 1988
Vicky Blitz
Having spent ten days in Norway and another seven days in Finland, our Globus Tour group left Helsinki for an over-night ferry ride to the home of my grandfather and great great grandmother, Stockholm, Sweden. I looked forward to it with great anticipation, never giving it a thought that the ferry ride itself would be almost as interesting.
The Silja Line out of Stockholm provided us with ferry that actually was a floating city. Our bus headed for the docks at 4:00 in the afternoon and it must have taken over an hour, maybe two, before all the tour busses, cars and walk-on-riders were aboard and we actually left the dock. In my wildest dreams I could not have imagined such an enormous ship nor operation. I stood on deck and watched the loading and the departure and then I moved to the bow and watched as we sailed into the Baltic Sea, where I stayed until dinner at 8:00. And dinner was an elegant smorgasbord with each dish a gourmet's delight. I have never in my life tasted more delicious food.
Although I was traveling alone with the tour group, we had to double up for this night aboard the ferry and I was very surprised at our accommodations which were twice the size as what I had expected. They were wonderful. I was also interested to discover that the ship was so large I could neither hear nor feel the ship's engines, during the night.
Because I didn't want to miss any part of our arrival in Stockholm, I was up at 5:00 am, dressed

and got out on deck. The fog that had rolled in during the night was still with us but as the sun rose, it began to burn off and clear up. I had not expected to see so many islands, all the way to the harbor. Small islands, large islands; almost all had a residence, a few had an industrial building of some sort. Stockholm has 25,000 - 30,000 islands in its vicinity and the city itself is actually built on 14 of them. Breakfast was another smorgasbord delight, and then we disembarked at 9:00 am.
As we drove through the city to check into our hotel, I smiled as we passed as long line of Swedish kids waiting in a line to get tickets for a Bruce Springsteen concert that night. I did not smile when, in the next block or two, we passed a long white wall with black spray paint, "U.S.A." These Scandinavian countries are so clean you seldom see a gum wrapper on the street. Either they have such self respect or the laws against it are so tough, you never see graffiti. So when I saw the U.S.A. spray painted on the wall I was embarrassed and ashamed.
After checking in to our rooms, we were right back on the bus and a tour of the city. We learned that Stockholm has about one and a half million people, not counting the suburbs. The city dates back to 1252.
We passed the House of Parliament, the Town Hall, the Riddarhoim Church (burial site of the Swedish kings), their modem sky-scrapers, smart shops, and apartments. We walked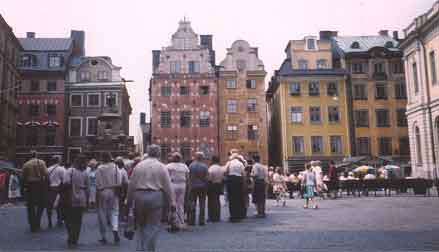 through the Old Town, dating back to the seventeenth century and we took pictures of the lovely, quaint, old houses, court yards, gardens and a statue of St George the Dragon Slayer. We stood in the square [see picture] where the Danish king came to crown himself king of Sweden following his triumph over them, and where, after his coronation, he immediately had 80 to 90 Swedes put to death in the square. It was reportedly a pretty bloody affair and the ally through which the heads rolled was not used for years in respect for those who died there. The king's name was Christian and the Danes called him Christian the Good. The Swedes, however, called him Christian the Evil.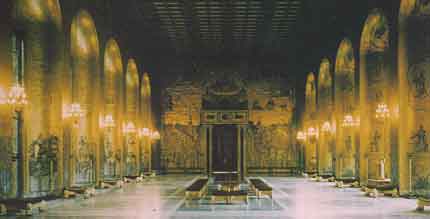 We toured the City Hall which reminded several of us of the Doges Palace in Venice. It was built in 1923 and the brick was hand chiseled, creating a beautiful effect. We entered a very large room called the Blue Room but it wasn't and the explanation was this: the intent was to make it blue but the architect like the plain brick effect so well he left it bare, but they kept the name. The Nobel Prize Dinner used to be held in the Gold Room [see picture] which had
the most appropriate and beautiful muriel made of tiny ceramic tiles, many of which were 23K gold leaf tiles, purchased from Germany. However, the Nobel Prize Dinner has become so large they are now having it in the Blue Room which is larger.

The ceiling in the Council Room in reminiscent of Viking houses with the ceiling painted blue with stars and moon, or, structurally like a Viking boat. We also went the the Bell Tower Room [see picture], the Wedding Room, and Prince Eugene's Gallery (the artist prince), the latter of which is the area where the Nobel Prize attendees come to relax after their dinner (then they go to the Gold Room to dance).

The heat did not seem to bother the teens in the picture but it was finally
getting to me, so, while many of our group got off the bus to go on their own to tour Wasa or the Medieval Museum or Skansen Park or just roam the street of Old Town or take a boat ride tour or shop, I stayed on the bus, retreated to my room and slept and watched TV, promising myself I would return someday and see those places on my own or with my husband. I had all the windows open and there seemed to be no breeze. There was a noisy wedding across the street from our hotel and the Bruce Springstein Concert was cranking up so the open window provided me with a cacophony of worldly sounds. Eventually it rained and cooled things off just a little.
Further notes on Sweden: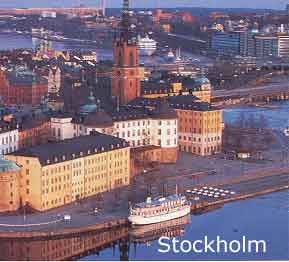 Sweden is the fourth largest European country and has 96,ooo lakes, but unlike Finland, Sweden's lakes are are well defined and not confusing water complexes. The Baltic Sea freezes in the winter. The freeze starts, of course, in the Arctic Circle and works it's way south to Stockholm. During a normal to severe winter, ice breaker ships are needed to keep the port open. Occasionally, the winter is mild enough and the ice breakers might not be used at all, but this would be extremely rare.

(And so, on to Denmark)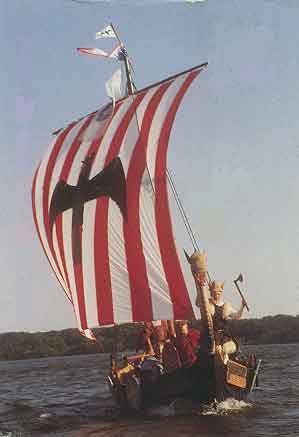 If you are interested in becoming a member
of our crew or board, or if your interest is in our
history, sailing period dress or ethnic heritage,
we can use your help.
Contact us at: WWW.Vikingship.org
Washington, D.C. www.swedenemb.org