| | | |
| --- | --- | --- |
| Singapore | | |

Singapore - April 2001
Captain Edward Caricato, USMC
[Editor's Note: Capt. Caricato wrote the following letter during a six month deployment aboard the USS Boxer (similar to a miniature aircraft carrier). He was the Executive Officer for a Marine field artillery battery. Prior to Singapore, they had been to East Timor.]
We have just departed Singapore which was a pseudo-liberty port. I say that because it was actually considered a working port meaning we conducted some training and still had work obligations during the day. However, I did manage to get out and experience as much of Singapore as possible in my short time here.
We spent a day training at a "Singaporese" military base conducting MOUT (military operations on urban terrain). In laymen's' terms, fighting in cities. The training was o.k. but the highlight was hooking up with my "Singaporese" counterpart, Yup. Yup, his name was Yup…. This was a good thing because he gave me all the info I needed to really enjoy myself while on the island.
Singapore was formerly a British colony but numerous cultures are present there today. These mainly consist of Indian/Pakistani, Chinese, Malay and British. Despite all this the whole island is extremely "western friendly" The administrative language there is English so we had no problems getting around.
Some weird info on Singapore:
The exchange rate is $1 US - $1.77 sing (not so weird, but important)
There is a 300% tax on tobacco and alcohol. The prevalent beer there is Tiger which is 90 cents a mug but after tax you end up paying about $6 (Sing). A pack of Marlboros was $7.
There is a 100% on automobiles. It is a small island and the government attempts to discourage vehicle congestion. A Toyota Camry all total after taxes and fees goes for about $50,000-$60,000 US. And the kicker is that you only own it for 10 years. After 10 years you basically have to buy it again from the government if you want to keep it. This is made up for by an amazing public and mass transit system. Cabs are pretty cheap, you can take their subway system from one end of the island to the other for about $1.40 sing and they have rickshaws which aren't as cheap but are just fun.
Overall, Singapore was great. Imagine Times Square in NY, surrounded by a tropical island but much, much cleaner and absolutely safe 24 hours a day. For those that can't go without western culture it is just like being at home if you want. McDonalds, Black Angus, Hooters and more malls than you can imagine. But if you want to experience different cultures it is also a great place. When we go out on liberty we have to have a "liberty buddy" the whole time so no one is out wandering around by themselves. My liberty buddy Scott and I chose to avoid Planet Hollywood and California Pizza Kitchen and go for the culture. We didn't do much shopping (there wasn't too much novelty in that area) but instead ate our way through Singapore. The food was unbelievable and pretty cheap, especially in the local, out of the way markets and shops. I will admit that we ate some things that I am not too sure what it was and really have no desire to now either but it all tasted great especially considering we were washing it down with a little Tiger beer.
[Continued: Click on Countries - Thailand].
Singapore - May 1995

Vicky Blitz


[Previous: Click on Countries - Indonesia, scroll down to Bali]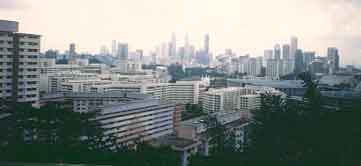 There were three of us on this Unescorted Tour, Tina, Simone' and me. We flew out of Bali around mid day and there were so few people aboard the plane, you could switch your seat if you wanted. The food in THESE planes are exceptional, but then, Indonesian/Asian food is my favorite.

We were met at the air port by a driver, who spoke little or no English, which was a bit
frustrating because we were excited about being in this part of the world and had many questions, which went unanswered for the time being.

Simone' had a dinner date with a psychiatrist she met on the plane. Tina went exploring and didn't return until 10:30 pm. And, I took a shower, washed out a few things, and had a relaxing dinner in my room.

The next morning, Sunday, we had a wonderful leisurely Asian breakfast in the dinning room, and waited for our driver and guide, to take us on a city tour.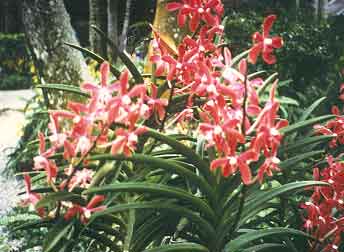 We had about fifteen or twenty other tourists in our bus as we went forth to explore. What a beautiful, modern city, Singapore! We drove through the business district and saw city hall and other government buildings. We passed a large, very green field within view of the city skyscrapers, where a group of young women were warming up for some sports event. Practice, a game, softball, track? Then, on to Chinatown, where we stopped at a Hindu Temple. We had to take off our shoes to enter, and we ran the bell,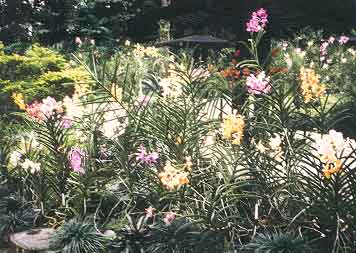 which hangs outside the door, both before entering and upon leaving.

Our cute little Chinese tour guide, Tanny, was not only charming, but obviously intelligent, well educated, and an experienced, professional tour guide. She walked us through Chinatown for three or four blocks, explaining Chinese customs and points of interest, as we went. She showed us how some shops had butterfly shaped vents over the door, which were intended to encourage "good spirits" to enter the shops. Also, she called our attention to a mirror on one shop that was situated in such a way, that it faced directly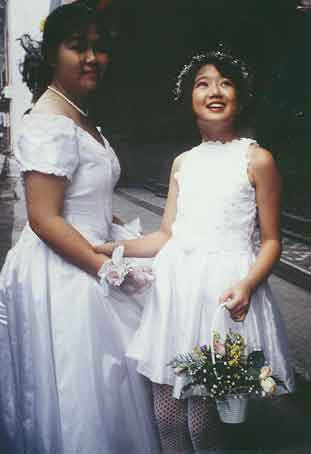 down a street that ran perpendicular into the street on which that shop resided. The purpose of the mirror was to reflect the image back at any "evil spirits" that came down that street, so those spirits would be afraid of their reflection and go away, instead of entering that shop. In addition, they had put a good luck sign over the mirror.

The next stop was a Chinese Temple where they were burning "jos", which are pieces of paper, containing prayers to their ancestors. The "jos" serves as food for the ancestors, who, being dead, no longer need material food. Just as we were leaving the temple, a wedding party arrived and we all stood there, taking pictures of the bridal party. Everyone else was centered their attention on the bride and groom, but I, rebel that I am, concentrated on the beautiful little flower girl, and what a beauty she was.
Singapore has a 300 foot "mountain", Mt. Faber. As we were driving up to the top of Mt. Faber to take pictures of the view, the rain clouds, which had been threatening all morning, opened up, and it poured. So, we spent our time there, browsing the gift shop and buying souvenirs. Just as we were about to board the bus and leave, the sun came out and we got our pictures of the harbor after all.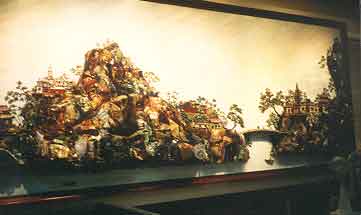 The artisans of Singapore have a unique little craft I have never seen before, nor since. I was fascinated! They take precious and semi-precious stones and design pictures and art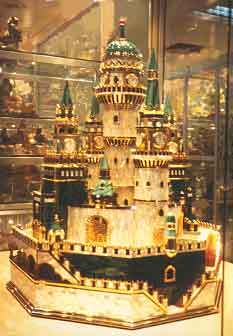 objects, which are truly beautiful, as well as expensive. Some of these objects have computer chips implanted in them so, when you clap your hands, various parts of the picture light up, such as the eyes of the eagle, or give off sounds, such as geese honking and dogs barking, or whatever. I truly enjoyed this stop and really held myself back from taking too many pictures.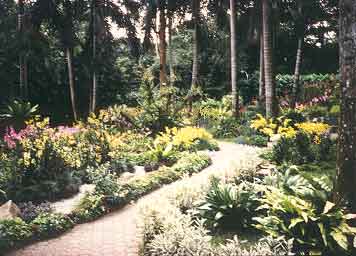 It was a good decision, not to take too many pictures at the art gallery, because our last stop was at the botanical gardens, where we made a visit to their orchid gardens. So many different species! Such stunning colors! Such exotic orchid designs. And, no, I didn't have enough film with me. I could have used two more rolls. I wanted them all. The flowers you see on this page are all orchids.
The final country on this trip was Thailand and we had another flight with very few people aboard so we could sit anywhere we wanted. It was a short flight, only one hour and thirty minutes but it took all day.
There are so many flowers in the garden,
Emitting love and joy and happiness galore.
But not one of them can hold a candle
To that little flower girl from Singapore.
V. Blitz
[Continued: Click on Countries - Thailand]
THINK GLOBALLY - ACT LOCALLY - PRAY FOR WORLD PEACE