San Marino - May 1986
by
Vicky Blitz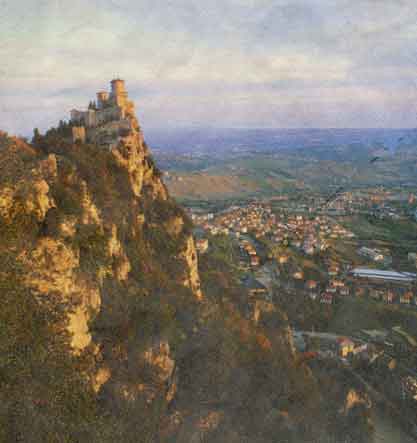 Located south of Venice, northeast of Florence and north of Assisi, this little country is near the east coast but totally surrounded by Italy. It has no airport, no train station and no harbor. San Marino is one of the smallest countries in the world and one of the oldest, dating back to the year 301. It only had about 25,000 residents in 1986 but has an army of ambassadors all over the world and participates in the Olympics. Mainly San Marino supports itself through tourism with more than 3 million people visiting annually. How small is it? Only 23.5 square miles or about one-third the size of Washington, D.C.
By Shaun Egan/Stone
In place of a president, king, tsar, etc. the elected government of San Marino selects TWO Captains-Regent, chosen every six months (see picture - From the Washington Post, Nov. 15, 2000).
Our tour bus took us up Mount Titano which is the central part of the country. We were there for only about 2 hours. I went shopping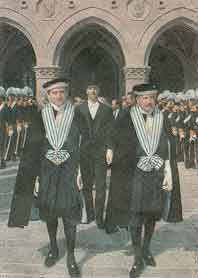 with a couple from our group and purchased a necklace for my daughter. Then we decided to have lunch in a little cafe as suggested by our tour guide, Bruno.
Upon arriving, the waiter immediately showed us to the rear of the room and presented us with menus which indicated lunches at 7,000L - 8,000L, but I said I wanted pizza and when he said he didn't have any, I brought him outside and showed him the pizza in the window. THEN he said I would have to eat in another section of the cafe, which was certainly OK with me. My other two friends joined me and another couple saw us and so we were five of us, all having pizza at 2,000L each. My craving for pizza cost the cafe a total of at least 20,000L.
By Venanzio Raggi-Associated Press
Think Globally - Act Locally - Pray for World Peace