Moscow, Russia - June and July 1990

V. Blitz


Having worked in the personnel office of the Central Intelligence Agency for 2 1/2 years in the 1950's, I was well programmed to know that I never EVER wanted to travel to any of the Iron Curtain Countries no matter how long I lived. But by 1990 I had already been to China which was quite wonderful and this sudden urge came over me to see Russia, too.

My pre-conceived notions were almost immediately altered upon arriving when we drove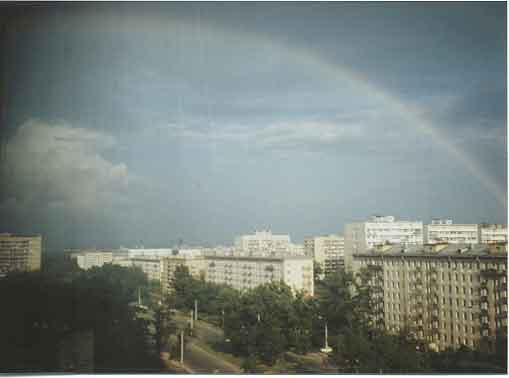 through the streets of Moscow and arrived at the enormous hotel Cosmos, only to be told they had over-booked and we were without rooms this first night in the Soviet Union. But, not to worry, they took us out to a cruise ship, sitting at the dock and gave us nice state rooms, which was a pleasure for me as I considered this part of the adventure and I like being on a ship or a boat any time. (Note: Picture of rainbow over Moscow the year before communism fell.)

Driving through the city we all observed certain facts: the faces of the people in Moscow could be the faces of Americans. I saw many who reminded me of my husband's relatives and some that reminded me of mine. But the once beautiful and imposing city of Moscow looked like an unkempt old lady who had seen better days. My impressions were of shoddy workmanship, below standard (for the U.S.) mortar, lack of repair, uncut grass and weeds gave the appearance to this American eye of uncaring, boring and dull or even sad and depressed. It appeared that the mortar between the bricks did not hold up in any building very long. Then they replace the mortar and paint over it to slow down the crumbling of the bricks. On the other hand, the dinner at the hotel was excellent; the toilet paper was of better quality than I had anticipated (by 1990 I had already been to the middle east and found the toilet paper to be
more like wax paper in some places), and one member of our group pointed out that the monuments appear to be so well constructed that one might expect that they would last forever. Not necessarily so for the buildings.

My stateroom was clean if not immaculate and I had the feeling that no one else had used it before me that year. At 5:00 a.m. I awakened (jet lag of course) and got up to write in my journal. I went down the corridor to get some hot water for the coffee I always bring with me and discovered that there were two crew members, strategically placed at either end of the passageway, one pretended to be polishing a brass railing. This would become the norm throughout our trip -- at night they always had two people stationed outside your door in the hall. You can look at this two ways -- either you are being protected or you are being guarded. One thing seemed clear to me: the people who came in contact with tourists seemed to want to please. The country was economically depressed at that time and tourism was being encouraged to help relieve that situation.


The smell of auto emissions was everywhere, even in our rooms after we transferred to the Cosmos. Moscow is far enough north that in the summer the night doesn't get very dark for very long. Our tour guide informed us that there were 300 million people living in the USSR at that time throughout the 15 Republics, the largest being Russia with 150 million people with 9 million living in Moscow.

One of the highlights of our trip was Red Square with St Basil's Cathedral with it's onion domes where the tsar was so determined that it would be unique unto his city that he had all the architects blinded when it was completed. We also saw Lenin's body laying in state (supposedly preserved by some ancient Chinese method) and the changing of the guard that guards his tomb.

While we were in Red Square, I noticed a Russian family obvious tourists. Undoubtedly he
was a World War II veteran with all his war ribbons on his coat. I pointed to his decorations and then to my camera and then back to him and he agreed. Both his wife and daughter at first stepped aside but I motioned that I wanted them in the picture too. I felt it had made all three of them feel special for whatever that possible war hero had been through.


There was the famous Kremlin where we saw the Bell Tower of Ivan the Great and the Czar Bell, largest in the world, weighing more than 200 tons which was never rung because it was cracked while cooling in the ground when a fire raged above (they were at war and being invaded) and the largest cannon in the world (which has never been fired -- but had it been fired it would have been heard for 50 miles away, so they say). We visited the the Church of the Patriarchs where the tsars were crowned and the Church of the Tsars where they were buried.


We spent some time at the Pushkin Fine Arts Museum, where we marveled at the ability of students to reproduce famous statues which, to this untrained eye, appeared to be the real thing;

And then there was the Kuskova Estate Museum (where little Peter the Great assembled and organized the children of other noble families and staged Naval battles on the lake in front of his home (palace). He didn't want to play soldiers, he wanted to play sailors and had the wherewithal to do it and it certainly proved to be a bit of prophetic of what would be his destiny. (When he grew older, Peter traveled into Europe to learn how ships were built so he could return to Russia and build a Navy).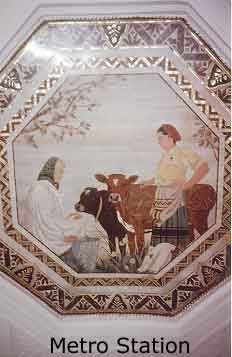 But the big surprise of the trip and my greatest excitement was the Moscow Metro. Each station in the Moscow Metro is an art gallery unto itself, each with it's own motif. Here's where I wish I had brought a couple extra rolls of film just to take pictures in the Metro. One station had elegant wooden statues and carvings, another a collection of stained glass windows, another one was done in little ceramic tiles, still another station displayed paintings. Each large picture-panel whether in ceramics, paint or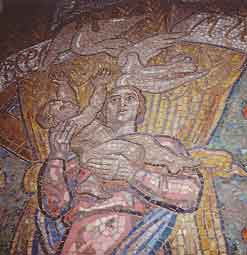 stained glass was the same size and depicted a consistent theme. For example one station theme would be moments in history, done in oils. In another station, the ceramic tile panels honored different types of workers, i.e. a farmer in one panel, a woman picking fruit in another, a mechanic in yet another, etc. Such a surprise. What a joy. These galleries were contracted by Joseph Stalin in the 1930's and during World War II were used as an air raid shelter. Anyone who visits this city would be remiss to miss the Moscow Metro.

We also drove past the Olympic Stadium, the KGB Bianko Prison, the building that houses the Bolshoi Ballet, and the impressive Moscow University. We toured the lovely and newly restored
New Maiden's Nunnery where the tsars sent their unwanted wives or troublesome sisters.
One night we experienced the Circus and what an experience! All the performers were of Olympic caliber and there were a couple very funny acts, one including a hilarious camel act that had me laughing all the way through it. At intermission they filled the arena with water and had several fascinating water acts that were unbelievable. There was water ballet and synchronized swimming and a dancing water fountain with strobe lights. I had reluctantly attended this performance because I was so tired but it was such a great show I was very glad I hadn't missed it and would recommend it to anyone traveling here.

Everyone in our tour group agreed that our four days in this city were really great, the meals were excellent, the people were nice, the tour company had done a good job and there were many interesting things to see and do. As busy as they kept us, we even had points along the way when we could take time to shop. The remainder of our 3-week trip was spent in the Ukraine, Georgia, Uzbekistan, Siberia and lastly St. Petersburg (at that time it was still being called Leningrad).
Irkutsk, Siberia - USSR - July 1990
V. Blitz

Our last night in Tashkent was a restless one for our tour group. The hotel was very noisy with people talking and laughing and slamming doors that echoed down the halls. Since we had to have our bags packed and outside our doors by 4:15 a.m. and we had to be on the bus to the airport, most of us had only about a 1 1/2 hours sleep. Our plane departed about 6:00 a.m. and we spent the entire day inroute to Irkutsk, stopping a couple times to refuel and arriving at our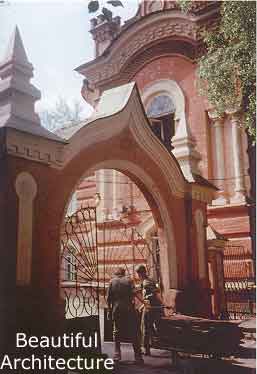 hotel about 5:00 p.m. Many of our group were coming down with terrible flu-like symptoms and diarrhea, one after another, but our tour guide had called ahead and they were waiting for us with medicine, when we arrived at our hotel in Irkutsk.

While in Uzbeckistan, I had impaled my thumb on a rose bush thorn and it had become infected, swelling up to twice it's size. It was rather interesting to experience the Russian medical system. Our tour guide went with me to the hotel infirmary, to translate. The Russian doctor was female, unsmiling, and all business-like. She put some awful-looking black goo on my thumb, wrapped it up and told me to come back again the next day. I repeated this for a total of three days, each day with a different female doctor and by the fourth day, my thumb was back to normal. I didn't have to fill out any papers or pay anything. Medicine, bandages, and the services of doctors are all free in the USSR. even for tourists.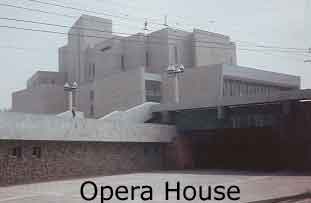 We had our dinner at 6:00 p.m. and were bussed to the lovely new opera house to see Verdi's Il Travatore at 7:30 p.m. By that time, the medicines had started taking effect and most of us were feeling a little better. Environmentally, all of us were feeling better. Any travel is stressful, that is a "given". However, when one is in a country where it is very hot, no one speaks your language but the tour guide, and everyone around you is getting sick, it is quite a relief to finally find yourself in a more Western-type country where, once again you can drink the water and brush your teeth right out of the tap. And so, we were all feeling more comfortable and were beginning to relax. We loved Siberia! It was fun and fascinating to be in Uzbeckistan but in Irkutsk, in contrast, it almost felt like home. At the opera, particularly, we could have been anywhere in Europe or the U.S.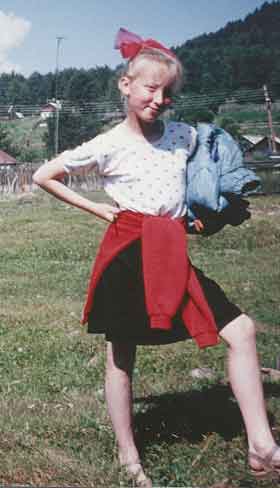 The next day they took us on a long ride (2 - 3 hours), through a Siberian forest of birches and conifers, to a little village on Lake Baikal. We walked through the village of perhaps fifty houses, taking pictures of their flowers, houses, the church, the landscape, their cows and kids. The young girl in the picture was walking, briskly along the road. I hand-signaled her, asking if I could take her picture, she wheeled around and struck this pose as if she had done it a hundred times. She was adorable and I gave her one of my holographic-painted pencils (which I had brought with me for that purpose), and she took it and bounded off. I felt quite truly blessed.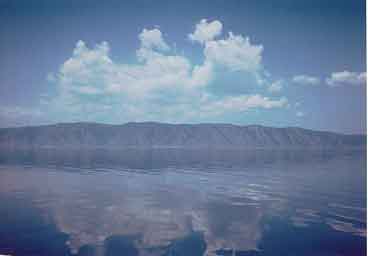 Lake Baikal is the highest, deepest, freshwater lake in the world and probably the clearest and least polluted, also, and it continues to get deeper and wider as the alluvial plates slide farther apart. Of the 1,800 plants and fish in this lake, 3/4 of them are found no where else in the world. We boarded our hydrofoil boat and spent about an hour out on the lake where our tour guide showed us just how very clear the water was by dropping a coin into it. We were amazed to discover we could see the coin for perhaps six or eight times as long as we might have expected. We watched it descend and couldn't believe our eyes.

In 1990 the city of Irkutsk had a population of 451,000. To quote from the travel brochure, it "was founded in 1652 as a Russian stronghold at the confluence of three rivers, the Angara, Irkuta, and Ushakovka. The first Russian trade caravans set off from here for China and Mongolia. The city played an important part in the development of Siberia's natural wealth." James A. Mitchner explains this in his book, Alaska.

I had a large sunny room overlooking one of the rivers, with a broad, expansive view facing West, where I observed a couple brilliant sunsets while we were there. The double paned windows gave evidence of very cold winters -- and so did the bathroom fixtures. Both the toilet and the wash stand had cracks in them. BIG cracks!

Our city tour brought us past the usual museums, churches, memorials, etc. where we stopped occasionally to get pictures. But all of us were delighted to stop in one particular block where
we could walk down the street and get pictures of a row of very old log cabins with their gingerbread decorations and shutters. Because this area was subjected to serious permafrost conditions in the winter, some of these houses have sunk as much as two to three feet below the level of the sidewalk. The locals had considered them old fashioned and boring and had begun to let them fall into disrepair and then replace them with more modem structures, until they realized that tourists think they are charming and special. So now they are restoring some of them, marking them as historical heritage sites and making them a special stop for tourists.

The other rather special moment for me came when the bus parked under a tree on a six lane, divided

boulevard across from a large, impressive department store. Most of our tour group went shopping, but a few of us chose to sit on the bus and watch the people go by. I'm glad I did for I was able to witness people just like us in the U.S., walking, talking, kids skipping, people stopping to pet a stray dog, teenagers laughing and teasing each other -- just like any other city in the world. Generally, the people seemed to be considerably more animated, up-beat and lively than they were in Moscow.




St. Petersburg - Russia - July 1990

V. Blitz



First it was Petrograd, then it was Leningrad, then it was Stalingrad, then back to Leningrad, but while we were there in 1990, I kept calling it St. Petersburg and soon after communism fell they changed it one more time back to Petrograd (St. Petersburg). It is a lovely city, in contrast to Moscow. It is sort of bright and breezy. The people dress in brighter colors and walk faster and with their heads held higher. They seem to talk more openly and laugh more readily. I have run this observation past a friend from St. Petersburg and she agrees.

It is the Venice of Russia with 65 canals and rivers that flow through the city and it's many trees and beautiful architecture make it a lovely city. The down-side is that St. Petersburg was built on swamplands and this is a problem. The underground pipes are beginning to rust and even bottled water tastes a little rusty. You couldn't drink the water out of the tap in 1990 because they had a little protozoan parasite called the giardia lamblia which attacks the small intestine and one gets a gruesome case of diarrhea. I believe we had already encountered it ten days earlier in Tblisi, Georgia.

Our hotel was built under a "joint-venture" with Sweden and was a five star hotel by my rating system. The rooms were modern and had bathrooms equal to any nice hotel in the U.S. In particular, it was nice to have a tubs again to soak our aching bones in.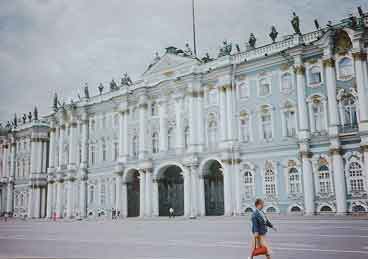 The world-famous Hermitage, formerly the Winter Palace, houses a very extensive art collection and it would probably take several days to see it all. (Note: The Hermitage is at least three time as long as shown in the picture.) However, where most art museums around the world have a controlled atmosphere to protect the paintings, the Hermitage, in 1990 had open windows and no air conditioning and no humidity control. In fact we even saw a couple paintings that were directly in the sun and on the third floor where they kept the French impressionists a couple of our group left early because of the heat.

One of our group had a frightening experience. We had some free time and Mimi went into town was on a bus, returning to the hotel when it started to rain heavily. The bus driver let as many crowd onto the bus until the bus was full. Then he closed the doors and the crowd outside became so enraged they banged their hands on the bus and broke several windows so the bus driver got off the bus to call the police. While he was gone, the crowd started rocking the bus and Mimi was afraid they would tip the bus over. They didn't, but she came back to the hotel and stated quite emphatically that she had been terrified.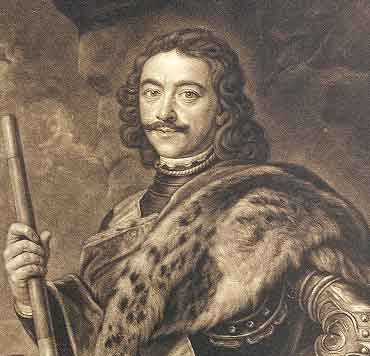 From his early childhood, Peter the Great wanted a Navy for his Russia and at that time the Swedes were occupying the territory on which sits the St. Petersburg of today. So in 1703 Peter established Petrograd on a little island on the mouth of the Neva River as the spot from which he would launch his attacks on the mainland and regain this part of his country.

Ultimately he was successful but the early years were quite difficult.
As a military installation the island (Peter and Paul Fortress) became out-moded right from the beginning, however, as a fortress city it was ideal and well planned. He had hundreds of carpenters, masons, etc. on the island and the buildings were almost completed when a terrible flood swept it all away, loosing many of the workers. But Peter was determined and finished his project, won the Northern War against the Swedes, and was able to establish his Navy.


Today the island is mostly a tourist attraction but you can still see the high water marks and one shudders to think how terrible the flood must have been. Later Peter moved his city on to the mainland where it is today and the island became a political prison, housing Peter's own son, Prince Alexei and later still, Dostoyevsky, Chernyshevsky and Gorbachev.

One night we got all dressed up, had a wonderful dinner and were taken to the the ballet to see Gizelle. It was performed by the second string of the Kurov Ballet as the first string was out on tour. However the group that performed were as good as one might have imagined and we would have never known they were not the first string if they hadn't told us. I should mention that we were experiencing the Russian "white nights" because, when we came out of the theatre, it was like three in the afternoon. At midnight it was like dusk for a couple hours and then it became daylight again.

In 1710 Peter founded the Alexander Nevsky Monastary in honor of one of his celebrated military commanders and as we were leaving we passed through the 18th century necropolis of famous persons. I was able to get the tombs and grave sites of Dostayevsky, Glenka, Rimsky Korsakov, Mousourski, Borodine, Stravinsky and my all-time favorite Tschaikowsky, before my film ran out. It was a poignant moment for me to stand there amidst the bones of so many masters, who have so greatly enriched my life.

There are certain inefficiencies throughout Russia. Although they are kind and intelligent people they don't seem to know how to grout a bathroom One time we were warned that if we brought our cameras with us we would have to pay certain fees, depending on whether we were carrying a regular camera, a camera with a flash, or a movie camera, but when we arrived at our destination, there was no one there to collect our monies. And twice we passed auto accidents on the way to our destination and a couple hours later we passed the same spot and the accidents had not been cleared away, and were still blocking traffic.

We stopped at the St. Isaacs Cathedral which was build between 1818 - 1858 on 24,000 piles,
and employed over 400,000 men, many of whom died or were crippled after falling off the scaffolding. Many others were poisoned from mercury vapors while gilding the interior of the dome in a then-new process which is no longer used. The columns at the front of the structure are made of solid granite and weigh up to 114 tons.

We also visited the Piskarevskoye Cemetery where the people who died in the city during World War II. In 1941, Hitler had cut off this city from any outside contact. No supplies could get in and no one could get out. The only food the people had was the food they could raise themselves and being an industrial city this was difficult. Of the 1,000,000 who died in the city during the war, it is said, 632,000 died of starvation. Hitler was so sure he would take this city that he even set the date for it's fall and had invitations printed for a celebration party. When he realized he could not occupy the city, he gave the order to have it leveled. Fortunately he did not entirely succeed but one third of the city was destroyed, including Peter's Palace. However, before burning it to the ground the Nazis removed everything they could carry away and stripped the ornamental gold from the staircases and wails. Actually, this was a good thing, as, over the past 50 years, some of those treasures have trickled back to their original home.


Peter the Great had traveled extensively and seen all the palaces of Europe and was determined to have a palace as great as any and better than most. So the highlight of our trip for me was his palace. I had seen pictures and documentaries of the many beautiful and unusual fountains and had looked forward to exploring them and taking many pictures. One of the disadvantages of being with a tour group is that one doesn't always have as much time to explore as one would like. Upon arriving we discovered the main fountains on either side of the long reflecting pool between the palace and the river had been turned off for repairs. In addition we were to spend most of our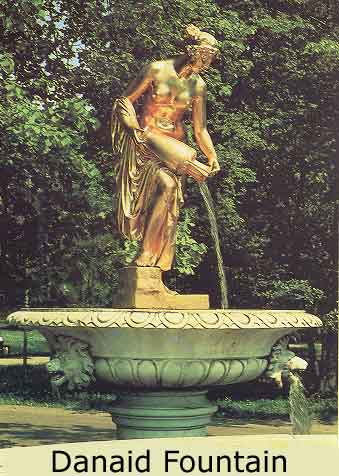 time in the palace itself and not touring the gardens. Also, there were so many tourists one did not want to be separated from the group or one might not find the bus that would be our transportation back to the city. So I was disappointed but only for a moment.

Before the war, many pictures had been taken of each room and these pictures had survived the war. When they restored the palace after the war they not only had the pictures to guide them, but, several of the curators were found to still be alive. When it came to restoring the wall paper on the walls, and the fabrics of the drapes, and the ceramic tiles on the ceramic oven, some of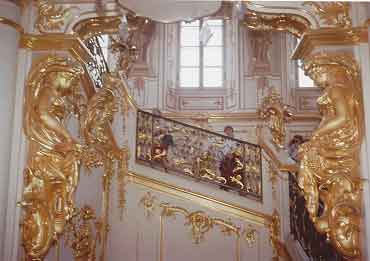 these places in other parts of Europe that had once produced these were able to reproduce them again. And, so, they boast of a palace that is very nearly identical to what it once was and it is awesome.

Upon entering the palace you find yourself in an enormous parlor with a grand staircase. The walls and ceiling are white and everything else seems to be gold. Our first reaction was "is that real gold?" We were told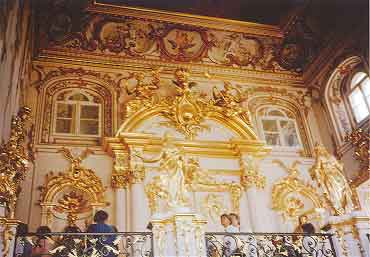 that it was. It is the most beautiful place I have ever seen. Awesome, gorgeous, fantastic, incredible -- I cannot find the words but it will live in my memory forever. And the tour itself was room after room after room of elegance and beauty of the day.

We were in St. Petersburg four days and before we left most of us were coming down with diarrhea again and the infection in my thumb had flared up again, requiring another trip to the see the doctor at the hotel clinic and in addition, I started using the penicillin I had brought with me. But there was not one person in our group who regretted having made the trip. Everyone agreed it was well worth the effort but I would like to add it is for the seasoned traveler who wants an adventure and to see something different. There is a very different aura about the country, even going from one city to another, but isn't that also true of the United States?

THINK GLOBALLY - ACT LOCALLY - PRAY FOR WORLD PEACE