Panama Canal - January 1995
Vicky Blitz
[Continued from Costa Rica]
We were aboard the cruise ship, Regent Star, and already running late when we arrived at the Panama Canal, but we sat outside the locks for half the morning waiting to get in. It seem there are normally two canal lanes ( I hadn't thought about that), one coming and one going and on this morning of our arrival, one of the locks was broken, which meant that all ships, those coming and those going, had to take turns using the same lock.
The canal is a monumental feat of engineering and for any engineer (Bob's profession) it is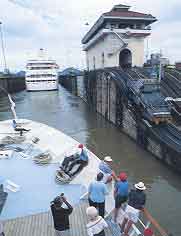 something one does just because. And so we did it. When we finally entered the first lock, we all stood and watched the lock gates close and the water rise. We watched the lock hands doing their thing and sitting down to wave at us when their jobs were completed. We waved back. The #2 lock was a repetition of the first one and by the time we started into the #3 lock, most of us had found our way to a bar for a drink, or something.
At last we arrived at Lake Gatun and we pulled off to the side and sat for the next several hours while other ships passed through the locks and then we took our turn late in the day. All of this was a bit annoying because at dinner, they then announced that we were so far behind schedule, our stop in Cartegua, Columbia would have to be cancelled. There were a lot of disappointed people, myself included. But still, some day I will have to do the other four locks on the Pacific side of the canal, but it won't be a high priority.
[Continued: Click on Countries - Aruba]
Panama
Paola Gianturco and Toby Tuttle
from their book
In Her Hands: Craftswomen Changing the World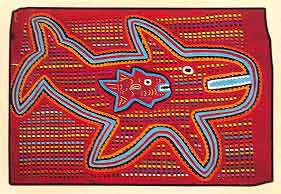 Kuna Indian women create molas (appliquéd picture panels) that feature material culture, rituals, and political events. Often, molas show boats and fish, which are essential to Kuna daily life, but no two designs are ever the same. The women sack many layers of cloth on top of each other, then cut a design through the layers so the lower colors are revealed. After the design is stitched, more fabric bits are added on top.
Kuna girls learn to sew molas when they are about eight. Although mothers traditionally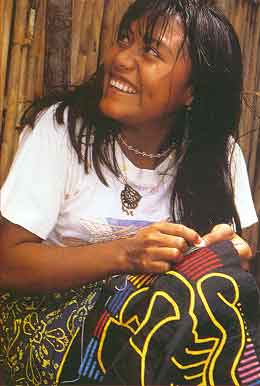 taught the craft to their daughters, the National Culture Institute on Aligandi Island now also teaches indigenous crafts. The young woman in the image opposite has already earned enough money to buy a gold pendant, which is how Kuna women "bank" their mola income.
Gianturco and Tuttle photographed and interviewed ninety craftswomen in twenty-eight villages in twelve countries on four continents. For more information, visit: www.HerHands.com
Editor's Note: The above was obtained from the calendar, In Her Hands - Craftswomen Changing the World, published by Pomegranate Communications, Inc. Box 6099, Rohnert Park, California 94927, USA. For more information or to place an order: 800-227-1428;
Think Globally - Act Locally - Pray for World Peace