Following our leadership event we headed off for a post-conference tour to Norway called, "Norway In A Nutshell." Dave and Jenn parked their car at our relatives house in Stockholm and we then journeyed by plane to Oslo. After a city tour and supper we boarded an overnight train to Bergen. We had a two bunk compartment with lavatory, but some of us got up at 4:00 a.m. to see the moonlight on the snow as we traveled across the top of the mountain and to watch the sun come up at about 4:30 a.m. The days were always long now and it remained light until 11:00 p.m. By mid-June they say the skies never darken.
After a delightful afternoon cruise our ship came to the little village of Auerland where we had supper and spent the night. We walked the streets of this cute little village and enjoyed each others company as we strutted about in our new Norwegian Sweaters.
The next morning a bus met us to take us to Flam where we boarded a train for the trip up the mountain to Myrdal. On the way we past waterfalls which cascaded down the entire mountainside and journeyed through tunnels cut in circular fashion out of the rock until we came out on the top of the mountain range. At Myrdal we boarded the Bergen-Oslo express for Oslo. Immediately we left the station by Taxi in order to make it to the Nazi Resistance Museum before closing time. Here we could learn about how the Norwegians refused to cooperate with their Nazi Captors. Rather than do the bidding of a Nazi Norwegian Stooge, all the teachers and the Pastors resigned their posts; many were arrested some died in Nazi Concentration camps, many escaped. It's quite a different story from the capitulation that took place in Germany and in Austria. I am convinced that it was this resistance in Norway that cause Hitler to believe that the Allied Invasion, if any, would start first in Norway where they could count on the help of the people.
From there we headed to the Comfort Inn in Oslo for a final night of dining out and shopping before taking the plane back to Stockholm the next morning.
[Continue: Click on Countries - Denmark]
Norway - June 1988
Vicky Blitz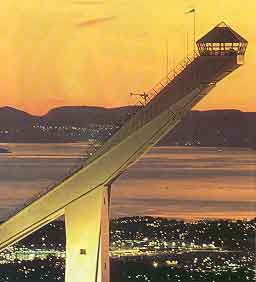 My first experience in Norway was the sticker shock that happened to me when I ordered a Pepsi at dinner, thinking it came with the meal, only to discover they charged me $3.00 extra. And that was the way it would be throughout the tour. After dinner we drove to the Eastern side of the city and up a local mountain for pictures of Oslo and then over to the Western side of the city and up to the Holmenkollan Ski Jump. Picture taking time.

At 10:00 pm, when we returned to our rooms, the sun was still as high as it is at home at 4:00 pm this time of year. The sun is brighter here than I have ever seen it anywhere before. The country is gorgeous and looks a little like Wisconsin and Minnesota. It is understandable that emigrants from Scandinavia to the U.S. gravitated to those states. There are many steep hills and mountains that go right down into the lakes and fjords. Water is everywhere. With the temperature in the 70's, the rarified air and the mountainous terrain it was easy for me to forget we were at sea level and think we were back in the states, high in the mountains.

We were told that the people here appreciate their environment and take advantage of their natural blessings. Almost everyone likes to camp, hike, ski and sail and everyone looks very healthy. Furthermore, everything is so clean. Even the streets look as if they had just been swept and washed. I saw no graffiti, no trash on the street, etc. How pleasant it is when everyone respects their environment.

After breakfast we picked up our local tour guide who brought us to the Frogner Park and the
sculpture garden created by Gustav Vigeland. I could have used of three rolls of film on the stark figures of people and animals. It was truly awesome. I would have also enjoyed spending more time just enjoying this place.
Then there was the lovely City Hall of Oslo with it's many murals depicting various points in the Norwegian history, including WWII. Next we toured Akersus Castle, better known as the fortress, which guards the harbor and overlooks Oslo. It was begun in the seventeenth century and has never been taken over by any foreign government until the Germans in 1940.

After our free time for lunch we saw the Oseberg Ship, a Viking funeral boat, built about 700 A.D.,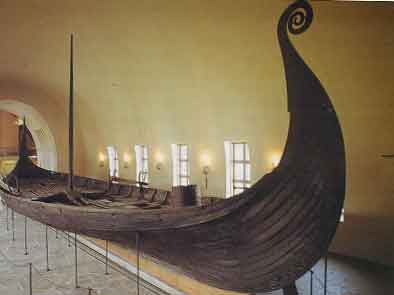 excavated in 1904 and preserved all that time in clay which kept it in near perfect condition. We also saw a long boat (about 800 A.D.) and other items used at that time such as belt buckles, knives, etc. We also saw the famous Kon Tiki and Ra, which I found equally as exciting, having read both books by Thor Heyerdahl, many years ago. We also toured the From, which was the first ship to explore the Arctic for drift. When she became ice locked the crew abandoned her and were picked up by another ship and returned to Norway. A week later, the From, due to the spring thaws, drifted back to Norway on her own, without the crew.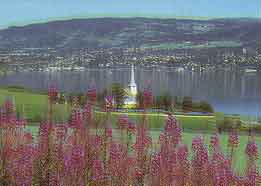 We spent the night in Lillehammer and the next morning drove through this lovely area, the Peer Gynt area (Ibsen) as our tour guide played Edward Greg's Peer Gynt Suite #1 and #2. Even the weather cooperated and could not have been more beautiful. What a delightful morning! [Photo by Ivar Myklevik]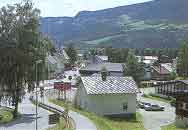 We stopped in the town of Ringebu and took pictures of a Stave Church, built in the 1200's. The Stave Churches were the first Christian Churches, following the Vikings, so some of them have both Viking and Christian symbols carved in the trim around the roofs. They are basically built like pole barns except the year before they are cut down, they are defoliated. Most Stave Churches were built more than seven hundred years ago and there are only 32 left today. [Photo by Per Morset]

There are many sod roof houses here. First they build a tight wooden roof which they cover with birch bark for water proofing. Then they cover that with earth and then earth and lastly the sod. We wanted to know why so many houses had a stone placed on top of the chimney. We got several answers: to keep the slate (above
the chimney) from blowing off, a religious symbol, a fertility symbol, to keep the stork out, and a house isn't complete without it.

In Ireland they have their little people, in Norway they have their trolls. We took our morning break at a "troll house" and we all took pictures of their trolls, and a wood cutter's house. A nice little tourist attraction, complete with food, drink and a gift shop. The trolls were interesting as they were made out of ancient gnarled trees, not cut and shaped that way. Looking at these natural formations, we could see how the troll stories got started.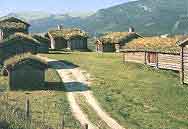 During our lunch break at Adval, I had a Norwegian Waffle, my first open-faced-shrimp sandwich and a petifore, four times the size of petifores in the U.S. After lunch we stopped at the old copper mining town of Roros to take pictures of restored old buildings, now turned into a tourist mecca. Note the sod-roofed houses. [Photo by Ola Nyeggen]

Trondheim, like any early city built amidst European forests, was originally built entirely of wood, and like many of those cities burned, and in fact burned several times, we were told. Still, today there are sections of the city that escaped the fires and date back 300 years and are indeed charming to say the least.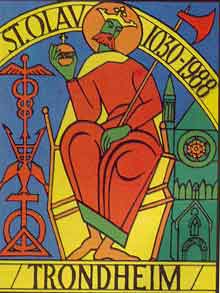 We toured St. Olaf s Cathedral, which also, had burned several times. King Olaf was a Viking and ruled Norway from 1016 - 1028 and was killed in battle in 1030. They brought his body back here to be buried where the high altar is today. A year later, they opened his casket to discover his body had not decayed and his cheeks were still pink, so the bishop declared him to be a saint. (Those days the religion was Catholic.) After a chapel was built over his grave, a spring appeared and people claimed to be healed by it's waters. After the reformation, the church became Lutheran and they don't know where the body is (they think it might be under the flooring of the cathedral.

The Ringve Museum of Musical History was originally a lovely farm, which passed through several hands until it was purchased by Victoria Backhe (1897 - 1963) and her husband. They had no children and their dream was to turn the place into a living music museum and donate it to Norway. Although he died first, she went all over the world, collecting musical instruments and completed their dream. She had a marvelous talent of getting people to donate many of these treasures. Being a music lover, I found the museum fascinating.

Munkholmen Island, better known as Monk's Island was a strange little stop. People first settled here about 990 and the island was used by the Vikings as an execution area. They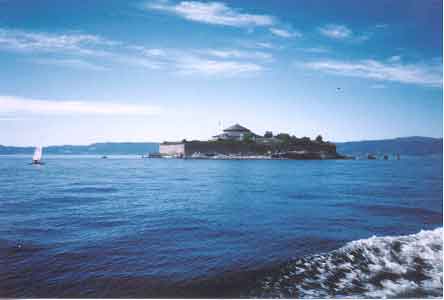 chopped off the heads and put them on poles as a warning. Between 1008 - 1051 rich farmers owned it, after which it became a monastery. From 1580 - 1850 it changed into a fortress and became a prison for 20 - 30 political prisoners during the Danish rule. The most famous prisoner was a doctor (who was also a duke) who had worked for the Danish king but became so popular that the king had him exiled here until he died of TB. The local children came out to the island to learn Latin from him.


The last stop of the day was the Tyholt Tower, 360 feet high, where we visited a restaurant at the 200 foot level and got 360 degree panorama pictures of Trondheim and the mountains beyond. The tower was opened in 1980.

I found sleeping on this trip to be difficult. It always seemed to be a little too noisy and
the window shades and curtains were never adequate to keep out the light. It was after
this trip I began to bring ear plugs and an eye shade with me. For example, on this
particular night I couldn't get to sleep until after 3:30 am and our wake-up call was at
6:30 am.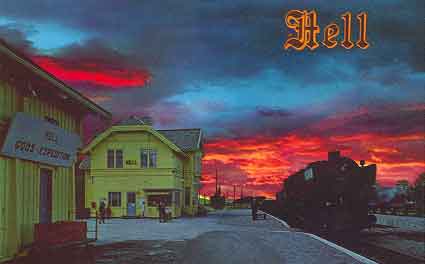 Our first stop of the day was in Hell where we all got our passports stamped and took pictures of the post office/railroad station. The stamp reads: "HELL - 21 June 1988 - God's Expedition" in Norwegian. However, we were told that in Norwegian, Hell means "good luck".
I don't have the words to describe the beauty of this land between Trondheim and Mo and we weren't able to take pictures because our schedule did not permit it. Our bus driver put the pedal to the metal and the road was bumpy and
winding and very difficult to stand in the aisle to get pictures. However, we paralleled white water streams with mountains in the background, moss covered mountain rocks with streams rushing down their nearly vertical slopes, rivers that broadened into lakes around islands of rock or tall Norwegian pine trees, sometimes backing up and forming swamp land. Truly this is God's country.

We stopped for lunch at Laksforsen Falls, which is in the Vefsndalen Lake area and later a stop to take pictures in Mosjoen of a 1734 octagonal church, Doistad Kirke.

We finally arrived at the Hotel Meyergarden, in Mo-I-Rana It was built by the wealthy Mr. Meyer who made his fortune by purchasing items from the Lapps, and reselling them at a much higher price. Originally, the hotel was his home but now it serves to charm the public and display antiques and oddities. The meal was five star and of equal importance was the fact the curtains in my room finally held out the arctic sun and I could get some sleep.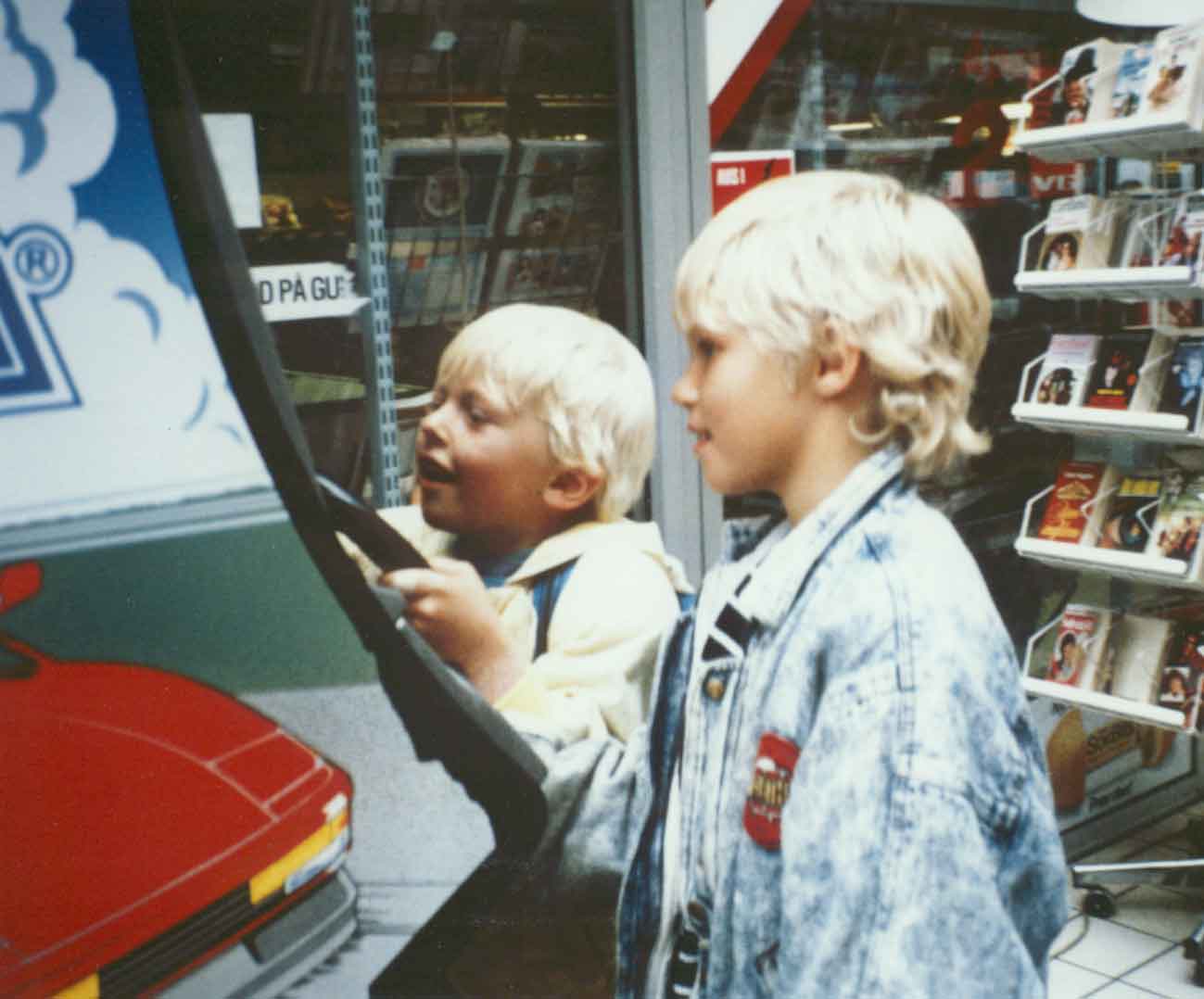 As we crossed into the Arctic Circle the next day we each bought a certificate to prove to our friends back home we bad been there. And, of course, each one of us had someone take a picture of us with our own camera for proof of what it looked like which wasn't very impressive, in my book. But then the terrain changed and we were back in the most beautiful country I have ever seen. Later, at a lunch stop, I took this picture of two little blond boys at a shopping mall.
That afternoon, after crossing the Tys Fjord on a ferry and passing through more beautiful country with lakes, mountains, streams and waterfalls, we finally arrived in Narvik where I got a good nights sleep. The next day was a repeat performance of this picture-post card-country before our arrival at Tromso.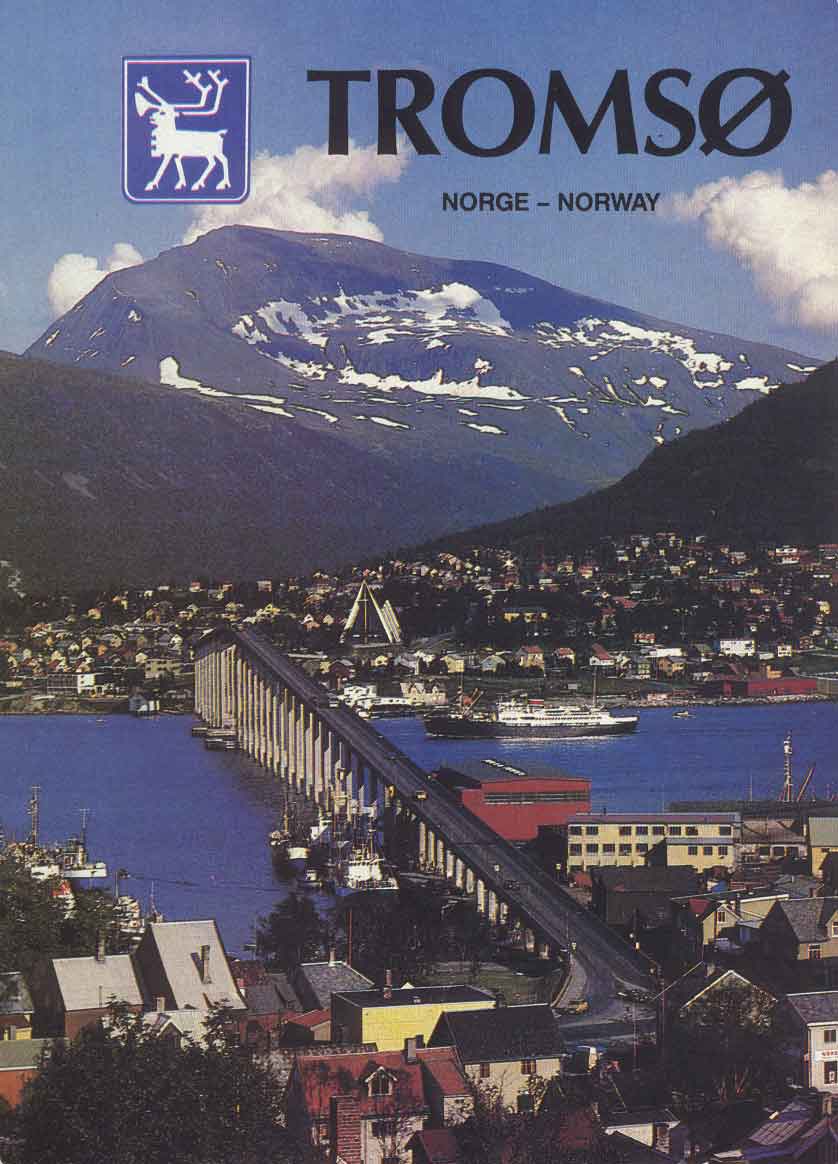 Tromso has the northern-most brewery, brewing Mack's Beer, which, we were told was the best in the world, probably because of the water but most likely because of the recipe, which is a well-guarded secret and kept in a safe in Denmark. Their famous Arctic Cathedral is very modem and attracts tourists from all over, and I enjoyed our visit.
We first celebrated Mid Summer Night, also known as the Summer Solstice, with the largest and best dinner of the trip. The Vikings began the custom of lighting large bon fires on this longest day of the year, so after dinner we boarded our bus and took a drive along the shore, looking for the fires. We did see a few but the rain that afternoon may discouraged the event. We found a medium sized fire and our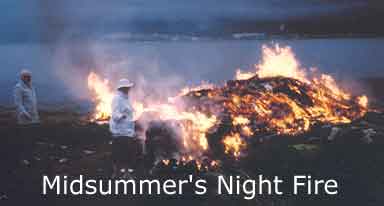 tour guide asked the owner if we could stop and look at his fire for awhile. It seems rather silly now, but we excitedly got off the bus, and like a bunch of kids, gathered sticks in route and added them to the fire. He was a shop keeper and, he said, he collected his trash for a year and burned it on Mid Summer Night in the Viking tradition, so he said.
We marveled at the lushness of the plants growing along the road and one lady from Florida remarked that she had "that plant" in her living room but the leaves are miniatures compared to "that one". But that would figure, because during their summer here, the plants get so many long hours of sun, by the end of the summer it looks like the tropics. On the other hand, here in Tromso, there is no sun at all from the end of November through the end of January. We wondered what that would be like.
The next day, we drove into Lapp country. The Lapps are a gentle, nomadic group of people who came into Scandinavia out of Russia (Estonia, Lithuania, etc.) about twelve hundred years ago, forced out by more aggressive peoples. They felt they would rather switch than fight. There is evidence in their language that they spent some time in Finland but today these groups can't understand each other at all. At one time there were Russian Lapps, Forest Lapps, Sea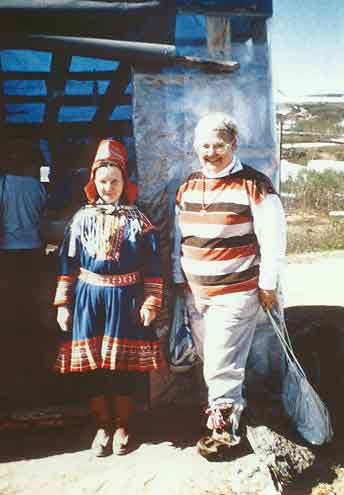 Lapps and River Lapps, but today only the Reindeer Lapps continue their ancient culture and that is very tenuous. We were told that only 380 reindeer herds of privately owned reindeer continue to exist and many of them the had to be destroyed following the meltdown of the nuclear plant at Chernobyl in 1985.
Following lunch atop Kvanangs Fjellet and getting pictures of the surrounding mountain ranges, We came upon a little Lapp trading post where I purchased a pair of reindeer boots from the little Lapp lady in this picture. I'm wearing the boots, for which I paid under
$50.00
and I might add that I, being five foot three and a half inches tall, she must be well under five feet.
Everything about Alta was a delightful surprise! First, the area itself was like being on a mountain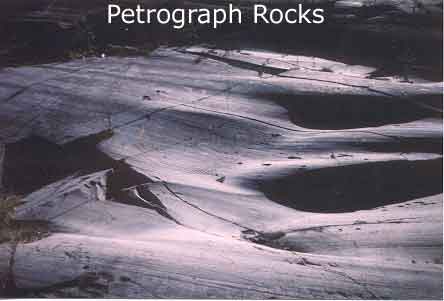 top meadow with pristine air, blue skies and fluffy white cumulous clouds. The hotel was very new (perhaps only a year or two old). The rooms were the largest of the trip and the bathroom probably five times the size of the bathroom the night before.

As soon as our bags arrived in our rooms, we got back out on the road to see the main attraction, the ancient rock carvings depicting the life of fishermen, farmers and hunters 6,000 years ago. This area is one of the four Norwegian cites listed with the Unesco World Heritage and the only one dating back to pre-historical times. It was discovered in 1973 by a little boy playing hide and seek. He was hiding behind a bush on the moss covered rock when his hand touched one of the carvings hidden by the moss. Since that time, they have uncovered about 3,000 and have begun excavating.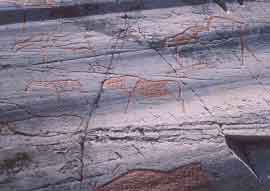 About 10,000 years ago, this area was undergoing the ice age and for the next 2,000 years the snow was melting, uncovering some of these rocks. We saw one area where the same people carved in the rocks 6,000 years ago and then again, as the water receded, at another lower level 1,000 years later they carved more figures. We saw how the styles of the petrographs were alike and how they had changed during that time. Then, we saw a third level, another 1,000 years later at another area where they have uncovered a sod house, where tools were found during the excavation. The archeologists believe there were only 20 to 30 people living at this particular spot. They called them the "young stone age people".

The next part of our journey took us through mountains and fjords and trees to a more rockier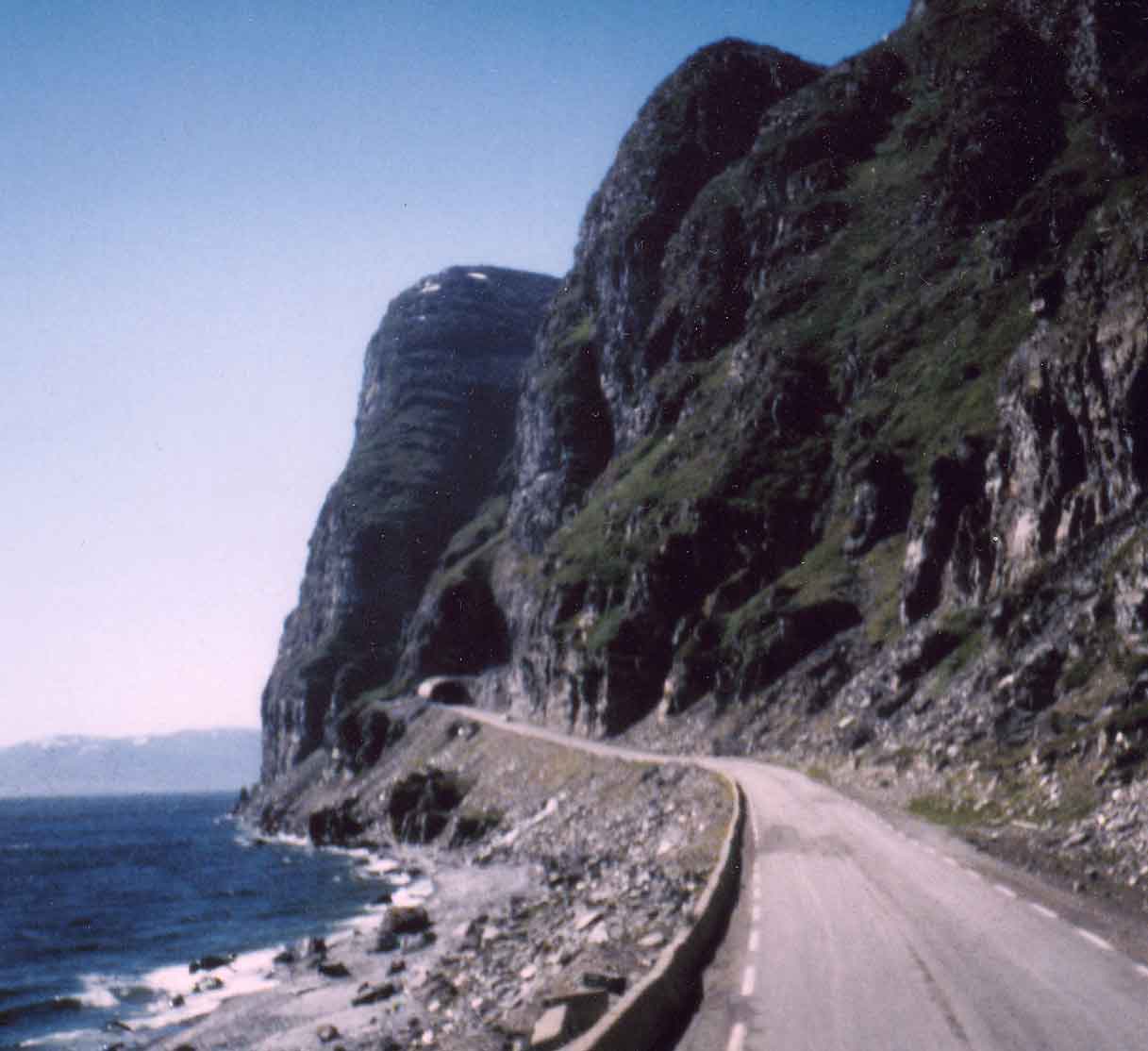 area with fewer trees but fascinating rocks with flat strata along the coast and now we are seeing our first reindeer and, surprisingly, many of them are white. At Kaafjord we took the ferry across the beautiful Porsangen Fjord to Homningsvag on the island of Mageroya, home of 4,000 people and 5,000 reindeer.

Our purpose in Homningsvag is to visit the new visitor's center at North Cape, the northern-most point in Europe. Up until now, most tourists come here on large ships that dock in the port and the tourists spend the night aboard ship. Our tour group was one of the first "pioneer" groups to come by land rather than sea. Therefore, they were not prepared to put us up for the night in anything that we would consider first, second, third or perhaps even four class accommodations. The "hotel" was spotlessly clean but very old and quite dismal. Each room had a sink only. The bathrooms were "down the hall" instead of in the rooms. We were given rebates on our rooms later, because they were considered below standard. We were told they were planning to build a proper hotel in the future if tourists start coming by land.
`We had a great dinner, my favorite, reindeer meat. By 9:15 pm we left for North Cape and it was dowdy. I worried we would not be able to see the sun but we did for a little while but it wouldn't have mattered because we were not going to be there for twenty-four hours.

The Visitor Center was actually built around a large rock with famous visitor's signatures and some graffiti. We saw pictures taken every hour during summer solstice of the sun rolling
around the horizon and never climbing higher than 9:00 am EST (during the spring); in the auditorium, we saw a panorama (wrap-around) movie about the island in all four seasons; and we drank Champaign in a huge cafe with an enormous, tinted, plate glass window at the most northern tip of the island so we could sit at our tables and look at the sun; and when you finished your Champaign you can step outside on the observation deck [see picture] and look at the sun some more.

Oh, they have really done it up right. There is a long, broad ramp, leading down to the cafe and in the sides of the walls they have placed scenes, behind glass, depicting significant periods in the history of Nord Cap. And, outside on the rock cliff, high above the observation deck, is another area to explore, complete with memorials, telescopes (to look at what [?] the ocean), a large permanent compass showing the exact direction of North, etc. Finishing all that, you may now visit the large gift shop and, among many other mementos, you may purchase a certification that declares you have, indeed, been to Nord Cap.
The picture below is a 360 degree panorama showing the sun's cycle north of the Artic Circle from July 21, 1900 hours through July 22, 1800 hours. The series was taken on the island of Loppa. Notice how the sun never dips below the horizon.



Well, I must say that I am very glad I came. It is a great memory to keep in my mind. I am smiling even as I write this, thinking, "Yep! I was there!" And the memory brings me joy.

We arrived back at our hotel about 1:20 am and tried to get a nap before our wake-up call at 5:45 am, breakfast a 6:00 am and back on the bus at 6:30 am.

The morning drive was uneventful and after lunch we crossed the boarder into Finland. I believe we all agreed it had been a wonderful adventure in Norway and Lapland.
_____________________________________________________________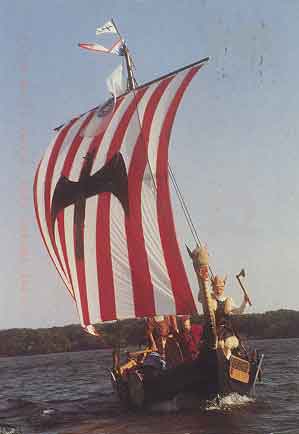 If you are interested in becoming a member of the crew or board, or if your interest is in our history, sailing period dress or ethnic heritage, we can use your help. Contact us at: