Morocco - January 1994

Vicky Blitz


Our tour group arrived in Tangier, Morocco, on day six of our seventeen-day tour, which included Spain and Portugal. We were in Morocco for six unforgettable days and spending
our nights in Tangier, Fez, Marrakech and Rabat, and with stops in Larache, Casablanca, Beni Mellal, and Azrou.

Tangier is beautiful. The bus dropped us off to walk through the Kasbah and market-place, and we had mint tea and a cookie in a restaurant overlooking the harbor. We stayed at the Rif Hotel, famous during World War II for spies from both sides, intrigue and mystery.

My second-story room was ten paces long (just under thirty feet) and was at the end of the hotel so that it curved with the building. It had French doors the entire length of the room leading on to a balcony wide enough for tables and chairs and more windows, so I was able to feel that I was right on the beach with its palm trees. The decor was a bit shabby and I was never sure the toilet would flush properly, (it was terribly slow in draining), but of all the rooms I have been in, I really would love to return here someday for a vacation and have this room again, (number 222).

The dining room, though it had seen better days, still remained beautiful with elegant wood-paneled walls and carved wooden doors and screen partitions of Moorish design. I loved it. Although we had to have bottled water here, the dinner was delicious. I had an excellent curry chicken. I mention all this because I truly enjoyed my stay here.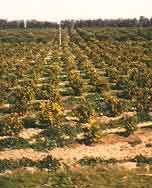 After leaving Tangier early in the morning, we drove most of the day through beautiful green hills, orchards of oranges, mostly olives, eucalyptus trees, mint, and sugar cane. I was so surprised to see so much greenery. I had expected to see desert. Perhaps it was the season.

Arriving in Fez about 2:00 pm., we unloaded our bags in our assigned rooms and headed back out for a tour of the city. Fez, like Tangier, is a "royal city." First we saw the palace with its beautiful golden doors and palace guards. Then we walked through the medina ("old city") and stopped at a carpet shop for a lecture on carpets, learning the difference between Berber, Berber Dowry, Ur (yes Ur), and Fez. Some are made of camel, some Moreno wool. We also stopped at a metalwear shop.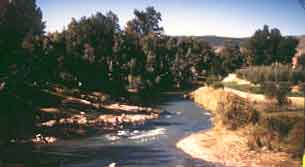 Left Fez early for Marrakech. In Berber, "marra" means "hurry up" and "kech" means "watch out." Because traders were so often attacked in these parts by thieves, "hurry up and watch out" was used so often, they kept the phrase for the name of the town.

Just out of Fez, we were into the mountains, passing through the unique, little town of Iframe, a ski town with an airport where the wealthy have built chalets near the ski area of Michleftin. It has a 5,000 foot altitude and still had snow when we were there.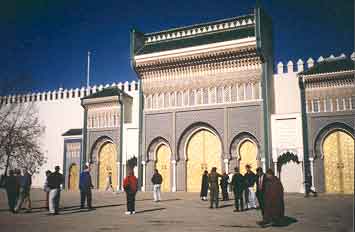 We were in sight of the Atlas Mountains all day, which had had three feet of snow the week before. We passed through the beautiful, very green Valley of Azron. As we approached Marrakech, I got pictures of palm trees in the foreground and the snow-covered Atlas Mountains in the distance. We drank bottled water the entire time we were in Morocco and were warned NOT to drink the orange juice because they use tap water to water it down.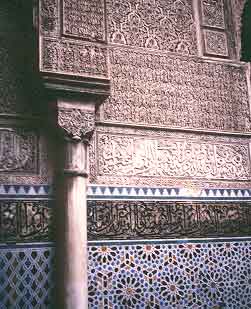 Our tour of Marrakesh included the pretty Menara Park with its artificial lake and quaint pavilion, Bahia Palace, the elaborately decorated 16-century Sandian Tombs, and the town center of Djemaa EI-Fria, dominated by the 222 foot-high Koutoubia Minaret. After the original minaret had been completed, someone discovered that it did not sit a true East-West-North-South, so they demolished it and rebuilt it. It was near here we stopped to ride dromedaries (one-humped camels) at a price, of course. We gave our cameras to each other so we would have "our evidence" when we got home.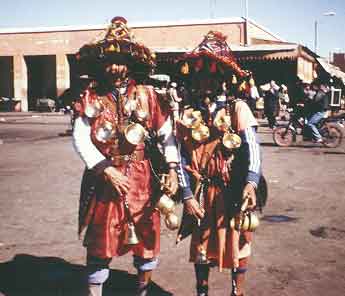 The marketplace is a stage for many interesting sights. Water boys, men dressed in the most outlandish costumes, will sell you water which they carry on their persons. Dangling from the front of their clothes are several metal cups from which you will drink unless you have brought your own cup. But the drama that will be in my memory forever was the snake man who sat on a carpet and played with several snakes, at least two of which were cobras. I stood at a distance and zoomed in for a picture of him. For some reason, I felt uncomfortable about him. Then, as I was about to leave, a young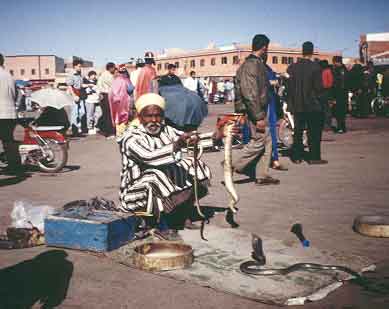 man came up to him and had a brief conversation, after which the snake man threw a snake around his neck. The people standing around them gasped and the young man got very still and looked very frightened. The snake was weaving back and forth in front of his face, and I just didn't want to watch. I turned my back and walked away.

If I live to be a hundred, I shall never forget the second night in Marrakech. We drove out of the city to what looked like a Hollywood set, walked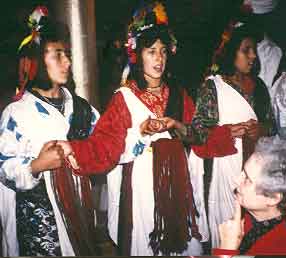 past a line of costumed guards with swords into what appeared to be a casbah (fort). Inside the walls they had set up large, authentic-looking tents where we were served our dinners seated on pillows placed around very low tables on carpeted floors. While dining, we were entertained by perhaps ten different groups of dancing girls, or singers, each group dressed in their own traditional costumes and accompanied by their own musicians playing drums and flouts. Dinner was followed by a belly dance, and then we went outside.

We witnessed what was billed as an extravaganza. Because we were unable to understand
the narrator (the public-address system was wanting), I should like to call it a pantomime of what we thought was one of the tales of the Arabian Nights, complete with thirty excellent horsemen who raced back and forth from one end of the outdoor arena to the other, brandishing swords, firing rifles, and shooting off fireworks while a young couple rode a flying carpet from one high wall, across the arena, landing on the ground. My goodness! It was stunning! A bit sophomoric, but if you ever visit this area, be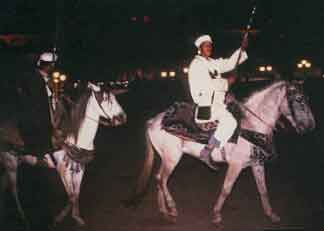 sure you take in this show. We all loved it, and the dinner was truly a Moroccan feast NOT to be missed. Casablanca, in 1994, was a clean, sparkling, white, modern city, with broad streets and blooming succulent plants lining them. It is certainly a far cry from the Casablanca we knew from the movie. We were told that there is NO Rick's Cafe! We had a lunch stop in a very modern hotel that could have been anywhere in Europe.

Rabat was originally a pirate's stop-over and now it, too, is a lovely modern city and the capital of Morocco. We spent our last night here in this country before a long drive the next day to Tangier and a ferry ride back to Spain for the remainder of the tour. One final note: every meal I had in Morocco was a five-star.

THINK GLOBALLY - ACT LOCALLY - PRAY FOR WORLD PEACE