Copper Canyon, Mexico - June 2002
Nancy Acevedo
We flew from Tijuana to Los Mochis in the Mexican state of Sinaloa, which is on the
eastern side of the Sea of Cortez. It is not a tourist town - can't find a tee-shirt shop or any of the normal things travelers' purchase. It has about 400,000 population and is strictly agricultural; it is to Mexico what the Imperial Valley is to the USA - it's salad bowl. Being on the Sea of Cortez they have a wide variety of seafood - I must say the food was too good; gained more than I normally do on a trip! While in Los Mochis, we took a boat ride on Topobampo bay, which is hugh. Saw lots of wildlife and many dolphins.

The next day took a 1-1/2 hour bus to El Fuerte, which is a very picturesque colonial town founded in 1564 along the El Fuerte River. A fort was built in 1610 (which is open for self-guided tours) - we were told it was to ward off the fierce Zuaque and Tehueco Indians, who harassed the Spaniards. In El Fuerte we stayed at the Hotel Posada del Hidalgo, a lovely colonial mansion, which was built in 1890 just below the fort. That evening we strolled through the plaza and enjoyed watching all the locals do the same. It appeared that not all the young girls and boys had chaperones, but most did. Later we watched what seemed to be hundreds of youngsters enter the large church that faced the plaza; some type of event for the children. I was interested in their City Hall - which was gorgeous. It covered a block, also facing the plaza, and had a large central courtyard. Quite a structure for a small town. If we had had more time I would like to have taken a raft trip on the river and also visited the Nahuati Petroglyphs, which are said to be up to 1500 years old .


The next day we caught the always late train to the Bahuichivo station and then took a bus along about eight miles of mountain road to Cerocahui Village, which is surrounded by peach and apple orchards. I wondered what type of hotel we would find in this remote village of 600. Very pleasantly surprised to find the lovely Hotel Mision, right in the center of town - although you wouldn't believe the "main" road, which is dirt, very narrow and very steep in parts. The church across the street from the hotel was built in the mid-1700's and is very much in use today. This village also has it's central plaza, but there was not too much activity.

The next day we took a bus along a very rough dirt road to the Cerro del Gallegos Urique Lookout, an overlook of the canyon. The view from this 7,500 foot lookout was terrific
but it's one of those things I'm glad I did but wouldn't do again. The ride was about three hours and at times a bit more exciting than we had bargained for. We were told that Urique Village, in the bottom of the canyon, is the "county seat" so anyone needing to take any legal action, get a wedding license, etc., needs to go there. From the lookout we could see the road winding down to the village, and it looked even more exciting than what we had taken to that point. We were glad to get back to the hotel and order margaritas!

The next morning we caught the train for about an hour's ride to the Chihuahua al Pacifico station, which is a short distance from the Posada Mirador Hotel. This hotel is built right on
the canyon rim - our room had a fireplace and balcony; the balcony was over the edge of the canyon. Spectacular views from every room. That afternoon took a hike to a nearby Tarahumara camp. The homes were originally just caves, but they have built extensions in front of the caves, so now they are part hut. There were fruit trees, chickens, etc. in the "yard". The people were quite shy but always smiling. On the front steps of the hotel several Tarahumara women were weaving and selling baskets. Their work is excellent. I brought home a rather large basket, the only thing I really bought for myself the whole time.

We took a short bus trip the next day to see other overlooks of the canyon. At each one there were Tarahumara women selling items. My barber had asked me to get him a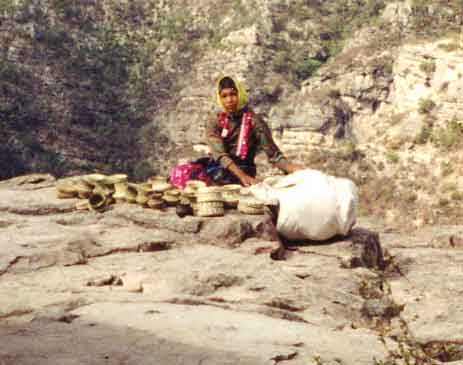 copper bracelet and I found one at one of these stops that is very nice and only cost about $4. Later, it was very pleasant sitting on the veranda of the hotel drinking wine and enjoying the spectacular views.

The next day we caught the train to go back to Los Mochis. I haven't yet said anything about the train so will now. The ride is through absolutely stunning scenery in the western Sierra Madre. In places the train tracks loop back on themselves. It was completed in 1961 and is said to be one of the engineering marvels of the world, with 86 tunnels and 37 bridges along its 406 mile route. We were told that the section we took from Los Mochis, is the most scenic and that the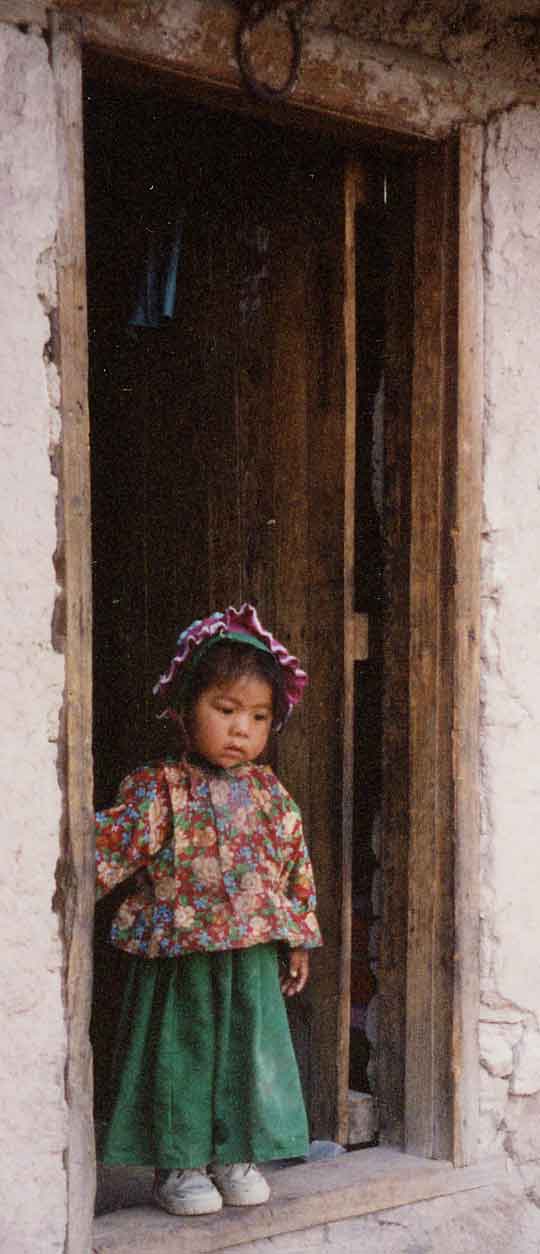 section from Copper Canyon east to Chihuahua does not compare. The train cars were quite new and very comfortable, with a club car and dining car. The food was definitely better than airline food, but didn't compare with all the other excellent meals we had on the trip.

After another night in Los Mochis, we flew back to Tijuana. I had wondered about this airport, and was pleasantly surprised. The airline personnel were very well organized - although one of our group had a suitcase lost on the return trip. Because we were in a van that has special arrangements for crossing the border, our wait was very short. We felt sorry for the people walking across and the long lines of cars waiting in the regular crossing lines.

Overall, I would recommend this trip. Copper Canyon is larger and deeper than the Grand Canyon, but you cannot see as much of it at one time. But I think most of all I enjoyed the Tarahumara and the villages we visited.
Mexico - December 2001
Anne Crosman
I visited Mexico in December 2001 to take part in a wedding of an American friend who lives and runs Cabanas Diana in the town of Tulum, 80 miles south of Cancun, on the Caribbean. Tulum is special because it has the only Mayan ruins that overlooks a beach. After trekking about the ruins, which are fairly well marked, but take a guide, a visitor may walk down a short path to the beach and swim. It is a small beach, but very pretty. The weather is hot and humid, even in December, when it is supposed to be dry! The food is fabulous -- tropical fruit, fresh fish, salsas. Tulum is unspoiled -- a town on the main highway from Cancun to Belize. It has a few modest hotels, banks, restaurants, and money-changing stores. It is super casual. The town is not on the water -- you must take a taxi to the beach, a couple of miles north and then east. On the beach are many modest hotels, with restaurants and gift shops. The hotels range from cabanas (huts with sand floors) to little white houses with all the amenities. Tulum is very casual. Nearby is The Car Wash Cenote. Cenotes are swimming holes filled with water from underground, inland rivers. You pay about $1 to swim as long as you wish. Divers go down and into caves -- we saw several groups, led by professionals. This is a quiet vacation, very different from the Americanized Cancun.
Mexico City, Mexico - August 1979
Vicky Blitz
While my husband, Bob, was stationed in Houston on a temporary assignment with his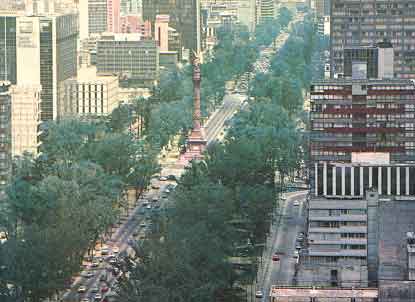 company, we took the opportunity to visit Mexico City and Teotihuacan (the city of the gods). We stayed in a lovely old hotel, small but elegant by yesterday's standards. Our room was a bit seedy, but adequate. We signed up for a city tour through the hotel, and our guide was actually a very knowledgeable taxi cab driver who spoke very good and very fluent English.

The first day our taxi driver/tour guide drove us through the city, showing us all the important tourist attractions so that we could get some idea of where we wanted to go and what we wanted to see. We did stop to get pictures once or twice and to walk through a charming neighborhood to a shop where one could purchase inexpensive art objects and souvenirs.

After lunch, back at the hotel, we took another taxi back to Chapultepec Park to visit the
"not-to-be-missed" Anthropology Museum. To my joy and delight, this is where they keep the famous Aztec Calendar, also called the Sun Stone. I had never considered how enormous this basaltic monolith might be. Well, I was literally stunned when we walked into the room and there it stood, weighing approximately 25 tons, with a diameter of 3.60 meters, or 11', 9 3/4" high. (Somehow, I had the idea from pictures, I might be able to hold it on my lap or, at least stand next to it and look down at it. Funny how deceiving a picture can be without something to compare it to.) Today, all of the visible paint has worn off of this wonder and has left it a light gray, like cement. But the scientists have been able to ascertain the original colors. It must have been awesome in its original state.



Mexico City is a very modern city with beautiful, modern skyscrapers, trees lining most of the main thoroughfares, and touches of Mexican art here and there on the sides of a building or store front or hotel lobby or in the subway. Actually, the subway even has a small pyramid which they unearthed during construction. Most people do not seem to be in too much of a hurry except the professional-looking businessmen and women. They seem to be a pleasant, warm and friendly people, with traces of Spanish heritage in some of their faces, but mostly facial structure reminiscent of the Aztec or Mayan or Incan Gods.

It would be unforgivable of me to ignore the beggars, and they are certainly there amidst the wealth and spender of this beautiful city. Two incidents stand out in my memory.

One night, Bob went out for a hamburger and fries, while I remained in the room recovering from a touch of Montezuma's Revenge. When he returned, he was disturbed by a particular scene he had witnessed. He had passed a young woman holding a baby, with another young child beside her. She was crying uncontrollably, and apparently begging with her free hand outstretched, but he couldn't understand her, of course, as she was raving on in Spanish. She was still there when he returned. Still crying. Still begging.

The other incident came as we were leaving the Basilica de Guadalupe. I was walking ahead of Bob on a rather narrow sidewalk. There was what looked like a pile of rags laying on the ground next to the iron- grated fence. As I approached, I stepped to one side so as not to trip on the rags and got the shock of my life. Protruding from those smelly old rags was a withered old hand, tiny, wrinkled, and dark. At first, I almost didn't believe that pile of rags was large enough to contain a person, and even wondered if it was a human hand. But it moved.
Today I am so sorry I didn't put money in that hand.

Teotihuacan, the city of the gods, is a couple hours drive from Mexico City, if my memory serves me right. We passed several communities, in route to this archeological site---very poor---very sad. One community was built almost entirely out of shipping crates, a few were lucky enough to have corrugated tin roofs (or were they?...I wondered if it could get too hot, with all that sun.) All these houses were spaced very close together and it was difficult to comprehend that people actually lived there. To this day, I muse that these people are our neighbors...our brothers and sisters. Can't we do something for them?


I could not even attempt to describe this incredible site. It is too complex, too vast, too mysterious, and we only saw a very small part of it. Anyone with the interest to truly explore this place should bring a tent and plan on spending a week or two just to walk through it and look at everything there is to see. [Perhaps they have hotels there now. This trip was taken over twenty years ago.] If you want to know details about this place, go to the library and get a book. It is a fascinating place.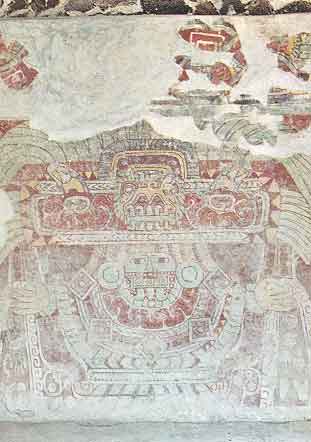 After parking the taxi, we walked through an area of tourist shops, then onto the path that led to the objective of our journey. As we approached the pyramids, we came to a very long and wide area paved over and looking very much like an abandoned parking lot. As I walked into the area, it seemed as though an electric shock went through me. I stopped short and said "Whoa, what is this place?" Our taxi driver/tour guide said it was the Avenue of the Dead (which, I found out later from our maps, might not be entirely true). He also said that thousands of people were buried there. Well, I know that thousands of people were buried somewhere around there. I would like to visit there again someday with a real tour guide and find out the true story. Until then, this is the best I can do.

---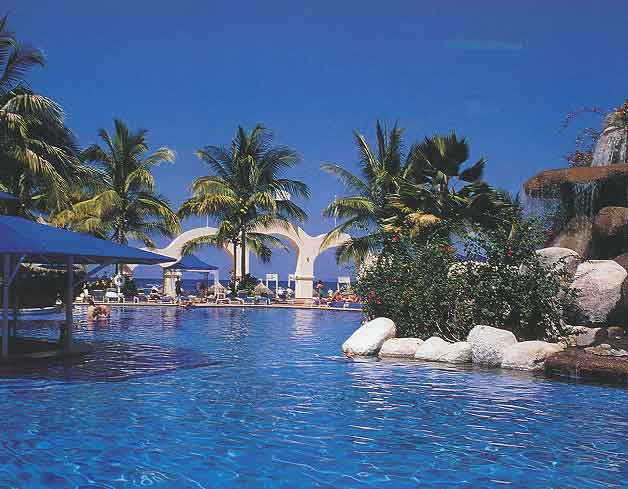 On the warm Pacific coast, with the rugged Sierra Madre Mountains as a backdrop, charming and scenic Puerto Vallarta is one of Mexico's premier resort locations.
THINK GLOBALLY - ACT LOCALLY - PRAY FOR WORLD PEACE