| | | |
| --- | --- | --- |
| Kenya | | |
Nairobi, Kenya - February 2003
The Reverend Doctor James Wiberg
Africa is a land of many contrasts, a very large continent, but with vast riches in resources and in talent for human relations. As an ELCA Associate Missionary I was privileged to attend a conference of international churches meeting in Nairobi, the capital of Kenya. A new President had just been elected after 40 years of rule by KANU and its leader, Daniel Arap Moi. With a new President in power representing a grand coalition of many parties, people are hopeful that Kenya will be able to pull itself back up and re-invent many of its institutions.
Our purpose in being in Nairobi was to conduct the business of our association of international English speaking congregations in Europe the Middle East and Africa:
to worship together and to hear the Word preached by acclaimed preachers from our association,
to enjoy the country and its people, and to gain a glimpse of its problems and possibilities,
to visit local churches and share life experiences with a Nairobi family,
to observe the benevolent activities of the churches on behalf of the people of Kenya,
to hear presentations about African church life from local church leaders,
to gain a glimpse of this vast continent and its rich resources in wildlife,
to offer support and encouragement to local Christians and to the International Church in Nairobi.
A VISIT TO SHANGALIA
We began our first day in Nairobi with a plunge into the slums of the city. Over the last twenty years there has been continuous migration to this lovely equatorial city with its temperate climate at its nearly 7,000 foot elevation. Having doubled its population in this period of time, the leaders of Nairobi have been faced with overwhelming problems. You can just imagine the difficulties in providing city services and infrastructures of roads, sewers, electricity, health and education to such a fast growing population.
In the slums on the outskirts of the city there live many street children whose parents have either died or who have abandoned them. The head of the UNESCO organization in Nairobi with the aid of an extensive network of friends and allies has established an orphanage right in the middle of the slum called "Shangalia". Here 130 children are provided the basic necessities of life---food, clothing, shelter, instruction and discipline. The orphanage specializes in dance, theatre and the arts. When you have no money what are the resources that can be put to best use for instruction? Obviously the equipment of the body itself----hands, arms, legs, voices---so music, plays, dance, acrobatics are the key to the educational life in the orphanage. Classrooms for teaching the basics are also there, as well as a nurse and a small room for clinical and medicinal aid.
Students put on for us a wonderful demonstration of their skills in music, acrobatics, song and dance. Our group of 63 pastors and spouses were feted with a marvelous program which amazed and confounded the logic that poverty kills the spirit. Children chanted: "God is good"! and a leader responded: "All the time"! The kids would then respond: "All the time" and the leader would shout: "God is good"! Young acrobats scaled the arms and legs of older more mature boys to form a standing three tier pyramid of young bodies and regaled us with African dance and song.
Until a month ago the orphans slept on the floor, fifteen to a room about 10' square; now they have bunk beds three tiered high with a small chest on each bed for the storage of their clothing and personals, but still the same number of children to each room with barely enough room to walk around the bunk beds. The orphanage is filled to capacity and there is a long list of street children who would like to gain entrance. What a tribute that is to the talent and leadership of a dedicated all-African staff who become "mommas and papas" to these homeless children from the slums of Nairobi.
Conference meetings, presentations and fellowship
Lectures, meetings, conversations and fellowship took up our next four days. For this part of the conference we journeyed northward to the base of Mt. Kenya about a four hour drive from Nairobi. On our way north we stopped at a lookout point to view the Great Rift Valley which originates in the middle east and continues its long journey through most of the African continent. Monkeys played happily in trees as tourists fingered the many objects of art, sculpture, batik, and wood in the local markets.
During these days at Mt. Kenya various speakers shared the history of the Kenyan churches, their founding, their sense of identity, and their stories of the missionaries. They taught us some of the contemporary songs of African church life, shared their hopes and their dreams for their young people and joined with us in festive, celebrative meals. Few of us could help but be impressed by the vitality of their faith and their deep seated conviction that God is alive and at work in their midst. During these days at Mt. Kenya we elected officers for our association, debated guidelines for the annual conference, adopted a budget, approved scholarships for marginal congregations which would enable their church workers to attend the annual meeting, established the locations and dates for the next two meetings---Wittenberg, Germany: May, 2004 and London, England, May, 2005.
KENYA PRESBYTERIAN CHURCH: WOMEN'S SELF-HELP PROJECT
While returning to Nairobi from our conference at Mt. Kenya we journeyed to Nanyuki to experience a project which has been fostered by the Presbyterian churches of Kenya. Families have been taught to acquire and raise sheep and then to harvest the wool. The Women's Project then buys the wool and hires women to wash, spin, dye and weave wool carpets, sweaters, table cloths and wall murals. Then, with the aid of Presbyterian connections outside the country, products are sold and shipped abroad. Our group purchased enough of their products to pay the expenses of the operation for an entire month. Here's the address where you can write for a brochure of products from the Nanyuki Spinners and Weavers: P.O. Box 25, Nanyuki, Kenya.
Or the telephone number is: (245) 22251.
And, of course, there was the Safari
Our Conference included two opportunities for Safari---a visit to the Ark about two hours north of Nairobi and an optional cost item--the Samburi National Wildlife Refuge near Mt. Kenya, the tallest Mountain in Africa at 17,000 feet and the only mountain in the world with an equatorial snow crowned peak. Luray and I opted for the "animal orphanage" where injured or parentless animals are raised and then returned to the wild. I have some marvelous pictures of wildlife from "close up."
CLOSING WORSHIP AND CELEBRATION, SUNDAY, FEBRUARY 23, 2003
The Uhuru Highway International Lutheran Church of Nairobi sponsored our conference and provided us with ho families for a day of celebration in Kenyan Style. After a two hour worship service complete with African drumming, singing and swaying we adjourned to the fellowship hour where we met our host families. Luray and I, Steven and Sara sours from Paris and Ken and Carmen Harris from Bratislava joined the Oroo family for the afternoon. Mr. and Mrs. Oroo are both musicians trained in both classical and African traditions. Mrs. Oroo and her sister were orphans, raised by Swedish missionaries and educated in Sweden. Together with members of their extended family they prepared a feast for us of Kenyan delights. While the names of all of those exotic foods were shared with us, I did not take the time to write down the names, so suffice it to say that there was great variety and that, except for one which looked like brown mush, they were all tasty and good---shrimp with rice, baked chicken in a delicious sauce, a rice custard that reminded us of Swedish "oostekaka", salads and several desserts. Coca Cola and mineral water were ubiquitous. Following dinner each of us shared something about our life, giving short biographical sketches. Mr. Oroo had studied in England for two years and now teaches at the Nairobi School, formerly the Prince of Wales School, a private residential school with a 250 acre campus which includes its own farm operated by the students. Mrs. Oroo taught church musicians for nine years as a staff member of the Kenya Lutheran Church. Their three children are all pursuing their studies in higher education.
Finally it was time to celebrate with a closing banquet with entertainment provided by an assorted cast of pastors and spouses dressed up as Africans, singing, dancing and playing drums, speeches by conference leaders, table conversation with friends and then the inevitable goodbyes as we departed, some going to their own little corners of the world while about 20 other participants joined a post conference tour to the Masai Mara Game Preserve and and then to the beaches of Mombasa for a few days of leisure and rest.
For those contemplating travel to Nairobi, Kenya, here's the word from our guides:
Money Issues
The exchange rate between the world's major currencies and the shilling is established arbitrarily by the Central Bank of Kenya . The rate fluctuates daily and is affected by politics. Currently, in exchanging Travelers Cheques, you are able to get KSh 75 for $1; KSh 121.50 for Sterling ; and KSh 77.80 for 1 Euro. Besides the Forex Bureaus at the airport, the easiest and safest place to exchange your money is at the cashier's desk at the Norfolk Hotel or any of the major hotels at which we'll be staying. We advise bringing Traveler's Cheques. ATM machines are not a good option because your personal financial information enters the Kenyan Banking system and is then available for the use of con artists. You can use your credit cards to pay outstanding bills (for drinks) at the hotel desks, and we haven't heard this to be unsafe. Most visitors to Kenya end up spending most of their unbudgeted money on souvenirs (wood and soapstone carvings, sisal baskets, batiks, a variety of African handcrafted artifacts). Please do not carry your money, passport, or valuables in fanny-packs, handbags, or backpacks, all of which are targets for petty thieves. You need to know that a nickname for Nairobi is "Nai-robbery." With a 75% unemployment rate, many have turned to petty crime in Nairobi . We suggest for your own safety that you avoid walking through the city of Nairobi. You also have to be cautious while driving through the city, such as when you arrive at the airport. Thieves will reach through the windows of cars, rip off jewelry and watches, and grab handbags faster than you can imagine.
A Frame of Mind
Please make sure that before you leave home, you pack the "correct" frame of mind. The "correct" frame of mind for all of those who visit or live in Africa is to expect the unexpected. And when the unexpected occurs, welcome it with humor and patience.
Kenya - 1974 and 1975
Anne Crosman
My thoughts on travel in Kenya, one month each in 1974 and again in 1975:


I went to Kenya because it had always been my dream. I love wild animals and wanted to see them in their habitat. The first time I visited was with a photography-safari tour group that covered several national parks. We also visited a couple of parks in Tanzania. We had first-class accommodations, saw many interesting animals in early-morning and late-afternoon forays into the bush, and enjoyed good drivers. Once we were chased by a mother elephant who was protecting her baby and charged us because she thought our mini bus was getting too close. Our driver laughed and drove faster than she ran, and we didn't get trampled. At night, our guides gave informative talks about what we would do the next day.
Along the way, we had enough time to shop and wander a bit. Natives would materialize out

of seeming nowhere when we stopped, with wares to sell: carved soapstone figures, beaded necklaces, and baskets. There was never pressure to buy. This was in stark contrast to Morocco, where I was always assailed by kids grabbing at me for money and favors.
My favorite spot in Kenya was the Maasai Mara National Park, a vast expanse of land west of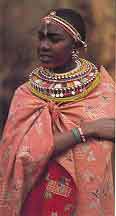 Nairobi with lovely animals. The weather in March was warm and bearable. When I took my own trip to Malindi and Mombasa on the coast, it was hot and humid. April is too late -- the heat is tough.
I also enjoyed a trip north of Nairobi to a Maasai village where the young men danced for us, the older men danced a separate dance, and the topless, beaded-necklace women watched us curiously. I remember one older man dancer coming up behind me and dipping his head and huge feathered headdress onto my head, which was considered a sign of welcome. My blonde hair was also touched by some of the Maasai, who considered it a novelty.

My second trip to Kenya in 1975 was specifically to visit A.I.D (Agency for International Development) friends in Nairobi, the capital of Kenya. I took a couple of
side trips that I arranged myself. One trip was with a "great white hunter" who was scouting locations 100 miles north of Nairobi, for future safaris. Another was a train ride down to the coast to visit the old Arab settlements of Malindi and Mombasa. But mostly I stayed with my friends, shopped at the big downtown market in Nairobi, at nearby Indian shops, and at the Maridadi fabric factory store (fabulous prints by Kenyan artists). I also talked with the people and did some interviews, as I am a journalist. But as a white tourist, I did not feel welcome in Nairobi -- it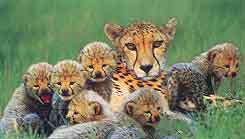 was the way that native black people looked at me on the street. I never was treated badly or felt in danger, but I definitely felt uncomfortable. My friends' house in the suburbs of Nairobi was surrounded by wire and guarded by dogs. Today it's the same story. Petty -- and not so petty -- crime is rampant.
Kenyan and Tanzanian food posed no problems for me. Indian food in Kenya is good --
there is a sizable Indian population there -- it runs many of the stores, where I found beautiful batik and other Indian goods. The Indians, however, are greatly resented by the native blacks.
I would never want to go back. The situation today (November 2000) in Kenya is dangerous, after the bombing of the American Embassy in Nairobi, and the murder of several tourists a few years ago, I believe.

THINK GLOBALLY - ACT LOCALLY - PRAY FOR WORLD PEACE