| | | |
| --- | --- | --- |
| Italy | | |
Italy - August 2001
A Post Card from
Nancy Acevedo
Our villa in Tuscany is surrounded by olive groves and vineyards -- fantastic views in every direction. Had a fun day in Florence yesterday -- saw David! [Ed. Note: Michelangelo's David]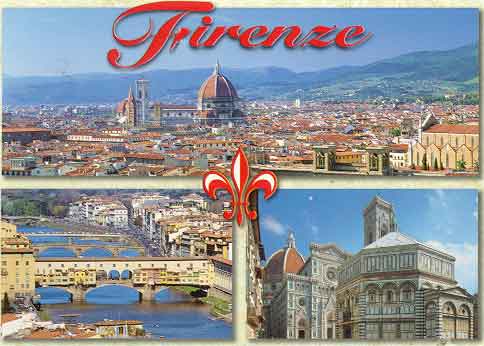 E-Mail Post Script to Post Card

Glad you got the postcard - with the reputation of Italian mail service I wasn't sure any would get through, but apparently they did and in pretty good time also. Tuscany was great - lots of good, very reasonable Chianti; wonderful food; good company; delightful hill towns to visit. We did have a terrific few days in Venice before we flew home.

Italy - July 1999

V. Blitz

I walked into this one with my eyes wide open knowing full well that Mercury was going into retrograde as we left here and was in full retrograde the entire time we were there. (Mercury in retrograde means confusion and complications in travel and communications. I NEVER travel, throw parties, or plan anything important during those times, if I can avoid it.) But this was Bob's trip, so I kept my mouth shut, sat back and was determined to be cool, enjoy the ride, and not be upset by strange things that would occur. Regardless of what would happen, I was simply going to enjoy the adventure...and I did!

We started out with thirteen people, including the "tour guide." One went home on the third day with angina. (I use that term, "tour guide", loosely. She is an art teacher who spoke fluent Italian from living in Italy for two years, but who, I'm sure, has never been on a tour, herself and has obviously never taken a course nor read a book on "leadership", and who has only led one other tour to Italy...and it showed.) Oh, yes, from the onset, it was obvious that she was flighty, scatter-brained, disorganized, and NEVER on time (15 minutes to an hour late), and her only redeeming quality is that she is a well-intentioned and truly NICE person. And by golly THAT is something.

After the first three days in her entourage, I decided that she was not even a very good ART teacher and that it was NOT in my best interest to follow her around any more, so I dropped out to do my own thing. After all, I had been to these three cities in 1986 and there were things I wanted to see that were not on HER agenda. By the end of the trip, she only had three "regulars" in her lectures. The others had had their fill of ART and said so.
We started and ended our trip in Rome, and among the exciting things there for me this time were the Roman Forum (which I returned to for a leisurely stroll), the newly opened Golden Palace, which had been Nero's little home (after seeing the frescoes of Pompeii, it was a

disappointment, but I wouldn't have missed it), the newly cleaned and restored Sistine Chapel (yes, they saved that ceiling and it's beautiful), and Puccini's opera, La Boheme, under the stars (we had to walk up the Spanish Steps to get there, and I made it, despite my bum knee!!!).

In Florence, I finally walked the Ponte Vecchio (that very old, wide bridge over the Arno River with shops on either side and no cars), walked to the highest point in the Boboli Gardens (it's on a small mountain), and visited an outdoor showing of Botero's works...about three blocks of them. Botero is the artist who does those fat, silly sculptures in dark gray metal and each one is so large, it would take up my entire family room. You

HAVE to smile when you see them.

For me, the highlight of Venice is Venice, itself. I just like being there and riding the water buses, regardless of where they are going. Bob had brought his swim suit and was determined to swim at Ledo Beach. It's on an island, so we had to take a water bus (an hour getting there and an hour to return, and in addition, the walk to and from the beach was another 30 minutes)...all for a 15 minute swim. Two others came with us. We saw two or three topless female sunbathers. Such fun!

A real thrill for me, was the thirty minute ride in a boat from our hotel dock in Venice to the airport dock, never mind that I dropped the small purse containing my passport and our tickets on the hotel dock in Venice. When we called the hotel from the airport, it had already been found and the hotel sent it to me in Rome the following day. (Mercury retrograde again).

Any time something went wrong on this trip, we just blamed it on Mercury in retrograde and made a joke out of it. The worst thing, for me, was that my lucky suitcase is history. The "pull" handle was broken off in one of the transfers. I had been looking at that bag for the past couple years thinking it should be replaced, reluctant to do so because it has served me so well. But now the universe has spoken. A new bag it is!
ITALY
Anne Crosman
I visited southern Italy in November 2001 to help Italian friends harvest their olive crop. They live in the town of Gravina, an hour outside Bari, a port on the Adriatic Sea. It is a beautiful city, whose patron saint is St. Nicholas. The cathedral of St. Nicholas is gorgeous; nearby, in old town, is the Norman Castle, which attracts many tourists. I think I was the only American tourist! I'd visited once before in the summer of 1999, and seen no Americans. I consider this a definite plus. Bari also has a museum, which is well-nigh impossible to find. It has a grand collection of religious and secular art from the 10th-20th centuries. It is well-worth a visit. When I went, there were no other visitors. Walking along the port/city walls, which everyone does in the summer twilight, is also great fun. The light in the Mediterranean is just wondrous.
Assisi, Italy - May 1986
Vicky Blitz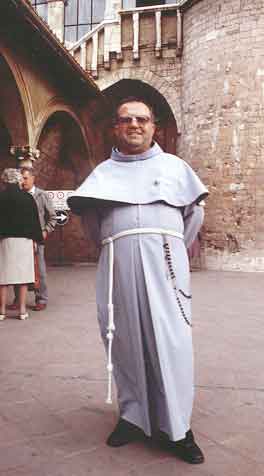 In a monastery garden in Assisi
This blue-frocked friar was our guide.
He was jolly, he was charming, he was pleasing,
And his joy was felt throughout the countryside.

THINK GLOBALLY - ACT LOCALLY - PRAY FOR WORLD PEACE