Ireland - Epilogue

V. Blitz



[Editor's Note: Looking back over what I had written about Kerry County and the Ring of Kerry, I feel I did not give an adequate account of this lovely country for I simply do not have the words. However, the little souvenir book that I purchased while there seems to have the eloquence to express it the way I would have liked to. Here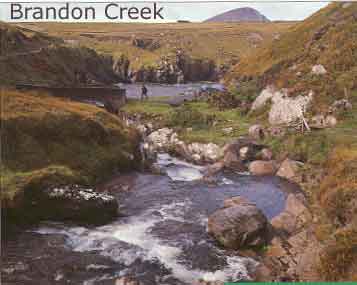 is that little book, Beautiful Kerry, by John Hinde with some its' pictures I wish I had taken.]

Justifiably known as the "Kingdom", Kerry is perhaps the richest jewel in the cluster forming the Emerald Isle. The most westerly point of Europe, its humidity produces a colorful, almost tropical lushness, while the picture-book beauty of its lakes and mountains earn it a reputation as one of the idyllic retreats of the world. An astonishing array of prehistory's remains - clochans or monastic beehive huts, raths, dolmens, standing stones, ogham stones - lend an other-worldly magic to the primordial landscape of water, mountain and sky. "One wonders, in this place, why anyone is left in Dublin, or London, or Paris, when it would be better one
would think, to live in a tent, or a hut, with this magnificent sea and sky, and to breathe this wonderful air, which is like wine in one's teeth", mused J. M. Synge on his favorite county. Killarney owes its romantic setting to ice-age glaciers. Sculpted from a limestone valley, innumerable artists have immortalized the perfection of its three lakes; Lough Leane, the Lower Lake, dotted with thirty islands; Muckross Lake, the Middle Lake, which has four; and the Upper Lake, with three islands. The MacGillycuddy's Reeks, Ireland's highest mountain range, loom majestically behind, their lower slopes luxuriant with forest and a profusion of exotic plants: the famous arbutus or strawberry tree which normally grows only in Mediterranean countries, the bright, plump fuchsia which blossoms everywhere in Kerry, wild orchids, and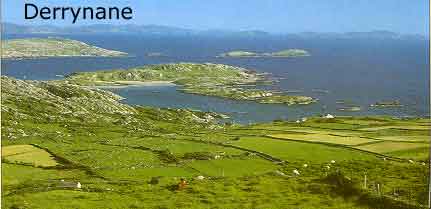 saxifrages and the greater butterwort which are otherwise found only is northwest Spain and Portugal. To enjoy a lazy tour on the lakes, soaking up the soft peacefulness, is to savor the essence of Killarney. On the Lower Lake, local fishermen offer trips from Ross Castle to Innisfallen Island - a tranquil, wooded oasis where monks recorded Irish history up to the 12th century in the Annals of Innisfallen. The Killarney Races in May, July and October are rather less peaceful, while Pan-Celtic week during the spring gives exuberant Celts from all over the world an excuse to gather here and make merry. Jaunting cars guarantee an entertaining trip to Muckross House, an Elizabethan-style mansion on an 11,000 acre estate which forms part of the Killarney National Park. The building houses a folk museum where blacksmiths, potters and weavers demonstrate their traditional crafts; outside, the informally landscaped gardens are redolent with brilliantly-colored rhododendrons and azaleas. Cycling slong the lakesides is the most enjoyable way to breathe in their fragrant, exotic beauty and to reach Torc Waterfall, tumbling 60 ft. through secretive wooded gloom. Fed by the Devil's Punchbowl in the Mangerton Mountains, the waterfall's summit provides a spectacular view of the lakes. The ubiquitous jarveys will also take you to the Gap of Dunloe. This narrow, mysterious gorge cuts approximately six kms through the MacGillycuddy's Reeks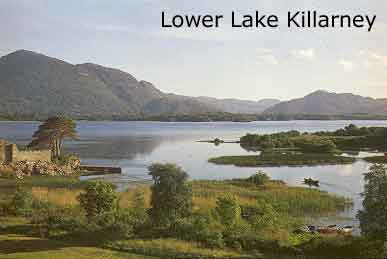 and the Purple Mountain; closed to cars, the adventurous negotiate it by pony and the energetic by foot. Hushed and desolate, still lakes brood on either side of the defile which winds between wild, silent granite walls. At journey's end the Black Valley spreads below, darkly remote, sparsely inhabited - the last place in Ireland to receive electricity. A path leads back to the reassurance of the Upper Lake, where boatmen traditionally carry a bugle to call forth echoes from the crags of the Eagle' Nest. The Ring of Kerry is a magnificent route encircling the Iveragh peninsula, Killorglin, the first stop anticlockwise from Killarney, is completely transformed during Puck Fair - three days (August 10th - 12th) of reverie and riotousness. The "Puck" is a large, wild billy-goat who is captured, crowned king and hoisted up onto a platform, where he reigns over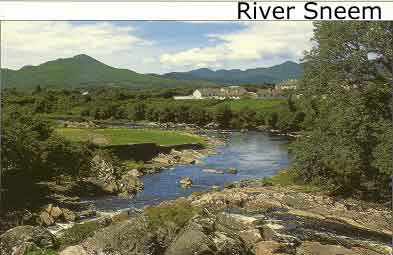 cattle, sheep and horse trading and some serious merrymaking! Glenbeigh is next, with its beautiful beach and views of the Dingle peninsula opposite. The road from here to Cahirciveen is one of the most beautiful stretches of the Ring, with its coastal and mountain scenery; thereafter the end of the Inveragh peninsula is wild and almost deserted - a green and blue landscape splashed with the red of fuchsia and the yellow of wild flowers, raked by the exhilarating Atlantic winds. Valentia Island is joined to the mainland by a bridge, while the two Skellig islands form a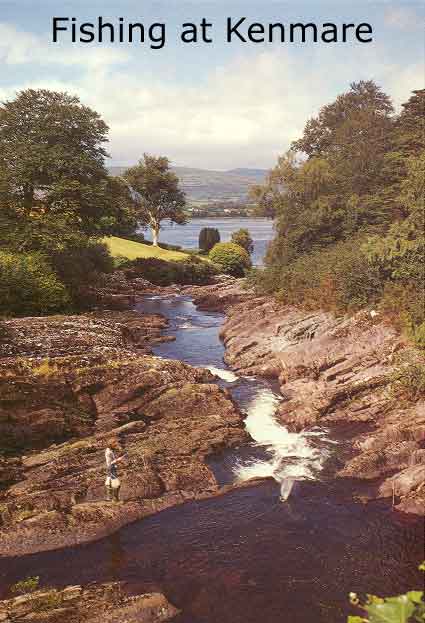 stark contrast in their inhospitable, rocky bleakness - the 640 steps to the summit of Skellig Michael can be climbed now just as they were thousands of years ago, when ascetic monks used the place as a retreat. Waterville, a Victorian and Edwardian angling resort, exudes an old-fashioned charm; the nearby Coomakista Pass rewards Herculean effort with wonderful views over the Kenmare River, the three rocks called the Bull, the Cow and the Calf, and the Beara peninsula beyond. Derrynane House - the former home of Daniel O'Connell (1775 - 1847), the Great Liberator and Kerry's most famous son - is next on the Ring before the pretty village of Sneem. Then on to the cosmopolitan market town of Kenmare before completing the circle to Killarney and the beautiful Ladies View. The Dingle peninsula, the most westerly point of land in Europe, is a rugged but magical place. Dotted with a profusion of Celtic monastic ruins, blessed with deserted beaches and the dipping mountain scenery which characterizes Kerry, this is an elemental land of fickle sunlight and secretive mists which seem about to reveal another world, perhaps of the mythological Tuatha de' Danaan who lived underground - or the mystics who inhabited these beehive huts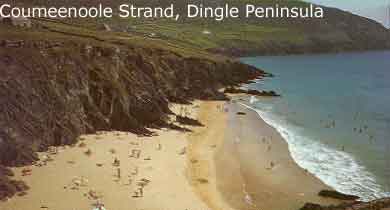 and communed daily with the elements. Dingle town is now synonymous with its main attraction - a playful dolphin called Fungi who has made the bay his home, and who energetically leaps and plunges around the boatloads of admirers anxious to see and photograph his antics. Other than its most famous resident, this picturesque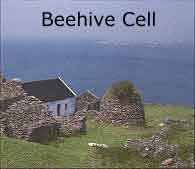 town is known for the craic guaranteed in its lively pubs and seafood restaurants. West of Dingle is the Gaeltacht or Irish-speaking area. Between it and Slea Head are over 500 reminders of a different time - the spectacular promontory fort of Dun Beag, numerous stone beehive huts, cave dwellings, churches, standing stones and crosses. Near Ballydavid is the peninsula's most well-known early Christian monument - the Gallarus oratory, whose mortarless, interlocking stones have kept it watertight since the 9th century. The Blasket Islands, brooding near the dramatic wind-and-sea-battered Slea
Head, are yet another witness to former times. Uninhabited since 1953, the islands produced a wealth of Gaelic literature; they can be visited by boat during the summer. From the wilds of the peninsula to the wilderness of Tralee - during the Rose of Tralee festival in August, when aspiring Roses from all over the world can be seen blossoming here amidst much merriment. Tralee is also the home of Siamsa Tire, the national folk theatre, which produces colorful and critically acclaimed performances.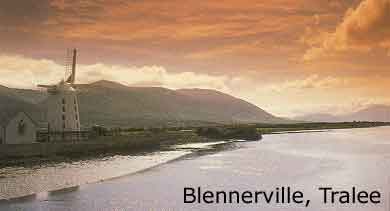 The beauty spot of Banna Strand just outside the town is another attraction. The Blennerville Windmill Complex is linked to Tralee by a steam train which runs on the Tralee and Dingle Light Railway, one of Europe's most famous narrow gauge railways built in 1891, closed in 1953, and partly restored in 1986. The two hundred year old windmill has been reconstructed to full working order and the complex includes a visitors' center, craft workshops, emigration center and tea-room.




---
Dublin, Ireland
A Post Card from

Nancy Acevedo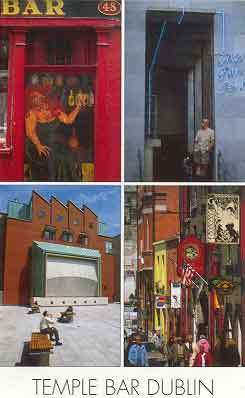 Greetings from Dublin. All so far delightful. Tonight, more traditional Irish music.

Nancy A.



Temple Bar is Dublin's cultural and entertainment quarter. Located in the heart of the city, temple Bar is a network of narrow cobbled streets with theatres, artist studios, small galleries, hotels, restaurants, bars and shops.

---
The harp that once through Tara's halls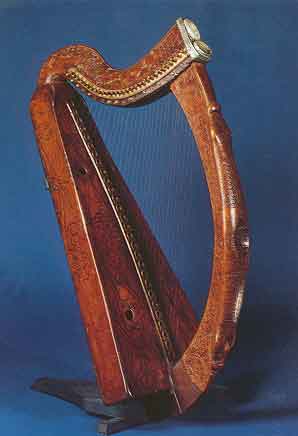 The soul of music shed,
Now hangs as mute on Tara's walls,
As if that soul were fled.--
So sleeps the pride of former days.
So glory's thrill is o'er,
And hearts, that once beat high for praise,
Now feel that pulse no more.

No more to chiefs and ladies bright
The harp of Tara swells;
The chord alone, that breaks at night,
It's tale of ruin tells.
Thus freedom now so seldom wakes,
The only throb she gives,
Is when some heart indignant breaks,
To show that she still lives
Thomas Moore

THINK GLOBALLY - ACT LOCALLY - PRAY FOR WORLD PEACE
Return to:
Ireland main page