Ireland - September 1998

V. Blitz

Ah, indeed, 'tis a touch of Brigadoon throughout the Emerald Isle. Wee little people and fairies behind every rock and under every tree. At least one would expect it to be so in this magical land. The grass is really a greener green, or a brighter green, or at least a different gre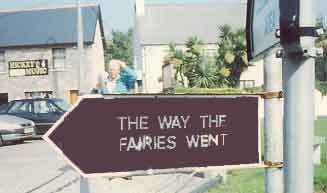 en. Perhaps that is because we had rain almost every day, not a regular rain, nor a constant rain, but a misty rain, just enough to wash the dust off the grass. One day while riding on our tour bus, it rained off and on all morning and, as we passed over each hill, there were rainbows on every hill for many miles. As one would disappear, the next one would appear. Magic! We couldn't believe how truly enchanting was this place, this Eden, this God's country. It is easy to believe the Irish would have never left this land and come to America, had it not been for the potato famine.



In the area of Galway, the land inland from the coast has been reclaimed by the earliest settlers who, upon arriving, discovered rocks, rocks, and more rocks. I would suppose they were probably deposited there by the glaciers of the ice age. They are varying shades of grey and the size of a skull, some larger, others smaller. Those early settlers moved the rocks, one by one, to make way for their farms. At some point in time, these millions of rocks were rearranged to form fences about five feet high around little plots of land, some plots being no more than a quarter of an acre. And these paddocks go on and on for miles. We were told they keep the rabbits out of the garden plots and the sheep in the grazing plots. But seeing the quantity of those rocks per plot made me appreciate the hard work and effort required to clear the land.

Having watched documentaries on the disaster of the potato famine and how so many people starved because there was no food, I rather expected to see in the farming areas run-down houses and people wearing ragged clothes. So, I was pleasantly surprised t

o see that there were no run-down houses and the people throughout Ireland were well dressed and looked healthy, happy and prosperous. In fact, we were told that Ireland has now surpassed Australia for the highest rate of home ownership in the world. Could that be the reason they are such a charming, helpful, and fun-filled lot whether you meet them in a store, hotel, restaurant, park, or just walking down the street? They seem to have a twinkle in their eyes even when they are serious.


The timing of this trip was such that many of us on this bus tour (there were 42 of us tourists) had already read Frank McCort's best seller, Angela's Ashes. So, when we drove through the little city of Limerick, the scene of his childhood described in such detail, several of us were busy trying to recognize the locations and street names, etc. I think we did catch a couple of the street names, but, in comparison to the Limerick Frank pictured, they have raised the town and built a modern one in its place. Maybe if they had driven us through the back alleys we would have found a different Limerick.
We visited the famous Cliffs of Moher in County Clare on another rainy and very windy day.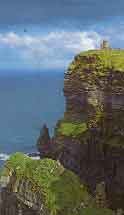 The wind was so fierce and strong that people with hats had to keep one hand on their hat while climbing up to the viewing platform, or they would have blown away. In fact, mothers were holding their children's hands very tightly, youngsters were hanging on to each other, and so were little old ladies for fear they, too, would blow away. Oh, yes, there was also that misty rain while we were there.

The cliffs are the result of an earth-shaking event that occurred 300 million years ago when they raised up 700 feet out of the sea. "Awesome and dramatic" doesn't begin to describe them. I stood there trying to imagine myself alone before that place became a tourist attraction; just me and the cliffs and the ocean waves crashing onto the rocks below, the wind whipping at my hair and the misty rain stinging my face; just me, alone in this spot; just me, my angels and God.



Traveling North to Black Head, we looked back to see in the distance the Islands of Aran where the Irish knit sweaters originated. These sweaters were a fisherman's identity. In the early years, many ships would be lost in the Atlantic storms and when the bodies would be found, washed up on the shore weeks later, the only means of identification was by the sweaters the men were wearing. Therefore, no two sweaters were alike.

We stopped along the way, taking pictures of Galway Bay. Also stopped to take pictures of Dunguaire Castle where they now give readings of the works of Yeats, Singe and Shaw. "What about my favorite, Thomas Moore?." I wanted to know, but I was in the back of the bus. I think my question was never heard.

Before arriving in Galway, we stopped for a lecture on glass cutting at the Galway Crystal Heritage Center and another one on china at the Royal Tara China Factory.

Inevitably when one travels, one expects to run into things one never expected to see. But one thing I never expected to see in Ireland were palm trees. They just seemed so out of place in Galway, but, there they were. Of course, they were imported and only to be found in people's front yards or outside a hotel. Never in the wild. It seems that because of the Gulf Stream, the climate permits them to succeed once they have been imported.

Leaving Galway, we stopped at the ancient fishing village of Claddagh, which, because of their open sewers and unhealthy conditions and the diseases that come with them, was destroyed and rebuilt in 1930.

John Ford, the movie director, was from Spiddal on the northern shore of Galway Bay and brought the movie, The Quiet Man (John Wayne and Maureen O'Sullivan), to these parts to be filmed. If you are planning to visit Ireland and have never seen The Quiet Man, you might rent it before you go. They are still talking about it in these parts.



Along the way, we learned that both Gaelic and English are the national languages; that there are three sheep for every person; that the average, three-bedroom house is $150,000.00; that gas is about $3.50 to $4.00 a gallon; that cigarettes are about $3.00 to $4.00 a pack; and that the highest taxes are on gas, cigarettes and alchohol. We also learned that Ireland and England are, in reality, the tops of mountains and that at one time they were part of Europe until the ice melted.

We lunched at the Visitor's Center at Kylemore Castle, now an Abby of the Iris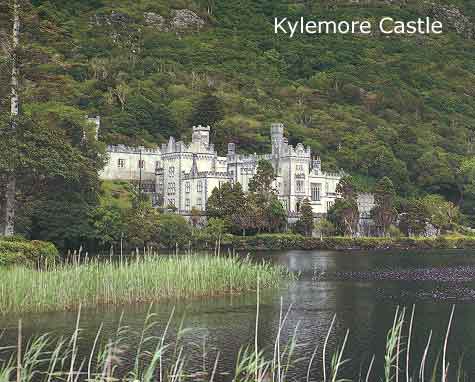 h Nuns of Ypres. The castle was originally designed as the home of one Mitchell Henry, a surgeon and financier in the mid-nineteenth century. It was erected in 1868. In 1874 Mrs. Henry died of a fever during a trip to Egypt. Her body was returned to be buried in the mausoleum. Dr. Henry died thirty-six years later in 1900 and is entombed there also. In all my travels, I have never seen a more beautiful and exquisite castle. And, of course, it is in Ireland.

We stopped at Connemara and listened to another lecture at the Connemara Marble Factory on (what else?) marble.


At Knock, we stopped at the Knock Shrine and Cathedral. In 1879 they are said to have experienced a miracle apparition of Our Lady, St. Joseph, and John the Baptist. The Cathedral is quite beautiful and very modern. As it was Sunday, we stayed an hour or so. Some went to church. My buddy and traveling companion, Kay, and I spent the time exploring the grounds and their lovely gardens.

Later on, down the road apiece in Sligo where William Butler Yeats was born, we spent a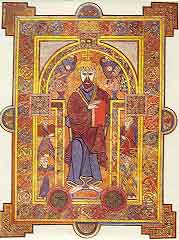 little time at the Drumbcliff Church. St Patrick, patron saint of Ireland, was associated with this church which has been rebuilt two or three times. Also it is here where St. Columba (Columba Colin Kell) is traditionally thought to have originated the Book of Kells, the first four books of the New Testament now housed in the Trinity College Museum in Dublin. There is much controversy regarding dates, but our tour guide gave us the date of 563 AD. Also, there is debate as to the actual location where it was begun, as St. Columba traveled all over Europe spreading the Christian message. I found it interesting to see what remains of the original abbey, fifteen hundred years old -- a thirty or forty foot structure that looks like a small silo.


I believe we all smiled when, later, we witnessed Irish "cowboys" herding cows down the highway in a red car with a couple "walkers" on both sides of the herd.

And then there were the rabbits. We were on our bus going into town for dinner, and people in the front of the bus were getting excited about something they saw in a field that we were approaching. "What are they?" they were exclaiming. Rabbits! Hundreds of rabbits in a field. Big rabbits. We were informed they were hares. But, there, in this enormous field of many acres, were the largest group of rabbits, er, hares any of us had ever seen. There must have been a hare for every three or four square yards, as far as the eye could see, and most of them near the road were sitting up watching our bus go by.

We watched a film at the Pottery Museum in Belleek on how they make the world-famous and award-winning pots, where prices range up to $2,000.00. I'll take two.

We saw peat being harvested in the fields, and were taken to a pile of peat beside the road where tourists could

select a free sample to take home. Of course, I got a chunk, to take home! I have friends and relatives who have never seen, felt, tasted, or smelled a piece of peat. When someone asked about getting it through customs, we were told, "They are used to seeing it."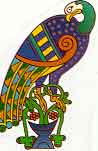 We discovered the reason why every town we were in, every shop, every restaurant, every street was immaculately clean. Ireland has begun having "Tidy Town" contests. Would you believe?

We stopped in Donagal where I found a lovely gold bangle to add to my foreign bangle collection.


In Enniskillen, Northern Ireland, we stopped to have some lunch and tour the Enniskillen Castle and St. Michael's Cathedral.

Passing through Omagh, our guide pointed out the spot where a bomb had gone off days earlier, killing eleven. We took up a collection.



In Derry, formerly known as Londonderry, during our walking tour of the old city, we stopped at a bank to deposit our bombing collection and learned the death toll in Omagh had gone from eleven to twenty-nine.

Back on the road and on to the Giant's Causeway. Usually, before I travel to a particular country, I have one or two, or sometimes three tourist attractions I want to see, and when selecting a tour, I look for a tour that includes those places. For my trip to Ireland, my "must see" tourist attraction was the Giant's Causeway. Over the years, I have seen only one mention of the place but that was enough for my curiosity.

Quoting from A Geological Excursion Guide to The Causeway Coast by Paul Lyle, "For
over 300 years the spectacular rock formations of the Giant's Causeway area on the north Antrim coast have attracted visitors and scientists from all over the world. In the early 18th century the Causeway itself was the subject of a great deal of controversy concerning the origins of volcanic rocks. It is now known internationally for its contribution to the growth of geology as a science."
And a later quote, same source: "The Giant's Causeway is composed of a rock known as BASALT, which is an IGNEOUS ROCK, that is it forms by the cooling and hardening of molten material produced from deep in the earth at temperatures of around 1100 degrees C. Throughout the 18th century however natural scientists had been debating the origin of crystalline rocks such as basalt and two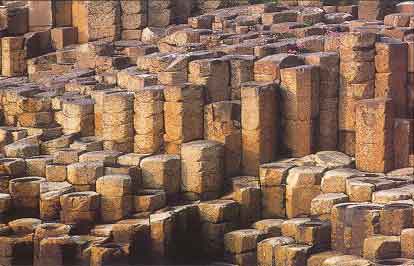 principal schools of thought had developed. The "NEPTUNISTS" led by Abraham Werver (1749-1817) regarded all such rocks as the result of crystallization from sea water, while the "VULCANISTS", with Nichuha Desmarest (1725-18 15) as the main spokesman, believed them to be the products of volcanic eruptions.."


The Causeway type rocks extend along the coast of Northern Ireland, between Portrush and Ballycastle, a distance of about twenty-three miles. These hexagonal giants appear
intermittently along this stretch of coast line, along with white chalky cliffs and other types of rocks. They are known to have been formed during the Cainozoric Period, and it seems there is a general consensus of opinion that they are a result of lava bursting from the earth's crust and being cooled so quickly by the ocean that they developed their shape. Nevertheless, quoting from Paul Lyla's book again: "The Giant's Causeway has been granted the status of World Heritage Site by the United Nations Educational, Scientific and Cultural Organization (UNESCO), fulfilling the criteria required in representing a major stage of the earth's evolutionary history and containing superlative natural phenomena and features. The Causeway area is owned and managed for the nation by the National Trust; and, as part of its conservation policy and the Department of the Environment (NI.), has designated the Causeway Coast area an Area of Outstanding Natural Beauty (AONB).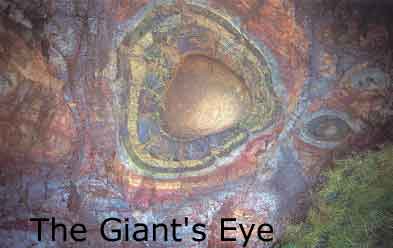 Although I only spent about a half hour among the Causeway rocks. I was quite charged up with excitement, and felt extraordinarily blessed with the experience. My excitement of just being there amid this phenomena lasted on into the day. My resolve is that some day I shall return to spend two or three weeks exploring the area. Certainly, I shall rent a car and hike into the rocks at the various points of interest such as the Giant's Eye. Also, I hope to be able to rent a plane and see it from the air, and rent a boat and see it from the sea, up close and personal. Just thinking about this makes my energy soar again. Yes indeed, it certainly is another "must-do" and I will, some day.

After spending an hour at the Giant's Causeway Visitor's Center and having lunch, we were back on the road and

taking pictures of Scotland in the distance, Bally Castle Island, and Fairhead Cliff

Arriving at the outskirts of Belfast, we stopped in Carrickfergus for pictures of the Carrickfergus Castle, built in 1180 - 1190. We explored, took pictures and listened to a little history from our tour guide. After dinner in our hotel, we took a night tour of Belfast with a delightful local tour guide. She was very intelligent, interesting, informative and fun; and, after about ten minutes, I fell asleep and didn't wake up until everyone was getting off the bus to go to their rooms for the night. The next morning, after breakfast, we were heading out of the area for our next destination, Tara and then Dublin, and as we were passing a neat little row of houses, with trees and flowers and shrubs, across the black roof of one of the houses was written with yellow paint---"GOOD JOB HIILLARY".

I should mention, they love the Clintons here in Ireland and they don't understand why the U.S. is making such a fuss over President Clinton's little indiscretions. And, I might add, they think he is doing a great job, at least the people who engaged me in conversation felt that way.

And, then we arrived at Tara. So, let me quote from the book "Tara" by Edel Bhreathnach and Conor Newman: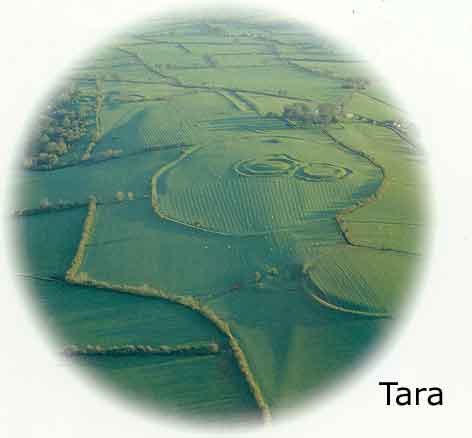 "Tara of the Kings, celebrated in myth and legend, is one of Ireland's premiere archaeological sites. Although the hill is not a prominent feature of the landscape, it commands panoramic views of the Irish countryside and some of the richest and most fertile land in Ireland. Archaeology has established that human activity on the hilltop goes back to the Neolithic period, about five-and-a-half thousand years ago, while the earliest historical references to Tara can be dated to the seventh century AD. Despite all of this, the archaeological richness of Tara is often not apparent to the extent that one often hears the remark that there is very little to see on the Hill of Tara."

Well, in my opinion, not only is there the entire surrounding countryside to see, but also there is the energy of the hill, itself, to feel. There were at least two or three others who also did not want to leave. It was such a glorious feeling, just standing there, breathing that clean air and experiencing that exhilaration that comes with being in a power vortex. Then to be told that it was this hill that was first used by the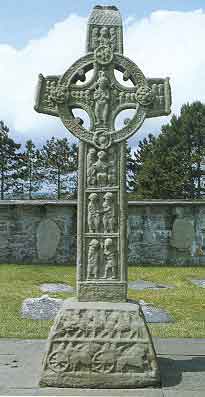 Druids and then as a religious center and then by the High Kings of Ireland. And those kings were not kings through heredity. They earned the kingship by fighting for it or being elected. Every three years the people gathered there to celebrate, enact new laws, and settle disputes. There had been a banquet hall that held 700.

Apart from the hill of Tara stands the Church of St. Patric which dates back to 1822 when is was restored. There had been, I believe, two earlier churches there. But the only thing that held my attention was the hill. It drew me to it like a magnet. Some day, when I return to Ireland, I hope to spend at least a week right here and I will investigate the other archaeological sites in the area connected with Tara. Since we did not visit those sites (they are within two or three miles of the hill) I will not go into them here, but will write up at report when I visit them.

Dublin, the capital of Ireland, was first settled by the Vikings in 988. It is a beautiful modern city with touches of the old and charming to be found here and there. We arrived early enough that Kay and I teamed up with three other gals to do our own little exploration walk of the city before dinner. We located a woolen shop and I believe all of us bought something. The stole I bought is of the softest most beautiful Moreno wool I have ever touched. The shop was right in front of the Ha' Penny Bridge, which crosses the River Liffy which runs through the city. And, yes, there really is a Ha' Penny Bridge! We took pictures of the bridge (with us on it, of course), and the river with the modern Guiness Office Building in the background.


The next morning, we got back on our bus to take the ubiquitous city tour. They pointed out two statues on the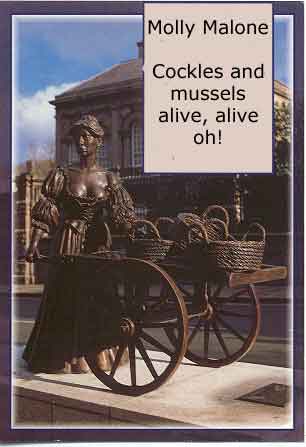 same block with our hotel. One was a fountain with a beautiful, nude woman reclining in it, with the water beginning above her head and flowing through her hair and down over her breasts. It was light gray to dark dark charcoal, but the striking part was the size of this fountain, perhaps about 35 - 40 feet in length. The other statue was that of Molly Malone, shown here with her cart. So, the locals refer to the first statue as the "Floozy in the Jacuzzi" and Molly Malone as the "Tart with the Cart".

On with our city tour. We passed St. Stephens Green, Marrion Square, O'Connell Street and Bridge (where we were staying), and several other points of interest. We then arrived at Trinity College which houses 14,000 students and dates back to 1592, where we were to see the Book of the Kells. Well, I found myself acting like a kid. I couldn't wait for the others to get off the bus and was halfway to the college before they were finished getting off the bus when I realized I was misbehaving. My enthusiasm was probably insufferable but I just couldn't contain myself until we actually stood in front of the book. Well, actually, it is in several glass encasements and show-cases. One display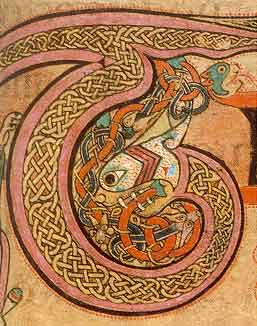 showed how they created the colors used in the manuscript: Red Lead, Lapis Lazuli, Malachite, Orpiment and Azurite.

These New Testament Books of Matthew, Mark, Luke and John are done in such an elaborate and exquisite manner. It seems that almost every capital letter that begins a paragraph is enhanced with so many figures and designs that often obscure the letter and make it impossible to read. It is as though the artists have taken Celtic designs (like those you see scattered around this page), started doodling and couldn't quit. But the end result is magnificent and I had no idea I would become so fascinated with them, for it is very rare that even the most famous oil paintings get more than a glance from me. I'm just not touched by art. Music yes, art no. But the Book of the Kells is a different story. Just writing about it, my heart is pounding.

After the Trinity College experience, our bus took us through the Georgian sector of town where, I'm sure, all tour guides take all tourists and tell this story of the Dublin Doors: "This sector of town was, and still is where the wealthy and successful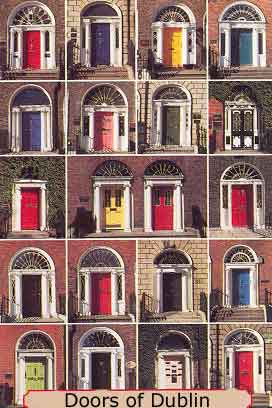 professionals of the city reside. When this part of town was still fairly new, all the doors looked exactly alike. A certain judge, referred to as the 'Hanging Judge', lived here. He was named the 'Hanging Judge' because he would often go to sleep during a trial and wake up in time for the sentencing of the accused, and yell out 'hang 'em'. One night he stopped at a pub on the way home. Upon arriving, he walked up the steps, inserted his key, the door opened and he walked up stairs and found a man in bed with his wife. He immediately had him hung on the spot without a trial and then discovered he had the wrong house and the man he had hung was in bed with his own wife and was innocent. It wasn't long before all these doors were repainted different colors." Our tour guide told us he could not promise this was a true story (and probably isn't) but it makes for a good one anyway.

The next day we were on to Enniskeny to visit the famous Powerscourt Gardens designed and laid out 1745 - 1767. They were quite extensive covering many acres, including a lovely little lake, Triton Lake, which had a high-spouting fountain in the center. Also, there were the Italian Garden, the Japanese Garden, the Pet Cemetery, the Walled Garden, ancient trees, and statues. What a nice way to take a mid-morning break.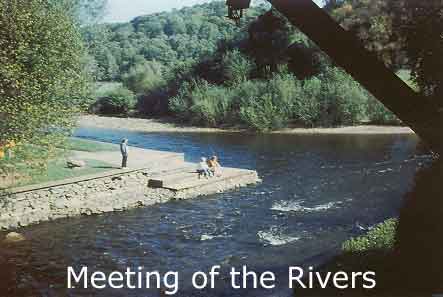 We took our lunch break at "The Meeting of the Rivers" where the Avonmore and Avonbeg Rivers merge and we saw the spot where Sir Thomas Moore was inspired to write some of his poetry. They were not very large rivers and I could see how he could be inspired there.

Just outside of Waterford, we stopped at the Waterford Crystal Factory and all of us were impressed with their extensive crystal displays.

The Towers Hotel, where we spent the night, was too busy to serve us dinner. They reluctantly offered to prepare sandwiches for us but suggested we eat across the street. It seems they were catering a wedding and didn't have enough staff to handle it. That was a first for me. During any trip you usually run into at least one snafu along the way, but this was outrageous.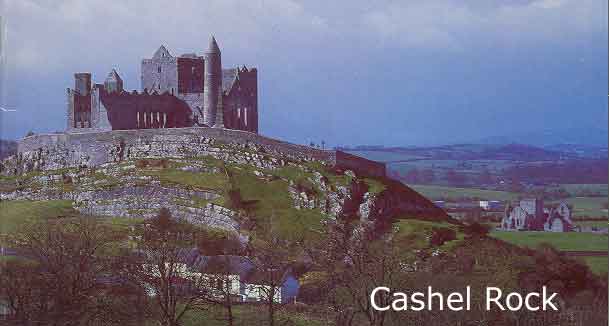 On the following day we toured Kilkenny and Tipperary Counties, seeing Knocktopher Abby (which was destroyed by Oliver Cromwell), Killkenny castle (Cromwell missed this one), and St. Patrick's Rock, Cashel (commonly known as Cashel Rock).

One morning, after leaving Waterford, in route to Youghal, and later Baltimore Harbor, we stopped for a mid-morning break at Seanache, a darling little 250-year-old-farm house, now an inn and bar.
Our tour group gathered in the court yard with our coffees and sweet rolls to sit in the sun and listen to our jovial host serenade us with his accordion. It was at this authentic Irish pub and at at this particular moment that I became hooked on Irish coffee. Everything was upbeat. People were laughing and singing along with familiar Irish songs. I broke away with several others to get a picture of the Mountain Grave Yard with its memorials to the potato-famine victims, who were buried there in a common grave. It was my first visit to a common grave site. Their tragic deaths were sad to contemplate, especially considering those deaths may have been prevented had the people in power cared enough to do something about it.

The day was beautiful and the sun was warm and the Blarney Visitor's Center so charming that Kay and I opted to skip the l

ong walk up the hill to kiss the Blarney Stone. Furthermore, my knee had been bothering me and I think her ankle was not too happy either. So, after making a few purchases in the department store (which was part of the complex), we sat and talked with a couple other tourists (Irish) which one should do when one is in another country that speaks English. It's interesting to get another prospective on world affairs, especially when one's own president has embarrassed us all. But here was another case where the Irish didn't think it was all that bad in lieu of what he had recently done for them. It was good to hear.

Our Hotel (Baltimore Harbor Hotel) at Baltimore Harbor was so pleasant that several of us would have liked to stop here and rest for awhile, but up and onward the next day through Cork County, over the Cahn Mountains to Killarney and a boat ride on Laugh Leane.

The Ring of Kerry is on almost every tour of Ireland so I had been looking forward to this part of the trip. If you are one who enjoys wide open and expansive views of mountains, rocks, shores and ocean waves this is another "not to be missed" spot on the planet. Bring your binoculars! The distances are far but you will not be disappointed.

Our first stop was at a sheep farm on Dingle Bay where we got a remarkable demonstration of the crème de la crème of Border collies of Ireland. I had seen such demonstrations before but this one was a sight to behold. The dogs were to work up and down a little mountain ridge
that was set at about a 45 - 70 degree angle which would have made a nice little ski slope or better yet a challenging slalom course. I have had three Border collies in my life so I knew them to be high-spirited, energetic and smart but this is the arena in which they truly belong. These two dogs could have been Olympic athletes. Not only did they race up the extraordinarily steep hill to get the sheep but they did it at twice the speed I might have expected. Furthermore, they did it with only silent commands such as hand movements that we couldn't detect. And not only did they bring them down the little mountain in short order but they lined them up and culled out an individual and then put him back and culled out another and so on. Later we saw the vast number of trophies they had won and we were not surprised.


In addition to the Border collies, they also had about 15 or 20 different types of sheep in their collection. Having been into spinning and weaving for a time in my life and having visited a few county fairs to purchase fleeces for spinning, I felt that here I was on rather familiar ground until I saw the Jacob sheep. The Jacob is a FOUR-horned sheep which is said to have descended from the original Jacob sheep from Biblical days. I stood there and thought something was wrong with my eyes. I seemed to be seeing double. Yep! I counted them one at a time and there were indeed four horns. I just stood there while the others moved on. I stood there looking at the ram in disbelief. Amazing! Four horns.

Daniel O'Connor was known as the Great Liberator because he was able to raise himself up to a position where (through peaceful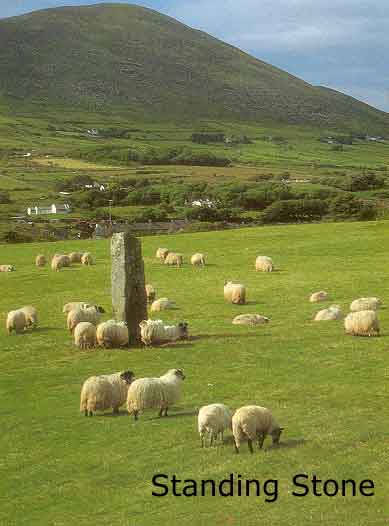 demonstrations) he was able to free the Catholics from oppressive taxes, get education for their children and other equalities from the English. He died during the Potato Famine in 1847. So during our ride through the Ring of Kerry, we saw statues of Daniel O'Connor and Charlie Chaplin. We saw fairy forts or fairy rings (a ring of trees) and standing stones (see picture). We went through the Coomakesta Pass, paralleled the Kenmare River, saw Ballinskelligs Bay in the distance, passed through the town of Sneem, took pictures of the Lake of Killarney, and other many beautiful sights. But the Ring of Kerry should not be sped through on a bus. The best way to see it is to rent a car and bring a picnic lunch, and when you find that special place that makes your heart sing, stop and stay for awhile.

Our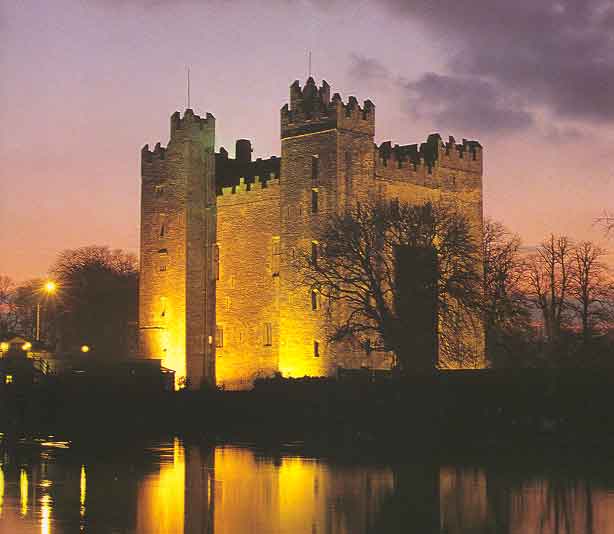 Irish adventure concluded with a couple of hours at Bunratty Castle and Folk Park, a delightful reconstructed medieval castle and village. Our guide for the castle tour was wearing period clothing; and, although they were cumbersome, the clothes of that time were necessary to stay warm. The ceilings were so high and there was so much stone work that there was no way of warming the rooms, even with their enormous fireplaces. The stroll through the village next door was interesting. You saw spinning and weaving, the apothecary shop, the tanning shop, the animals they were raising, the gardens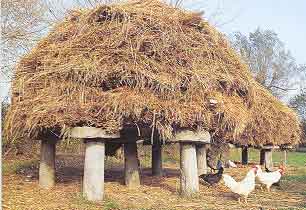 they were growing, the blacksmith's forge, the doctor's house, the schoolhouse, the artisan's house, the pub and a thatched-roofed farm house that looked to me to be a whole lot more comfortable and warm than the castle for all its elegance. One thing I hadn't seen before was how they placed the corn stacks on stone stands to keep the rodents out of them (see picture).

And so we came to the end of our most delightful 15-day journey. I hope this sharing might encourage you to visit this beautiful piece of God's old sod. The food was delicious, the people a delight, the accommodations elegant and comfortable and everyone speaks English. It's an easy travel. Try it, you might like it.
In closing --- May the angels adore ye, and the devil ignore ye. --- Erin go braugh!!!
Continued on:
Ireland - Epilogue by V. Blitz