Djakarta, Indonesia - May 1995

Vicky Blitz

Three of us were flying from Japan to Bali, on an unescorted tour, aboard Japan Air Lines and and there were almost as many crew as passengers aboard the plane. We stopped in Djakarta and were told we were to leave the plane and would be on the ground for one hour. The reason we were given was that they needed to check to make sure our bags stayed on the plane. What??? Now just what sort of nonsense was that? However, we did as we were told.

We walked through one of the most beautiful, modern, state of the art, large air ports I have ever been in. It was gorgeous, clean, and it looked like we were the first passengers to walk through it. In fact we were the only people there at that time. Although it was the afternoon, none of the shops were open, nor were the cafes. Not only were there no other passengers, there were no airport employees around. It was deserted, except for us and everything was closed. Finally, we came across a janitor but he didn't speak any English. It was all pretty spooky and we were glad to get back on the plane. I will never understand what that was all about and if anyone reading this, can tell me, I hope they would write.

Bali - May 1995

Vicky Blitz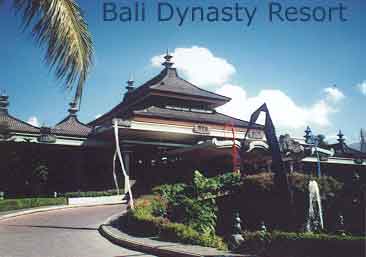 In all my travels, and at this writing I have now been to forty-plus countries, I have never been in a more exotic hotel than the Bali Dynasty Resort with its exposed red wooden beams and Polynesian ambiance. It was a little reminiscent of the Polynesian Village in Orlando's Disney World. It had the usual swimming pool and tennis court, a children's playground, a karaoke disco, three ponds (one containing fish), an outdoor massage hut, an outdoor bar, an outdoor cafe, a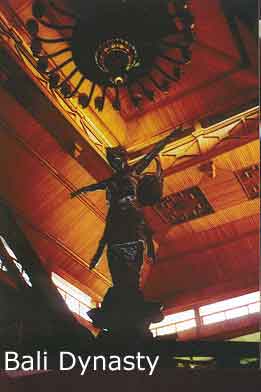 house temple, etc. and our room had a door that opened directly on to a little patio area and a lush green strip of lawn where you could stroll after dinner or place a chair during the day and sit and read or just smell the ocean breezes. However, it was the exposed red wooden beams and the Polynesian ambiance. If I ever take a second honeymoon, this is the place I would like to be for a week or two or three.
When we arrived at our hotel the sun had already set and it seemed to be about10:00. It was hot and humid but it was very open at both the front and back of the registration area (which was separate from the guest's area, so that the evening breezes blew straight through. When we arrived at our rooms, they, of course were air conditioned.
Our breakfast buffet was a blending of Eastern and Western foods. We ate well here and the food was exceptionally enticing or perhaps it was just the Polynesian ambiance, but one sure knew one was in Southeast Asia. After breakfast and before meeting Rai (pronounced "Rye") the three of us took a quick walk around the lovely tropical gardens and walkways to see just what was in the backyard of this place. We were not disappointed as it was everything we could have wished for.
Rai met us and our tour of the island began with his introduction to the people, who, he explained,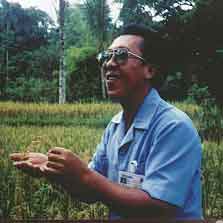 were originally from Nanking, China and later they mixed with emigrants from India, 300 years B.C. He said that Bali has the most Hindus of all of Indonesia (80% of the population are Moslem). Bali gets 80 inches of rain per year and the rainy season is from November to March. Children are required to go to school through the sixth grade. Medical attention is mostly holistic which includes acupuncture, herbology, massage, but they also have Western schooled physicians and medicine.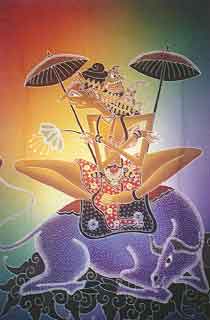 Our first stop was at a Batik Shop, where I purchased (for only $36.00) a 38" X 17" piece, depicting an unusual flowering plant, which I treasure and have framed and hanging in my home foyer. The picture shown is of another in the shop which I would have loved to own but was a bit more expensive than the one I purchased.
Batik is a process where they paint wax onto fabric and dye it several times to achieve the desired pattern. Below is seen the entire series of steps to achieve a final product seen at the far right and starting with a sheet of white cambric.
Kerajinan
Batik Winotosastro
Tirtodipuran 54, Tel.: (0274) 37218, 371226. Fax.: (0274) 372133, Yogyakarta 55143 - Indonesia
Bali Jt. By Pass Ngurah Rai 41X, Tohpati, Kesiman, Tel.: (0361) 229069 Denpasar 80237

1. A sheet of white cambric...............................................................................
2. First waxing. Waxing the parts with wax which will become brown................
3. Second waxing. Waxing the parts which will remain white.............................
4. Blue dyeing the uncovered parts....................................................................
5. Scraping off the first wax from those parts to be brown colored......................
6. Rewaxing the parts which have to remain blue................................................
7. Brown coloring the parts from which the wax has been scraped off...............
8. Wax removing in boiling water......................................................................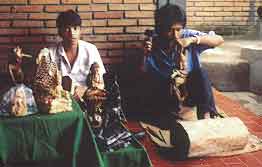 Our next stop was the wood carving shop where I got pictures of the craftsmen, and made a couple purchases. I bought a cute little red owl for $5.00 and two Barounds. The small painted one was $8.00 and the larger bare-wood was $45.00. A Baround is a rather evil looking character with long pointed fangs and a snubbed nose and bulging eyes. They are hung on or over a door to prevent evil spirits from entering the house. I have both of mine proudly displayed in my home and I think they are beautiful.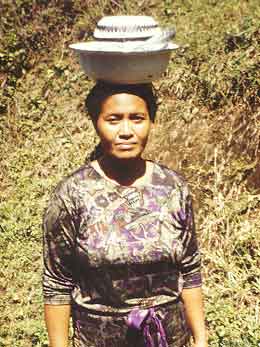 At the Temple of the Holy Spring, where they claim the water will keep one young, we walked down the stairs for about a 200 foot drop. Women were carrying water buckets on their heads. One particular woman caught my attention and I asked Rai if he would ask if she would stop for a moment and let me take her picture. Instead of asking her, I noticed he asked her husband and he turned to her and said something and she stopped, posed and I got my picture.
We stopped at several crafts and art shops along the way and made purchases. I bought lovely silver earrings for $7.00 and $8.00 and a gold bangle for $157.00. When I first asked the price for the gold bangle, the quoted a price of about three or four hundred dollars and I immediately said "no thank you" and started to walk away and the price dropped down to the more sensible price.

Back at the room I had tea and a nap while Tina changed, grabbed a towel and headed for the beach, in hopes of a swim. However, she was to be very disappointed. First, she said the beach was ugly, loaded with millions and millions of sand crabs, litter, rocks and debris. There was no place to put your towel and purse and she had to fend off hoards of peddlers. No fun! No wonder they have made it difficult to get down to the beach with a barricade of rocks over which one must climb. Obviously, they do not want guests to go to the beach because of the peddlers and the crabs.
I had dinner at the pool and Tina had her swim The buffet was only $15.00 and was great. I sure did enjoy myself in this beautiful setting and looking back on it, I would love to return and spend a little more time just lounging poolside. Up until this place I had never considered a lounging type of vacation. I have always geared my vacations to some place where I can run around and experience and learn. That is MY idea of fun.
The next morning, following another wonderful breakfast and in route to our first stop, we passed the "real" beach where people go and can put their towels and shoes, etc. on the beach without fear of sand crabs and peddlers. It beautiful sand and appeared to be very inviting, and looked like the sort of place you see in vacation brochures.
The Tanah Lot Temple (meaning land-ocean temple) sits on the edge of the water so that when the
tide is out the temple is on the sandy beach and when the tide is in, it is surrounded by water. We had to walk down about a 200 foot drop to get to the sea level. While listening to the monks chanting, we took pictures of the temple and the waves crashing on the nearby rocks. It is truly an awe-inspiring location for a spiritual center and in spite of the steep walk back up the hill, I was glad to have had the experience.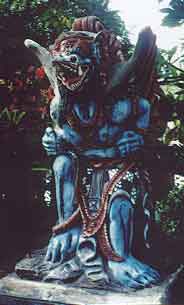 On the way back to our van we stopped to take pictures of wooden painted statues of Baruna (guardian of the ocean), Guarda of Vishnu (God of transportation). There were little shops and cafes and a park and so much activity going on in the area and it appeared that people were even living there, and raising chickens.
As we drove through the local rice paddies we noticed ducks in the fields and we thought they were eating the rice. But Rai explained they kept the ducks in the fields to keep the rice paddies clean of unwanted grubs and other insects. He further informed us that some farmers even keep fish in the paddies to eat mosquito larva.
At the Monkey Forest we took delight in watching the baby monkeys playing in puddles of water, cleaning themselves, chasing each other and just being loved and de-liced by their mothers. We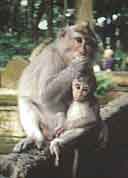 were told not to pet them and we didn't but we took pictures of other visitors who did.
We stopped for lunch, high up in the mountains overlooking terraced fields of more rice. The interesting thing in Bali is that you get to see the locals up close and personal. In other countries, one more often than not, finds oneself eating in large cafeterias with other tourists and one never gets to mingle and rub shoulders with the locals. I loved this aspect of Bali.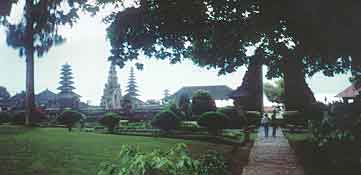 After lunch we drove to the Ulun Danu Temple which represented both Buddhist and Hindu religions and had temples to both. It was a large park-like area where people could stroll leisurely from one area to another, stop in the on-site restaurant for something to eat, sit and meditate or contemplate the simple beauty of this place.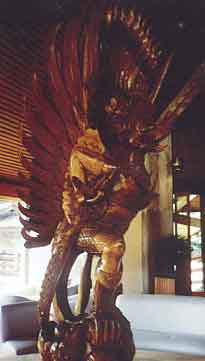 Yet another stop was to a world famous golf course where we stopped to take pictures in the beautiful club house. I must say, the people may be poor by some standards, but big business has obviously found its way to this little island paradise and that is certainly good for all the small business craft people, because their crafts are not only charming and unique but very professional for a nominal fee.
Before returning to our own hotel we stopped at the new, enormous and very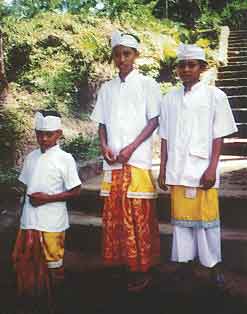 expensive Nusu Dua Beach Hotel where our President Reagan stopped when the first section had just been opened. Obviously, it was to become an international showplace for the continental set and just a little too expansive for my taste, especially when I considered our own Bali Dynasty Resort where I felt so comfortable.
The next morning, after only three days, we said goodbye to enchanting Bali and were back on a plane headed to Singapore. However, I must say, given half a chance, I would return to this beautiful island with it's beautiful people in a heart beat. No hesitation.
[Click on: Countries - Singapore]
Indonesia
Paola Gianturco and Toby Tuttle
from their book
In Her Hands: Craftswomen Changing the World
Monacelli Press, 2000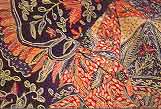 During the nineteenth century, only the women of the seven royal courts in central Java created the intricate, ceremonial tulis (hand-drawn) batik patterns that sometimes required twenty-seven immersions in natural dyes. After the Javanese monarchies were dismantled, the art became endangered; many women who knew how to create classic royal batik have died or are now too old to make it.
Ibu Praptini Partaningrat, descendant of King Mankunegoro II, is one of the few women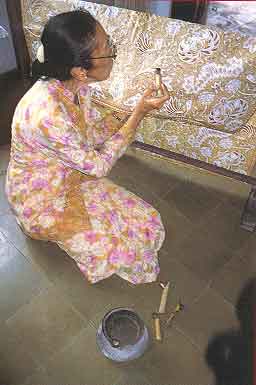 who still draw the intricate freehand batik designs. She sometimes gives private lessons for the Pioneers, a foundation she cosponsored to perpetuate classic batik.
Gianturco and Tuttle photographed and interviewed ninety craftswomen in twenty-eight villages in twelve countries on four continents. For more information, visit:
Editor's Note: The above was obtained from the calendar, In Her Hands - Craftswomen Changing the World, published by Pomeganate Communications, Inc., Box 6099, Rohnert Park, California 94927, USA. For more information or to place an order: 800-227-1428;
Think Globally - Act Locally - Pray for World Peace