Hong Kong - November 1999
A Post Card from
Alisa Blitz/Seibert
Hong Kong is a GREAT city and we had tons of fun in spite of administrative difficulties. My favorite thing was hiking along the north trail on Victoria Peak at night and looking down on the city (this view). We would like to bring the kids next year.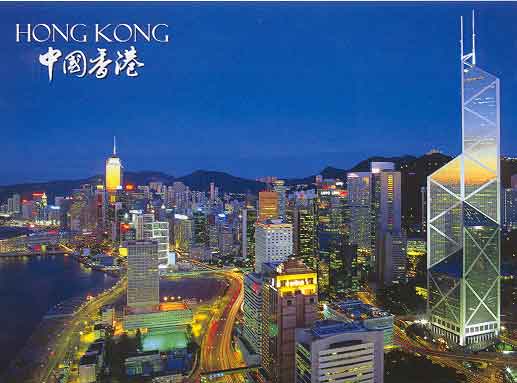 Hong Kong –June 1995
Vicky Blitz
We were ending up a two-week trip to Bali, Singapore and Bangkok with Hong Kong as our last stop. Our rooms in the Royal Pacific Hotel were gorgeous and upon our arrival I dropped my body on the bed and let my traveling companion, Tina, go scouting without me. She found us lovely little Thai restaurant in our hotel about two flights down from the main floor, overlooking the harbor, where we joined our other traveling companion, Simone.
The meal was great and for some reason we were positively giddy, laughing at everything. Perhaps it was because we had made it through the two week tour without mishap or because the air was clean and clear and without smog.
After dinner, Tina and Simone went back out to explore and I retreated to my room for a much desired and heavenly tub bath. However, it was the strangest tub I have ever seen. It was very long and narrow and had handles on the top of the sides. Because I was unable to reach the end of the tub with my feet while sitting, I was unable to completely relax without slipping below the water. I have to assume the tub had been especially designed to European and American men over six feet tall and taller.
The next morning our tour guide, David, met us with a lovely air-conditioned mini bus. We stopped at a couple other hotels and picked up two or three other couples and took a tour of the city. Although I had been there eight years earlier, I found that much had changed.
When we arrived at Victoria Peak, I was disappointed to see that they had torn down the lovely restaurant, which gave its patrons a 360-degree view of the city. However, I was told, they are building a tower, which will house an even more elegant restaurant. A 45 minute stop at Stanley Market and on to Aberdeen but at both places I wimped out and stayed on the bus because of the heat. When the others returned, looking so hot and tired, I was glad I had skipped them both. There were also an additional hotel or two in route to Aberdeen, added since my last trip.
We had a free afternoon so, Tina, Simone and I had lunch at the Hard Rock Café, across the street from our hotel. I had a delicious mango milk shake with my BLT. After which, Tina went off to find a museum or two and I went back to the room for a nap, hoping the heat would subside.
We had our dinner and the next morning's breakfast at the Chalet Swiss Restaurant, after which Tina left for another six-hour tour and I strolled across the street to check out a charming little park. To my delight, there were flamingos; lovely, beautiful, up close and personal, flamingos. I had never been so close to these awesome birds and, as I have always found the greatest pleasure in nature, this was the icing on the cake with which I topped off this trip. I have thought of those flamingos and that beautiful little park many times since then.
Hong Kong - July 1987
Vicky Blitz
Arriving in Hong Kong on a Saturday, after checking into the Hong Kong Hilton, we met up with our local tour guide who took us on a shopping tour. We stopped at a shop where they make gold jewelry and watched the crafts people making gold rings. The ladies then went with our American female tour guide to look at silk dresses. Next stop, a pearl jewelry store where a couple of our group did some serious shopping, and a stop at a men's store where the men could be measured for a silk suit which would be made and ready for pick-up in 24 hours
After a lunch at our hotel, we were back on the bus and a trip to the other side of the mountain to Aberdeen for a sampan tour of the bay to see how another "half" of the population lives. I had read about people all over the world who raise their children on boats in the harbor. We passed close to the boats and saw right into their living quarters. I felt a little like an intruder but I could imagine they are used to people taking pictures of their life style. The boats are tied up so close to each other, they must be like one big family with no privacy and no secrets whatsoever.
We passed Oceanview with a most beautiful beach with a harbor and another called Deep Water Bay Public Beach. Most of the others left the bus to do a little souvenir shopping but it was too hot for several of us so we stayed on the air conditioned bus. When the shoppers returned, I was glad I stayed behind as they all looked very over-heated and our air conditioned bus was a welcome relief for them.
We had some free time before we left for Canton, China so I took my camera and went to a park across the street from the Hilton and just enjoyed the scene. Of course there were flowers and flowering shrubs and trees but I was delighted to see the many fountains and art objects. The creative way in which they build the fountains, and couple artistic ceramic walls with standing pools of water was such a pleasure to observe. These visual images have continued to bring peace and harmony to my soul many times over these past fifteen years.
THINK GLOBALLY - ACT LOCALLY - PRAY FOR WORLD PEACE