GUATEMALA
Anne Crosman
I visited Guatemala in the mid 1980s on a travel writers' trip. We were wined and dined by the Guatemalan government, stayed in good, not fancy hotels, and visited Guatemala City, one of the Mayan ruins whose name I cannot remember (not Tikal), and the old capital city of Antigua. My overwhelming impression was a physically beautiful country with lush countryside, typically Latin-American-tropical, and an overpopulated, dirty, polluted GCity. No one wore seat belts in cars, and all vehicles spewed horrible emissions. There was a huge gap between rich and poor. One night we were taken to what was billed as the best restaurant in GC, an outdoor-indoor barbecue restaurant, surrounded by homeless people and dilapidated houses. It was difficult to enjoy the meal: grilled lobster and lots of salsa.
In Antiqua, a beautiful colonial city built around a big square, we saw a gorgeous cathedral, interesting natural history museum, and candy shop/factory. The shop was famous throughout the country and the candies were excellent. We stayed in a very nice hotel, a series of cabanas outside the main part of town. Everything was clean and lovingly kept, with no pollution haze, homeless, or urban blight we so disliked in GC.
The ruins were extraordinary -- I wish I could remember their name -- full of areas to walk around leisurely. I recommend taking a guide or having a guidebook. It makes sense to understand how and why the Mayans built the giant totem poles to worship their ancestors.
The weather was humid and somewhat uncomfortable, but not oppressive. The people were delightful -- friendly and kind. The fact that guerrillas abounded and were being killed by government soldiers (roadblocks were common in the countryside) was not at all pleasant for us.
We also visited a Caribbean spot famous for snorkeling, just south of Belize. It was a quick stop and we didn't dive, but all the boats, equipment, and hotels there are geared for the serious and casual diver.
Guatemala
Paola Gianturco and Toby Tuttle
from their book
In Her Hands: Craftswomen Changing the World
Monacelli Press, 2000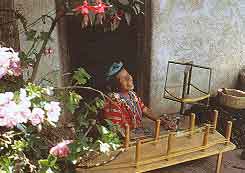 The weavers whose work is sold at Colibri in Antigua, Guatemala, adapt their local Mayan patterns to tablecloths, napkins, place mats, runners, and hand towels. The dots and stripes on these textiles duplicate patterns in the women's huipiles (blouses). Colibri supplies weavers with skeins of colorfast yarn in subtle hues that will appeal o the boutique's sophisticated consumers whose purchases provide 450 women in fifteen villages with steady income.
The sacred book of Guatemala's Quiche Maya warns against betraying the ancestors by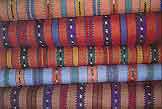 abandoning their crafts. Yet backstrap weaving, which generations of mothers taught their daughters, is threatened by competition from men who use foot looms, machine-made textiles and decreased tourist demand. Highland weavers like this grandmother in Chuinimachicaj still use warping boards to prepare the vertical threads for their backstrap looms.
Gianturco and Tuttle photographed and interviewed ninety craftswomen in twenty-eight villages in twelve countries on four continents. For more information, visit: www.HerHands.com
Editor's Note: The above was obtained from the calendar, In Her Hands - Craftswomen Changing the World, published by Pomegranate Communications, Inc., Box 6099, Rohnert Park, California 94927, USA. For more information or to place an order : 800-227-1428; www.pomegranate.com
Think Globally - Act Locally - Pray for World Peace