Gibraltar - February 1994
Vicky Blitz
I had never given much thought to Gibraltar outside of the fact that it is a good sized rock (two and three quarters of a mile in length by three quarters of a mile at it's widest point) and that it lies off the coast of Spain and ships pass it as they enter the Mediterranean Sea. It consists of mostly gray marble. Imagine my surprise to hear our tour guide announce that it has fifty-five kilometers of tunnels and several natural caves. From the sea, it appears to be an island, but actually it is connected to the Spanish coast by a low-lying sandy isthmus.
Gibraltar is a fortification, controlled by the British since 1713. The current (2002) population is 27,714. Although it appears rather bleak, there are grassy glens in certain parts and there are aloes, cacti, palmettos and a few small trees. There are partridges, pigeons and Barbary apes.
We met those Barbary apes along the road and when we stopped to take pictures of them, one of them hopped up on the shoulder of one of the women in our group. She was a good sport and tolerated the situation as we all took pictures. Too bad it all happened in the shade between our bus and a fence that prevented a good shot of the scene.
We visited St. Michaels's Cave where they periodically give concerts. I assume the acoustics would be excellent.
Down in the town area we had a couple hours of free time to shop and have lunch. I bought a couple lengths of wool fabric for half the price at home and a little gold charm. Some of us had lunch at a wonderful little English pub.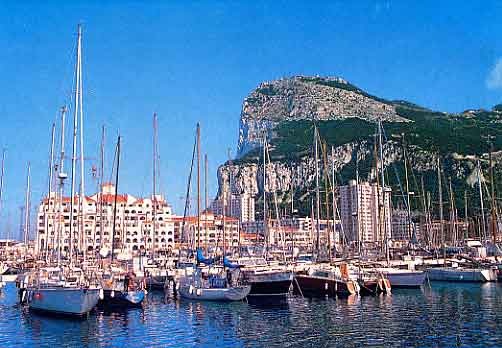 Think Globally - Act Locally - Pray for World Peace