Germany - May 2001

The Reverend Doctor James Wiberg

[Previously: Click on Countries - Denmark]

(we) left early for the trip across Denmark to the Ferry which brought us from Gedser, Denmark to Rostock, Germany. This ferry was only about a two hour trip, but it brought us closer to Berlin and the Autobahn which took us to Dresden. This ferry also had railroad tracks to transport trains.

In Dresden there was a big Dixieland Jazz Festival going on, so it took us three hours to find a Pension (small private hotels) about 5 miles out of the city which still had a couple of vacant rooms. It was a recently remodeled Pension so it was very comfortable. We then headed for the city and enjoyed the band which was playing on a boat in the Elbe River. We toured the old town area, walked along the banks of the Elbe and then headed to the room. After breakfast in the Pension we headed for Prague, arriving there for Mother's Day,

Munich, Germany - 1999

An American Jeweler


Being 54 and Jewish, going to Germany brought some uncomfortable feelings for my wife and me. But, it was a business trip that we thought we had to take.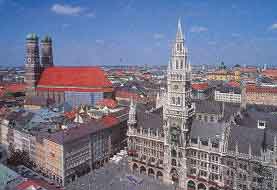 We got off the airplane in Munich and heard over the loudspeaker our first German words; an eerie feeling, as TV shows of WWII kept flashing through my mind. As we walked through the airport, policemen carrying weapons further brought history closer to us. German was now, of course, being spoken all around us, as we stood in line to show our passports. I said "Guten morgan" and the attendant looked up, smiled, and said "Good morning, welcome to Germany". After a few more words were exchanged, my wife and I looked at each other with a little more comfortable feeling. He had just set the tone for our German experience.

We got in a cab (a very new, clean Mercedes Benz, of course) and headed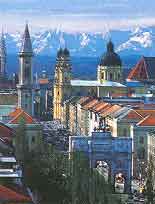 into Munich, while having very nice chatter with the cabbie; a well dressed, well groomed man. We pulled up in front of our hotel and a very polite older man greeted us and took our bags inside. The front desk personnel all spoke English well, and we had a very pleasant check- in experience.

Up in our room, we both started feeling much more comfortable and at ease. The rooms were spotless, the bathrooms, very modem with gadgetry we have never seen. After a 4 - 5 hour nap (we arrived at 7:30 a.m. after the usual all night flight), we got up, showered, and started exploring Munich. The old architecture was gorgeous; the streets were alive with young Germans; the shops, very sophisticated with an international feel to them; Weiss beer and veiner schnitzel were everywhere! We loved it! There was very little problem with communications, as English is spoken all over, though I always try to speak "their" language.

We woke up the next morning, took a cab to the Jewelry Trade-Show and started conducting our business. American trade shows should be ashamed - this so far out classed anything I had ever been to. Sleek, contemporary, minimalistic, and very creative booths impressed us greatly. Most designers had built very cool bars, set up inside with flowers, candy, beer, wine and sodas. And the jewelry overall - fabulous! We are currently dedicating a section of our shop to the sleek German designs and they are being adapted to, very quickly here.

Going back to Germany is a high priority next year, as we want to explore more of the country. It's quite amazing how a four day trip to Munich can cure a prior life time of fear.

Munich, Germany

Post Card from

Alisa and Richard Seibert

The first two days we were cranky and tired and bailed out by staying in the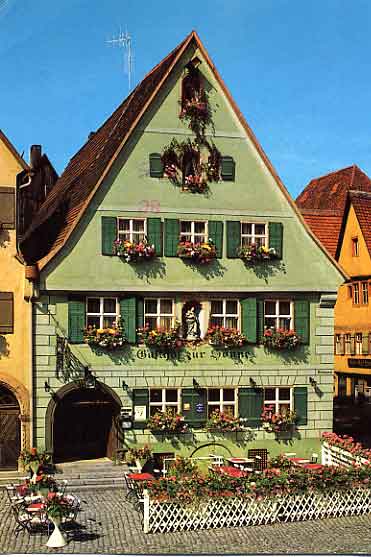 BOQ of two Army Caserns (Bases). But now we are really roughing it and staying in a real German place, actually this is a lot nicer and more comfortable.
We are learning to order in pigeon German but the learning is slow. Today we got sloshed in Munich where we quickly ordered "bitter svine bier". Tomorrow we'll cross into Austria to visit Salzburg.
I took a picture of the whole street that includes this house, the window boxes of flowers are beautiful. We may skip Venice to do a tour of the Rhine wine valley on the suggestion of a Canadian couple we met at a cafe in Munchen; should be good! Alvetersein. Love, Alisa and Richard.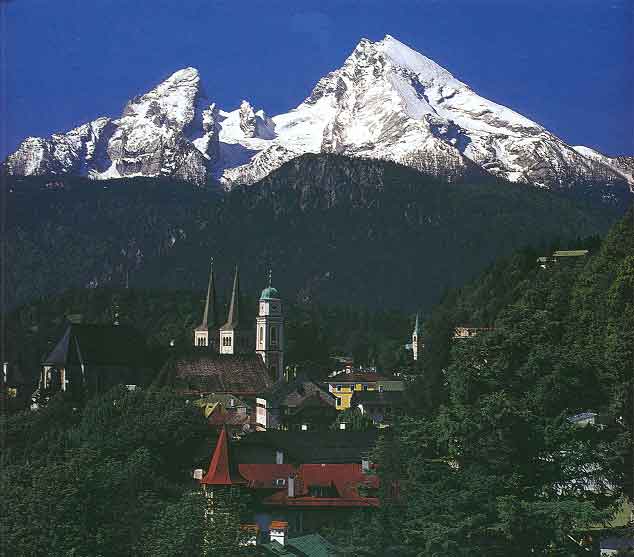 . . . . . . . . . . . . . . . . . . . .
Bavaria, in southern Germany is well-known for storybook villages with spectacular mountain vistas. Shown is Watzmann Mountain, not far from Salzburg, Austria.
. . . . . . . . . . . . . . . .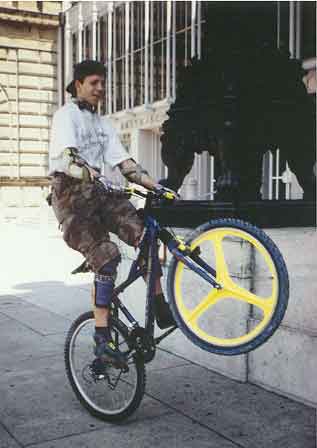 He was showing off, and prepared to ride
His bicycle down the stairs.
But a guard stepped in, and made him stop,
Despite my frowns and glares.
But the lad just winked, and he seemed to say
"It's really no big dealie.
You just want a shot, and I'll give you one.
I'll do, instead, a wheelie".
V. Blitz
Munich, Germany
August 1995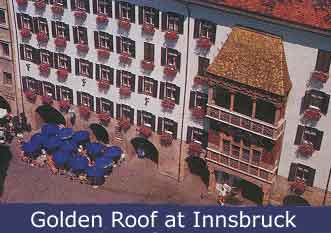 THINK GLOBALLY - ACT LOCALLY - PRAY FOR WORLD PEACE