Having a great trip to Paris. The tunnel allows a fast (three hour) train to take you back and forth to Paris [from England] . Makes for a long day trip but I'm used to being on the go.
The Arc de Triumph has been renovated as has the Notre-Dam since 1987 (my last visit).
Notre-Dame, Moulin Rouge, Sacre-Coeur, Eiffel Tower, Louvre, Arc de Triumph

Paris, France - May 2000
Luray Wiberg
Jim and I returned from a wonderful 8 days in Paris late last night. We loved Paris, but are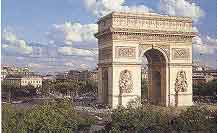 glad to be back in the land of the toilet seats! On our bus trips I thought we had made a wrong turn and ended up in the middle east, when we went into the restroom at a rest stop and there was only a trough in the floor (though it did flush)!
I found France different than I did 37(!) years ago. Then I found them not very friendly--a reputation that they have had.. Now I found just the opposite. The French people were very friendly and helpful and smiled as they passed on the streets. We found them very pleasant.
Our reason for going there was the annual conference for the Association of International Churches in Europe and the Middle East. This year the host was the American Church in Paris. This is a large church with a strong program that has its own beautiful gothic church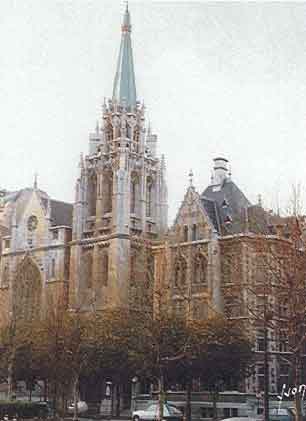 building, thanks to Rockefeller, who had some ties to the congregation years ago. This year the conference was held in combination with the American University of Paris and the topic was Divinity, Diplomacy and Development, with speakers on what part religion plays in diplomacy and development. There were ambassadors and other representatives of many countries. I found some of the Middle East speakers especially interesting in talking of new programs they are trying to work with Christians and Moslems. We ended with a banquet at a Lebanese restaurant which brought appetizers one after another until we had all eaten well and had no room for the main course when it was served--nor did we realize that it was coming! The keynote speaker at the banquet was the ambassador to Egypt who gave a fine (and short) speech, mainly upholding what Sadat did for peace.
We stayed at a nice French hotel about 3 blocks from the church. Rooms were small but very nice and they served a very nice breakfast. Our host pastors gave us information we needed in France and a Metro pass so that we could use the subways and buses all week. One thing we really appreciated is that they told us how to ask for a pitcher of water at a restaurant! The food in France is excellent. There were some trips planned during the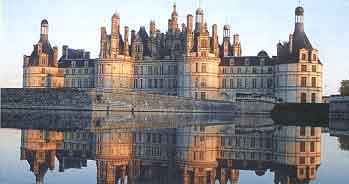 convention and we also had some free time to see Paris on our own. With the group we went to Chartres Cathedral, to the large Chateau Chambord in the Loire Valley, visited Calvin's birthplace and the cathedral at Noyons and also the Reims cathedral. We also had a sightseeing tour by boat on the Seine River one night, which turned out to be a very pleasant night so it was very enjoyable. Our closing banquet was in the suburb of St. Germain en Laye at a restaurant in an old chateau on a hill from which there was a fine view of Paris.
Jim and I took one day to go out to Versailles and were glad we planned a day for it. The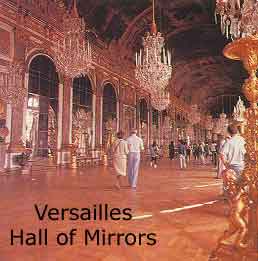 main chateau was very crowded, which did not make it pleasant. We were rather pushed through the rooms. However we went to the Grand Trianon, which was Louis the XIV's smaller place and the Petit Trianon which was given to Marie Antoinette. Not so many people made it to these and it was pleasant on the grounds. The king had his own kind of toys there. He built these large canals, rather like the reflecting pools by the GW monument in DC and there he had boats, even one large naval boat fully staffed to give atmosphere. When one sees all these grand displays of wealth and spending, one can certainly understand the French revolution. At noon we went out a side gate from the Chateau gardens and were off in an area where the tourists don't get. There we found a little restaurant, where we seemed to be the only tourists and where only French was spoken--which put us at their mercy-- but had a good French meal. Much better than being with all the other tourists.
We toured two art museums, the Musee D'Orsay, which houses the impressionist paintings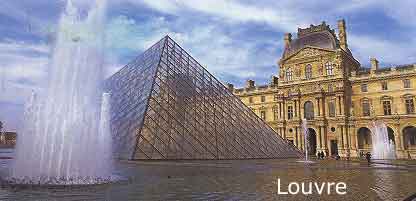 which we like so much, and the Louvre. We had a guide to show us a few of the famous pieces at the Louvre. She took us to about 5 paintings and sculptures but did an in-depth talk about each, which was very interesting. Later we walked around a couple sections until closing time, when we also felt we were on sensory overload. One certainly cannot see everything there, even if one were there a month. Interesting to see that there are not all the anti-theft devises around all these magnificent masterpieces. One can get right up to the paintings.
We did a lot of walking to see different areas of Paris. This was helped by a plan drawn up for us by a French friend. Sunday afternoon we walked up Montmarte to the Sacre Coeur and enjoyed that area and the artists in the square, as well as the pantominist in the park. Monday we walked historic areas on both the right and left banks, as well as the island where we visited Saint Chapelle, which is called a gem and was built for kings to worship. It is amazing that the tall chapel is almost all stained glass, with hardly any concrete between. Then we visited Notre Dame, which i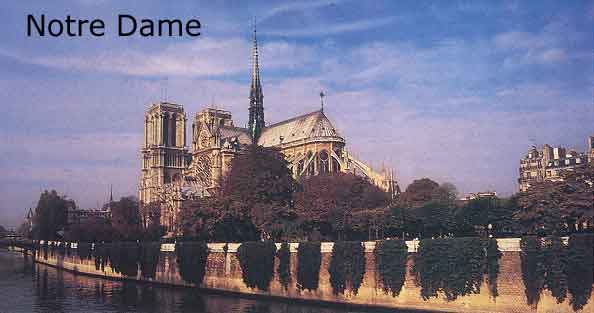 s very beautiful. We had fun walking through the Latin quarter on the Left Bank with its very narrow streets and all the restaurants with the hawkers trying to get you to come and eat at their restaurant. We decided to try one of these on Monday night when we met Luray's cousins Trudy and Ben Johnson who came over on a tour for VE day which was Monday.
Tuesday morning we visited one of the large department stores-La Samaritain, which has a rooftop garden overlooking Paris and the Seine. The view there is great. The store is huge,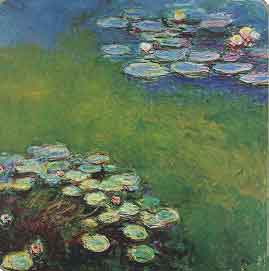 and one can get anything from clothing to perfumes, to sewing machines to tools and building materials. Then it was time to get to the airport.
This trip we flew Alitalia Airlines and were very impressed. They have gone for comfort rather than how many people they can get on a plane. Seats were wider and further apart. There were 2 seats on either side of the aisle (A and C) rather than the 3 found on other planes. I would certainly recommend them for travel as we found it much more comfortable.
THINK GLOBALLY - ACT LOCALLY - PRAY FOR WORLD PEACE