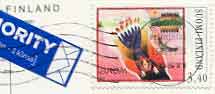 Savonlinna, Finland, July 1993
A Post Card from
Nancy Acevedo
Just visited this castle. The spiral rock steps were rather exciting! I've decided that saunas and cold sea go together great! Nancy

Finland - June 1988

Vicky Blitz

Having spent the first ten days of our tour in Norway, we left Honningsvag in the north, went back across the Porsangen Fjord, traveled south and crossed into Finland, through Inari then Ivalo, and finally arriving at Saaniselka, a summer and winter resort at the edge of the wilderness area of Finland's biggest national park.

The Finns call themselves Suomi and they are different from the Germanic-Viking-type of Scandinavians. Finns are from Central Russia and have pale skin and pale blue eyes and, we were told, their language is very difficult for Scandinavians to learn. It seems to have a few similarities to the languages of Hungary, Estonia, Lapps and other minority tribes of Russia, but the Finns cannot understand those other languages.

We stopped at a Lapp Outdoor Museum to see how they lived in the past and even how some
people in the hinterlands live today. We saw several of their tepees and sod- mound-type houses. There were different types of traps for different sizes of animals. I was particularly interested in the bear trap, constructed out of heavy logs in such an ingenious yet simple manner. We saw their simple kayak-type boats. Their meat storage area was not unlike a root cellar, dug into the side of a hill with a thick wooden door and thick thick wooden hinges (I had never seen wooden hinges before).

The weather was surprisingly hot, which I had not expected and therefore I had brought with me few summer clothes, which was regrettable. Furthermore, it was very hot on the bus and the bus was not air conditioned, so everyone was falling asleep. Not even the hotel rooms were air conditioned, which was very uncomfortable for most of us on the tour.

Throughout our tour, the meals were excellent with only a couple exceptions. In the dining room of our hotel in Saariselka, where we spent the night, there was a mural across one wall depicting a landscape of many large, blackened, dead tree stumps, rising above the smaller, younger, green trees. It was not a very pretty mural but it was the only country one could see here for miles. The fires that had destroyed this country's main natural resource (forestry) had been set by the Germans at the end of World War II as they left the country. The evidence was so extensive, so tragic, so unconscionable, so unnecessary, but there it was.. .the cruelty of it. They had lost the war. They were going home. There was nothing to be gained by it but they burned everything: houses, factories, telephone poles and the very livelihood of the Finns, their precious forests.

One of our stops was in a little gold mining town, Tankavaara, where we made a visit to a gold museum and had the opportunity to pan for gold in their little stream. I opted to skip it.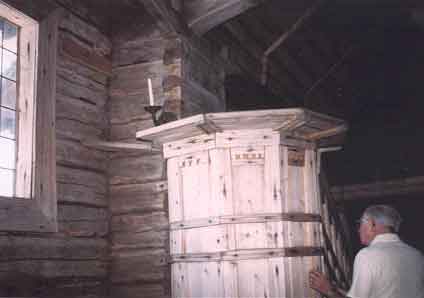 At Sodankyla, we made a visit to the oldest church in Lapland, a Lutheran church, build entirely of wood in 1689. That was one structure the Germans missed when they initiated their "scorched earth" retreat in the closing days of WWII. Notice the old wooden pulpit in the photograph.

After crossing out of the Arctic Circle, we stopped at a place called Santa Land, strictly a tourist trap, but fun for the kids and adults alike. Aside from being a great little spot to purchase early presents for Christmas, there was "the ceremony", a hokey little bit of entertainment put on by a couple of savvy Lapp entrepreneurs in a tepee large enough to hold thirty or forty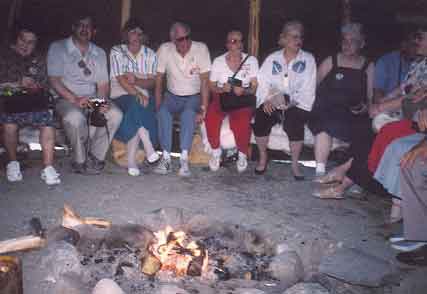 people. It seems they built the tepee hoping that President Regan would visit the area when he had been in Helsinki the month before. Well, never mind, now they had themselves a very fine tepee and an excuse to entice tourist groups to sit there in the dark while they rubbed charcoal on the lady's noses and the men's foreheads and passed around a cup of grog (or something). Well, we did get a couple of laughs for our money and it livened things up for the moment.

The weather continued to get hotter as we arrived in Rovaniemi, the capitol of Lapland, where our rooms for the night were like ovens. But again, the dinner was another winner with Lapp stew on mashed potatoes. Rovaniemi was totally destroyed in 1944 by the Germans, but in 1960 they were finally able to rebuild a beautiful modem city on it's ashes. They are duly proud of it.

We visited the cultural center which included the City Hall, Library and Lappia House, which contains a very modem auditorium and a smaller theatre room where we saw a brief film on what this city is all about without going into it;s history. No building is more than four stories high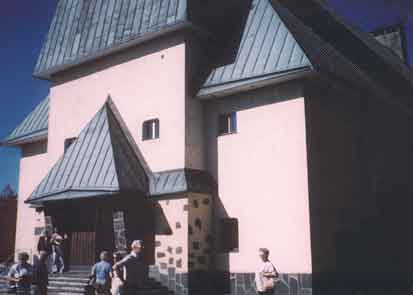 with sufficient space around each building so you can see the surrounding landscape. Most impressive was a Finnish photographer's show of pictures he had taken of the Lapps while he had lived with them.

The Lutheran Church shown here was rebuilt by American and Swedish churches of that denomination. The adjoining cemetery contains a memorial mound to the 603 local soldiers who died during the war from 1939 to 1944, as well as the graves of those who died during the evacuation of the city's 20,000 people.

We went through a wonderful farm house museum which fortunately escaped the 1944 burnings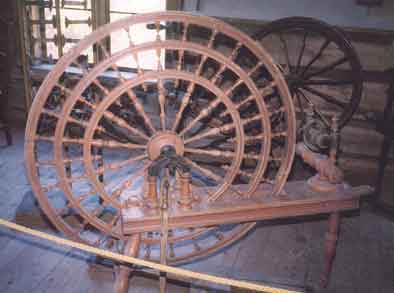 because it was far enough away from the city. In early days, the man of the house built all his own tools (as elsewhere in the world) and many were on display here and we found them fascinating. There were also looms, spinning wheels and three different skeiners, and many other household items of interest. But the highlight of our visit to this place was to walk down to the river to see the sauna. We didn't stay long because of the overwhelming number of mosquitoes and I was might glad I had brought my insect repellant with me.

There are [Ed. Note: in 1988] only five cities in Finland which have a population of 100,000 or more and they are all in the south. As we have observed on this trip, the population in the north is sparse. The city of Roviniemi (in the northern part of the country) doesn't even make the top ten. However, we were in a hotel with modern facilities, including a cleaning service. Without thinking, I had some cleaning done during our two-night stay and experienced s "sticker-price-shock" when they returned my four pair of slacks and five wash-and-wear blouses and charged me 225 Marks ($56.00 U.S. money). Well, if the cost of things here was double the price at home, wouldn't that be true of the cleaning bill also?

Back on the road and continuing south, we stopped outside of Ranua at a lovely little zoo where the mosquitoes had assembled and were waiting for us in droves. The zoo was spread out in a very natural wooded setting, with boardwalks connecting the different areas. One could view the local flora along with the caged fauna. Although it was unique and interesting, I was glad to get back on our hot NON-air-conditioned bus again.

Of the 45 largest lakes in the world, 17 are found in Finland. They were formed by the weight of the glaciers pushing down on the softer earth. The deepest go down to 300 feet. There are so many lakes in this country, they are unable to count them all.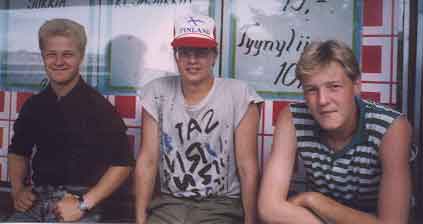 A stop for lunch in Poulanka where I took this picture of three local Finnish teenage boys and then on to Paltaniemi and another old church (Paltamo), built in 1776. The interior was painted white with many paintings beginning with creation and working their way through both the old and new testaments. It was raining when we arrived.

Then a series of disappointments. Apparently, our drive took longer than expected for this day so we skipped the waterfall we were scheduled to see and the "lively market place at Kuopio" was closed when we arrived.

The rooms in our hotel in Jyvaskyla were at least 85 -90 degrees and we couldn't get them open. Our tour guide had to promise the hotel staff her first born to get them to open our windows and when they did, we understood why.. They were double windows, both of which had a total of four locks on each window, for a grand total of eight locks needed to be opened to have a room exposed to outdoor air. In addition, some of the windows even had furniture in front of them. But once again, we had a delicious dinner, after which most of us took a walk around the hotel. I took pictures of the old train station and other members of our group as we met.
We were told that saunas have been used for over a thousand years and that every Finn uses a sauna two to three times a week, and always on Saturday so they will be really, really, REALLY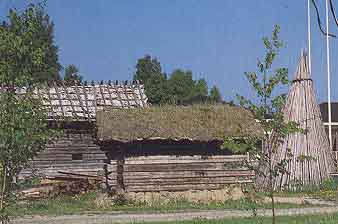 clean, both physically and mentally for church on Sunday.

At the sauna museum, the docent explained that it takes about four hours to get a "smoke room" hot enough (240 degrees) and that all saunas are constructed entirely of wood so that you won't bum yourself on any metal. It takes a couple hours to complete a sauna. First, you take a warm shower and then stay in the sauna about ten or fifteen minutes. Then you get out, take another cold shower and get back into the sauna, repeating this several times until you have had enough, ending with a cold shower and a drink of water or berry juice. Saunas seldom last more than a hundred years, but the sauna shown in this paragraph was built in 1764 in Lapland and later brought to this sauna museum.


When we finally arrived at the air conditioned hotel in Helsinki, I felt I had been through the wars, heat-wise and really didn't want to leave my room. My only fear was that with three different Globus Tour groups staying in the hotel they might put out bags on the wrong bus when we left. However, the Globus efficiency was not to be doubted.

Helsinki has a population of about 800,000 people (in 1988). It is a beautiful, modem city and we took the usual city tour by bus and stopping occasionally to get a quickie tour and take pictures of certain spots like a cathedral or the open air market. Sometimes we only got pictures from the bus, driving by the Olympic Stadium or the American Embassy.

Being a classical music enthusiast, for me, the highlight of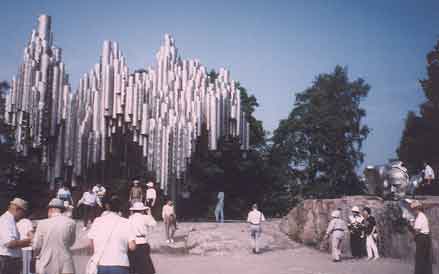 this tour was our brief visit to the Jean Sibelius Monument. Sibelius composed the beautiful Finlandia. We learned he could not tolerate noise of any kind and therefore, was unable to live in the city. So, he built a house in the country, surrounded by several acres and devoid of running water or central heating. When his daughters were learning to play the piano, they had to practice at the neighbors' houses. Both he and his wife lived into their nineties but when she out lived him, she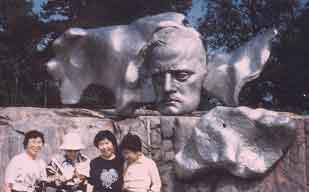 immediately had heating and running water installed into the house. The monument was very impressive with the silver pipe organ replica on the left and the imposing bust of Sibelius to the right. At least, I was one who thought it was very well done. [Note the pipe organ in the top photo with the bust of Sibelius on the rock ledge at the far right. The second picture shows a close-up of the Sibelius bust.]

I felt I had seen so many churches on this trip I was beginning to think that I never wanted to enter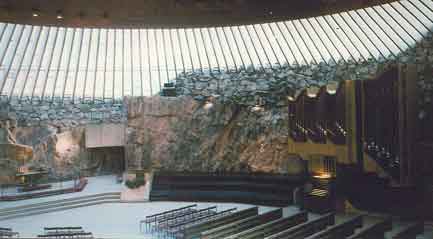 another church ... but then we stopped at the "The Rock Church" and here we had a different ball game. The church was not built above ground. Instead, it was carved out of an enormous rock, so that the walls of the church are rough rock and the ceiling and dome are of glass. The effect was truly awe-inspiring and I have never felt closer to God in a man-made structure. [In the picture: The pews are in the foreground. The broad white area across the top of the picture is the enormous skylight. The pulpit is left center and the gorgeous pipe organ is to the right.]

After some free time to roam around, purchase last minute trinkets and enjoy several welcome ice creams, we met at our bus for a quick ride to the over night ferry ride, crossing the Baltic Sea to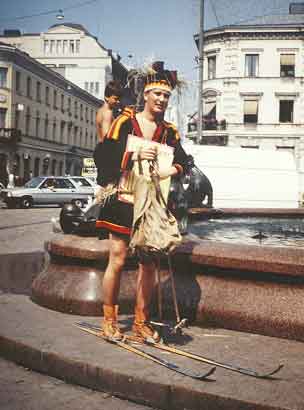 Stockholm. Of course this was not to be just any ferry ride. It is probably one of the largest in the world and takes on so many cars and busses, it feels like a floating city. And actually, it is. Our state rooms were twice the size I had expected and we were so removed from the engines you could neither hear nor see them. I stood on deck as we left the harbor and just enjoyed being at sea, until dinner at 8:30. If I had been pleased with our meals on this trip, I hadn't seen anything until the dinner aboard the Silja Line (out of Stockholm). It was a smorgasbord and each dish was better than the last. EACH dish a winner! [Note: The picture in this paragraph defies explanation except that there had been some sort of a celebration earlier in the day and this young man seemed to be a left over. However, as a former skier, I cringed to observe him walking around on a seemingly perfect pair of cross-country skis and unless the bottoms were already torn up, after walking around on the cement sidewalks, they surely would be after.]

Embassy of Finland, Washington, D.C. Web Site: www.finland.org
THINK GLOBALLY - ACT LOCALLY - PRAY FOR PEACE