Chebon and Ilya

8/20/2k
We arrived to Cairo successfully yesterday. It took me about 3 hour to get through the customs, though. One thing that I've already learned is that traveling with US Reentry Permit and no passport is a big bitch!

We found a really nice hotel right in the heart of Cairo. It is on a roof of a 6 story building. It is mostly populated by traveling students. The people who work here are extremely nice.

Most Egyptian people are very warm. Sometimes too warm, actually. When we walked around in the city last night, People would scream "welcome!" at us from across the street. Kids were chasing us around trying to talk to us in English.

We could not figure out what gave us away as foreigners. I think it was the fact that we were wearing shorts. Local men usually wear pants.

Later on Chebon and I got separated. I ended up walking around the city myself. I met an Egyptian guy in the street. We started talking about the country and this and that. We hung out at a coffee shop and smoked shisha for a while. Then I told him that I was getting tired and wanted to go. At that point he tried to take me to some sketchy hotel room and [bleep] me. I declined.

So far I like Cairo a lot. It is a great escape from cleanliness, precision and predictability of McDonoldized western society. I am sad to think that I will be leaving this place in a couple of days.

today we may be heading to the pyramids of Giza. More to come

-Ilya

--------------------------------------------------------------------------------

Well we have arrived safe and sound here in Cairo. Although it was not the easiest. Once we got off our plane, exchanged some money, and I got my passport (which was far easier here than in the states) we tried to go through customs. I made it through fast and easy where as Ilya made it through long and strenuous. Out of the terminal with our bags there were many sketchy people trying to sell us hotels and taxis. with some hassle we finally made it into down town Cairo.

We took a break at a local hotel lobby to get our bearings and have some coffee. In the lobby we got our first taste of some very hearty and intense stares. Our large backpacks I think brought this on. Once we had our delicious coffee and found a guide we headed out again.

Our guide took us to the Dahab Hotel. There we went up a very precarious elevator to the top floor. We walked up a flight of stairs to the outside roof where the reception desk was located. Immediately there I realized how cool the place was. Friendly smiles and warm welcomes from the hotel staff. potted plants, straw roofs, wicker furniture, and a general laid back leisurely environment. We were showed our room, which was pretty rawking with a great view, private bathroom with shower. We promptly accepted and are now paying about $10 a night.

We unpacked, cleaned up and headed out into the hustle and bustle of downtown Cairo. The traffic of both the pedestrians and cars is crazy and hectic. There is no obeying of signals, or road lines. After about two hours Ilya and I parted. I headed back to the room a different route and found some interesting shops an restaurants. I passed out short there after.

Today we will try to get student discount cards and start the touristy activities. More later ciao

Chebon

8/21/00

It is our last night here in Cairo. It has been a mostly good experience. Well yesterday we went to the Giza Pyramids by way of some very shady individuals. Who we believe smuggled us in illegally on some pretty tired looking camels. But we did see them. One thing the pictures you see on TV and in magazines, don't show you is the massive dilapidated ghetto that is right in front of the pyramids. Also the Sphinx was always thought of in my mind as a very large impressive piece of sculpture. But after seeing it I was rather disappointed. All in all the area around the pyramids is a trap to do nothing other than get money from ignorant tourists. And with enough money you can pose with a local police officers assault riffle with a pyramid backdrop.

For the rest of the day we bummed around the city taking in a little bit more of local culture. We ate some good vegi food and called it a day.

Today we ventured over to Islamic Cairo where mosques and a older city feel is prevalent. Vendors and coffee shops are abundant as is a more impoverished population. Seemingly the most sold item, or rather most attempted sold item, was the Sheesha water pipes. Like the one that caterpillar in Alice and Wonderland uses. After much walking and relaxing we tried to head out to the Citadel. However we were very unsuccessful. Every cab we got into did not understand our directions and the one that we believed did took us about twenty minutes in the opposite direction. There was some dispute between what we wanted to pay him and what he wanted so we promptly threw money at him and ran. Afterwards we ventured around the Baron's Palace. A once beautiful piece of architecture it now rots away with squatters and stray dogs as inhabitants. From there we took public transit back to the hotel where we will pack and get ready for the next leg of our trip.

Tomorrow morning at 7:45 we will take a bus trip to Dahab. The trip will take 9 hours going by way of Sharm El-Shackh. More adventures to come.

Chebon

There is not much else I can add to Chebon's story. I can just say that so far the trip has been going very well. Despite some sketchy incidents, we are having a really good time.

We found a computer that we could upload some pictures from my camera. However, for some reason, it took about 5 minutes or more to FTP each one of them to the web server. So we only put up 5 or so. You can find them here.

Dahab will be quite a change of pace for us. We will be going from a huge overwhelming dirty city to a paradise with nothing to do but sit on the beach or scuba dive.

I think its all I have to say.

Ilya


Egypt - July 1984

V. Blitz


The following are excerpts from my journal and memories of our trip. We were in Cairo on business for three weeks. Bob's company, Bechtel, was building a power plant on the Nile and Bob was to replace another engineer who needed to be away on personal business.

CAIRO - Part 1- Arrival

Our plane circled the pyramids before landing, and what a thrill it was, to see they were really there and to know we would soon be walking beside them and looking up at them. From the air, the land below is a sandy beige, with no color except for a green spot here and there. It looks as though everything is covered with a layer of sandy-colored dust. The airport is very large and was very crowded and we waited a very long time for our bags. Fortunately, we were met by a local man working for Bechtel who was able to get us through customs more quickly than we could have done on our own. Upon leaving the airport, we walked toward a massive crowd to get to our cab, and the crowd parted for us as gently as a knife thru warm butter and closed after us with no pushing or shoving or hostility of any kind. My immediate impression of the Egyptians was that they are very warm, gentle, intelligent, polite and respectful toward us and each other. That
impression held throughout the entire three weeks.

The roads from the airport are wide highways, and all the drivers are crazy. They speed, cut back and forth through traffic and constantly use their horns and hand gestures, which seems to be part of the driving morays of the country. For mile after mile, it seemed as though everything was in a state of building; all kinds of housing, high rises, row houses, apartments.. .everywhere. It looked as though a whole new city was in the process of being built, all at the same time. I wondered if they would ever finish. Construction did not appear to be up to our standards and it looked as though the concrete and stucco structures were crumbling and needed repairs even before they were completed. This turned out to be true. One problem is that the Egyptians have so much sand, they see no reason not to use it. However, their sand is very ancient and has been rolling around on the desert for eons, so now it is round and does not adhere to itself. Consequently, when they use it in construction, it has a tendency to fall apart. We were to see many new buildings where foot-long chunks had actually dropped from the walls, and, in one case, off the bottom of a balcony.

In route to the hotel, we saw the spot where Anwar Sadat was assassinated, his memorial and grave, his palace, Mrs. Sadat's residence, Mohammad Ali Mosque, and many other points of interest. We also saw cars, buses, bicycles, motorcycles, camels, donkey carts, all competing with each other for the same streets. But the most astonishing sight was to see a young boy (a shepherd about twelve years old) herding his sheep down the middle of the street with traffic simply going around him. Talk about culture shock!

We also drove past the City of the Dead, which is far more extensive than I ever imagined. This is an area where people bury their dead and then construct walls around the graves, so they have privacy while visiting. However, homeless people have taken up residence there even though there are no roofs. Of course, Cairo only gets about an inch of rain a year, so roofless homes are really no problem.

Not only did we drive through the elegant sections of Cairo, in route to our hotel, we also hit the slums, which are truly rough, with the filth and open sewage flowing through the streets. But, to me, the people appeared neat and clean in their flowing costumes. Later, I was told, I was deceived. I missed a Kodak moment when we passed several men sitting in front of a row of shops smoking their water pipes.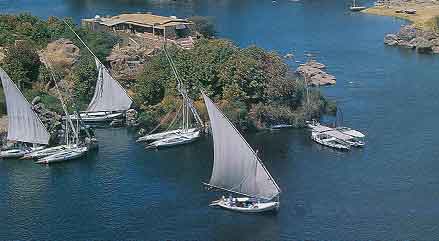 Bechtel put us up in the three-year-old Ramses Hilton. Our room was lovely, very comfortable, with a balcony overlooking the Nile. It was such a pleasure every morning to have breakfast and watch the Nile activity; the sail boats, excursion boats, and an occasional boggy mini-island (broken off from somewhere in the upper Nile), floating down to Alexandria and the Mediterranean.

CAIRO - Part 2- Ramadan

We were in Cairo during the Holy Month of Ramadan. This had several consequences for us, one of which was that many young couples who are planning to be married, try to have their weddings during Ramadan, so we saw a wedding in our hotel every night, and sometimes two. These Muslim weddings were very interesting, to say the least. One in particular had sixteen bridesmaids and an equal number of male attendants. As I looked at the bride's beautiful face, radiant with the excitement of this, her special day, I wondered how she would feel as the years went by and this handsome husband of hers added more wives to his collection as a proof of his wealth and manhood. Our hotel doorman, at the age of 65, had just had his 22nd child and had four wives (all living and living together).

At every wedding, instead of throwing rice, they threw tiny replicas of coins for wealth and prosperity, which the children would collect to play with at home. I was surprised to see Scottish bag-pipes at one wedding. Since the husband owns all the property, including his wife, it is traditional that the father of the bride gives her gold jewelry, for that is the only property she will ever own. We saw one young woman who had identical gold bangles on both arms that went almost up to her elbows. If a man decides to divorce his wife, all he has to do is say, "I divorce you" three times and he keeps everything, including the children. At least that's what I was told.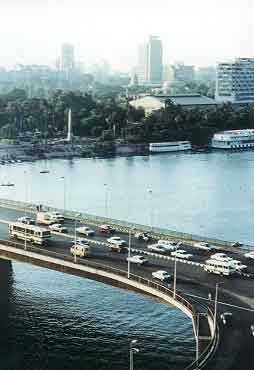 The week before we arrived (Ramadan had just begun), a Dutch woman was beaten so badly by a farmer who had come to town for the holy days that an ambulance had to take her to the hospital. It seems she was crossing one of the bridges, the farmer saw her, stopped his truck right on the bridge and just started beating her. Her offense? The farmer didn't think her clothes were appropriate for the Holy Days. We don't know what she was wearing--perhaps shorts and a halter, or a skimpy blouse.
Following his first day of work at the new power plant site, Bob reported that they had no water in the bathroom. It seemed that each time they fixed the water pipe, they failed to pack down the footing properly and yet continued to run over it with the bulldozer, and, of course, it broke down again. Now it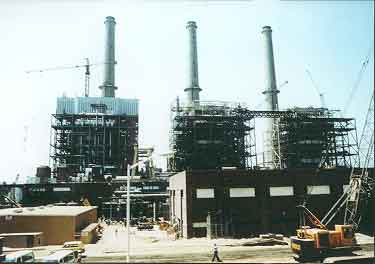 was questionable that they would make any further attempts to fix it until after Ramadan.

On his second day of work, Bob reported that the regular electrician was sick and sent his cousin to work in his place. The cousin was testing the wrong circuit-breaker box with the incorrect testing gauge and inadvertently blew up the box, shorting out the electricity and badly burning his arms.

The next day, several men were working in the holding-tank area of the power plant. Someone had improperly opened and closed the valve of a very large water pipe and when the water was turned on again at the main valve, water began spewing out onto the floor. The workmen, thinking it might be an acid mixture instead of just water, ran for the door in panic. In racing through the revolving door, one man hit it wrong and split his head open from his nostril to his forehead.

During the second week, they lost the use of their telephones, so they were no longer able to call the main office in town from the power plant site, nor was the main office able to phone the site. Neither the water nor the electricity had been restored.

Into the third week of Bob's work, a serious accident happened on site. A laborer was working at a third-story level in the open interior of the power plant. He slipped off a girder and fell three stories. The Americans on the site watched in amazed horror and disbelief as the man's friends and relatives ran to him, picked him up and quickly carried him off. It never occurred to the Americans that the Egyptian workmen did not know not to touch him until the paramedics arrived. When the ambulance arrived thirty minutes later and the paramedics were finally able to attend to the man, the ambulance broke down before they could leave the site, and they had to call for a second ambulance. We left Egypt without hearing whether or not the man had survived.
Continued on:
Cairo, Egypt by Vicky Blitz (Parts 3, 4)