Denmark - July 1988
Vicky Blitz
Denmark was the final country of our twenty-day tour of Scandinavia, as we had already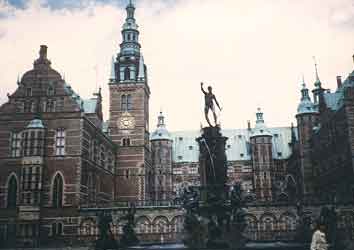 been to Norway, Sweden and Finland. It is the smallest of the four countries, and the most densely populated. Although Greenland is fifty times the size of Denmark, it still remains her protectorate.

This country joined the European Market in 1973 and, as a result, switched from the tradition of raising cows to raising pigs and barley. Copenhagen has been the capital since 1416. Their Queen Margaretta is well loved, and, they say, she is a very beautiful, intelligent, talented and well-educated woman.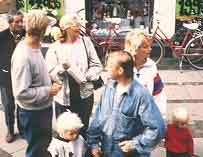 The houses are mostly brick and many of them have thatched roofs. There were three million bicycles in Denmark at the time of our tour. Having never thought about it, I was surprised to see so many platinum blondes. But, of course, this is Viking country.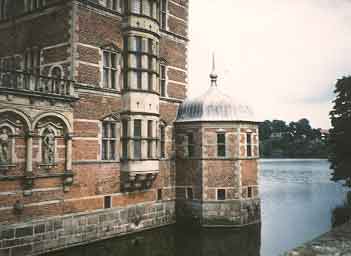 We were only in Copenhagen for one full day of touring. It is a clean, elegant and modern European city, with magnificent old government buildings and palaces. I felt very comfortable and right at home there. We hit all the tourist attractions, the Parliament Building, the Rosenberg Castle, Fredricksborg Castle, Palace of Peace, the harbor, the ships,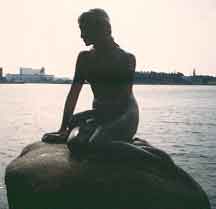 Brundtvig's Church and the palace "square" which includes the Queen's Palace, Prince Fredrick's Palace, Queen Mother's Palace and the Dinner Palace. My greatest surprise, however, was the Little Mermaid. I had seen pictures of her many times and casually assumed she was nearly life sized. Wrong! She is only about twelve to eighteen inches high, but, oh, so exquisite.

DO NOT visit Copenhagen without visiting the Tivoli Gardens and DO NOT visit the Tivoli Gardens without plenty of film. I normally try to limit myself to a roll of film (24 pictures) a day, with one or two extra rolls per trip,

but I could have easily used up 2 rolls of 36 pictures each in Tivoli And, wouldn't you know, I used up my last picture on the gate and was out of film. It is a garden lover's delight. Around every bend in the paths, there is opportunity for four or five picture-postcard shots. Unique arrangements and combinations of flowers, shrubs, trees, rocks, ponds, bridges, a four to six inch bamboo fencing around one little arrangement. The art of gardening is brought to new heights there, and, even without film, disappointed as I was, that place really brought out the "child within" (me). How appropriate that there is a statue of Hans Christian Andersen across the street from this enchanting little world.
Denmark - May 2001
The Reverend Doctor James Wiberg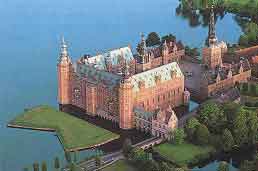 [Previous: Click on Countries - Norway]
From Stockholm we drove with Dave and Jenn to Denmark and spent the night in Freedensborg at a little country inn which they had found on the way up to Sweden. The price was right----a double with breakfast for only about $ 40.00. We went out to dinner at a Chinese Restaurant, walked the Castlegrounds which fronts on the Esrum See, slept like a log, and left early for the trip across Denmark to the Ferry which brought us from Gedser, Denmark to Rostock, Germany. This ferry was only about a two hour trip, but it brought us closer to Berlin and the Autobahn which took us to Dresden. This ferry also had railroad tracks to transport trains.
[Continued: Click on Countries - Germany]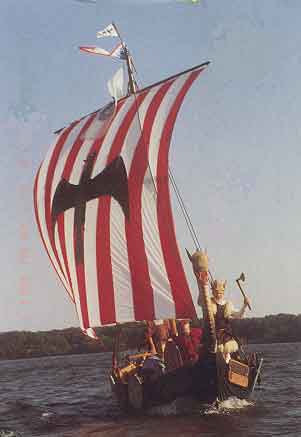 If you are interested in becoming a member of
the crew or board, or if your interest is in our
history, sailing period dress or ethnic heritage,
we can use your help. Contact us at:
WWW.Vikingship.org
Royal Danish Embassy, Washington, D.C. Web Site: www.denmarkemb.org
THINK GLOBALLY - ACT LOCALLY - PRAY FOR WORLD PEACE