Argentina - February 1996

Vicky Blitz

Nearly every trip I have ever been on has had a little surprise I wasn't expecting; something that is NOT mentioned in the itinerary; something that is so special, that, had I known, I would have gone out of my way to find a trip that included it on the schedule. It could be an art object, a structure, a natural formation, a special meal; but, in Argentina, it was Ushuaia, pronounced ooo-SHWI-ya, a cute little town located near Tierra del Fuego near the southern-most tip of South America. But first, let me get us there.

We left Washington, D.C. at 3:15 p.m. on Friday afternoon just ahead of another big snow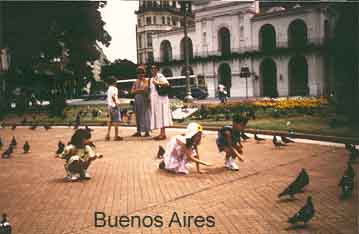 storm that was arriving that evening, which is something you struggle with when planning big deal vacations in the middle of Winter. In Miami, we boarded an Aeroline Argentina plane and were an hour and a half taking off. It was one of those flying cattle cars called a 747 where there are about 80 people per 6 bathrooms and, of course, our flight was crowded. I remember those olden days when I loved to fly.


Saturday morning, in Buenos Aires, we met our charming tour guide, one Charles Driskell, an American, who would be with us for the entire trip. We were only 14 of us on this 17-day tour of Argentina, Chile and Peru. This trip, billed as Patagonia's Great Frontiers, is usually not a trip taken by first-timers, so we were all seasoned travelers, which means that people were always on time and very seldom late for breakfast or getting on the bus.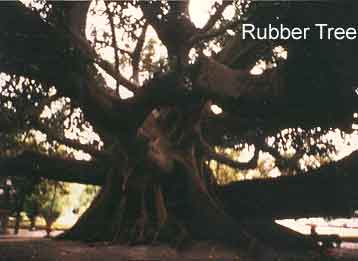 We checked into the lovely Sheraton Buenos Aires and I got a one and a half hour nap before meeting our tour group at 2:00 p.m. for the obligatory city bus tour. Buenos Aires is a lovely, modern, expensive-looking city, not unlike the cities of Europe. We saw the parks, statues, the opera house, the largest Jewish Synagogue of the city, the pink State house and an enormous 200-year-old rubber tree. At the Plaza de Mayo Square, people had gathered to protest 513 people being laid off somewhere. We saw "The Obelisk", which looks like the Washington Monument, only it's much, much smaller.

And then we arrived at the incredible cemetery where the mausoleum of Eva Peron is located. I could have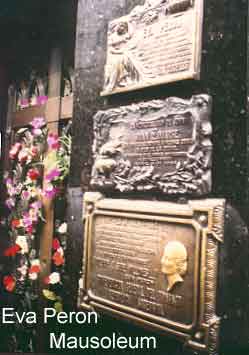 used up an entire roll of film here. In that section of the cemetery, each tomb (almost) is an art object in itself. They are like small ornate buildings, many large enough to walk upright in, and some actually have a downstairs section, as entire families have their own family crypt. The sculptures that adorn them are just beautiful. Of course, we were taken through the more wealthy section, I'm sure, but it was well worth the time and not to be missed.

Back at the hotel, I had a salmon dinner in my room, as we had what is called a "free" night where we are free to have dinner anywhere in the city we want, or in our room if we choose. I have discovered after being with a tour group all day, I like some down time to myself and often take this opportunity to be alone. My room overlooked the harbor, and it was so peaceful watching the ships docking as I ate.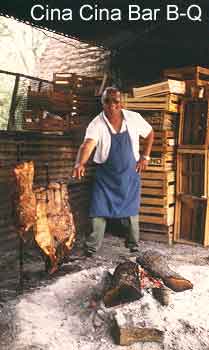 Sunday, after breakfast, we got on a bus for a two hour ride to Cina Cina, a real Argentine ranch. It was to be an all-day affair and worth the price of $65.00 (these little trips are extras, not included in the price of the overall trip - I always go on them and am never sorry). First, we watched them preparing our barbequed lunch. Then we strolled around the area and the little museum in the main house.

We sat at long, rustic tables and ate our lunches while the ranch hands sang and danced for us. They were a fun group and had us laughing with some of their antics. Sure, it was tourist hype but we loved it just the same and it gave us the flavor of the ranch life.

After lunch came the real show. The gauchos put on a demonstration for us with their horses. They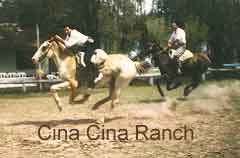 raced each other, as might be expected, but then, three or four of them displayed their skills in another way. They had erected 2 sturdy poles about 20 feet apart and another pole horizontal across the first two at a height of about 15 feet. From the horizontal pole, they had hung a heavy string with a tiny ring on the end. The object was to ride the horse very fast between the poles and spear the ring with a long pointed pole. We were duly impressed and applauded each time one of them succeeded.

The final demonstration was almost a circus type of performance. They had their horses, perhaps ten altogether, strutting their stuff in a chorus line. It was beautiful and fascinating. I doubt any one was disappointed.

On the last night in Buenos Aires, we all had dinner at the Tango Mia Restaurante and
enjoyed an unforgettable performance with a large cast of musicians, dancers and singers.
The tango was performed as I have never seen it done before, not in the movies, nor on
TV, nor at a concert, not even in Spain. It was a very athletic, it was quite "modern" in style, and it was truly wonderful.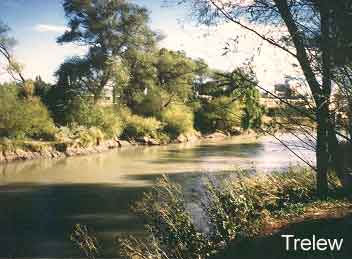 Leaving Buenos Aires, we next took a two-hour flight, south to Trelew. When we got off the plane the wind was blowing a constant 40 mph., and it was clean air, and refreshing. We boarded our bus for the little Welsh settlement of Gaiman where we had tea and cakes. The Welsh settled here 100 years ago when Argentina offered the them free land if they would settle it. So they irrigated it, planted trees, green grass and flowers, and stayed. They process sea-weed for use in cosmetics elsewhere.

Outside of town, however, the area is not unlike our plains states, flat land as far as you can see, no trees and a little low bush, sort of like sage-brush, but different. Talk about wide-open spaces! It may be a bit desolate, but I can't recall ever seeing such beautiful skies, nor breathing such clean air.

After a long monotonous ride, we arrived in Puerto Madryn on the Peninsula Veldes, where we spent the night in preparation of another day of driving through similar country. Throughout this tour, from time to time, we saw eagles, ostrich and herds of guanaco which are a species of llama, indigent to Patagonia (I think the guanaco are a little more delicate and prettier). This wild life is intermingled w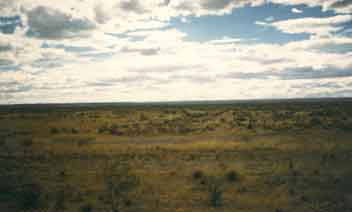 ith the sheep, horses and cows of the estancias.
Next morning we were up at five a.m. and after breakfast, we drove an hour and a half to see the sea elephants. They were at the bottom of a very steep cliff which we had to descend in order to get good pictures of them on the shore. At the top of the cliff where we left the bus, the wind was blowing a constant 60 to 65 mph, and continued to do so all day where-ever we went. We had to lean into the wind to walk or even just to stand. We were told that those were very unusual conditions for summer. Winter, yes. Summer, no. The actual problem was that Patagonia had stayed beneath the oceans for so many eons that the entire region is basically silt and sand. When the wind is blowing at 65 mph, staying on your feet is one thing. Keeping the sand and grit out of your eyes, teeth, hair and lungs is quite another.

Arriving at our lunch stop, the restaurant looked like a bad joke from the outside but they were serving the most wonderful meals to perhaps 80 patrons inside. I had the fish dinner with a truly delicious sauce and a squid salad, with tentacles about three inches long. Quite good!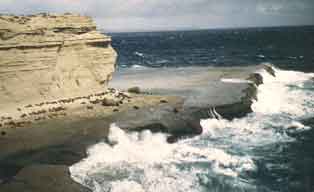 After lunch, another long, dull drive to see the sea lions basking in the sun on ledges of a cliff with the ocean spray washing over them. The wind persisted. Another long, boring drive to a rookery to see flamingos. As a nature lover, I was in my element, however.

Perhaps the greatest thrill of this trip, and one of my most memorable experiences, came the day our tour guide got us going early enough to be the first tourists to visit the Magellan Penguins at Punta Tomba. Our tour guide said there were a million in the colony, and we walked among them, alone, for about 20 or 30 minutes before the other tourists arrived. The largest of these little penguins don't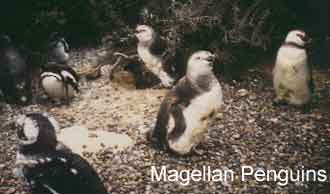 even come up to your knees, and there are so many you have to pay attention so you don't step on them. Most of the adults were making their way down to the ocean to look for food for their chicks and the chicks were making a quacking type of noise, which is probably how the parents are able to find their way back to them. However, the truly awesome part of all this is the enormous number of them....as far as the eye can see....penguins.

Now, Ushuaia was, to me, just another name on the map at the very tip of South America. Little did I know I would fall in love with Ushuaia and even entertained thoughts of retirement there, until I realized that they do not see the sun for about three months during the winter. As we flew into the little airport, I was surprised to see the topography was a series of islands, presu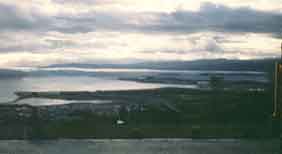 mably mountain tops, and that one little town, Ushuaia, stretching out along the shore. It sort of reminded me of what Hong Kong must have looked like before people began inhabiting it. The town is built on the side of a mountain that drops right down into the bay and the houses are very tiny but, oh so charming. Many of the miniature houses have flower boxes beneath the shuttered windows and gardens in their front yards, some enclosed by picket fencing. Cute, cute, cute!

Our rustic but elegant hotel was halfway up the mountain, overlooking the town and the bay. It reminded me of a five star ski lodge...a lot of beautiful wooden beams. Ushuaia is only about 100 years old, but they say it is growing fast now, becoming a tourist Mecca. I believe it. Our view from the hotel, with the little islands popping out of the bay, was so beautiful and serene, I actually considered just staying there and letting the group go on without me the next day.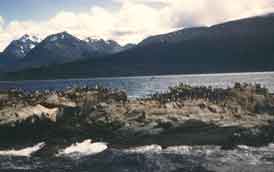 But, I'm glad I didn't stay behind. The next day we went out on a boat into Beagle Channel and circled little rock islands where we were able to get pictures of the local wild life sunning themselves. There were fur seals, sea lions and all sorts of birds right there on the rocks. Yes, two and a half hours well spent.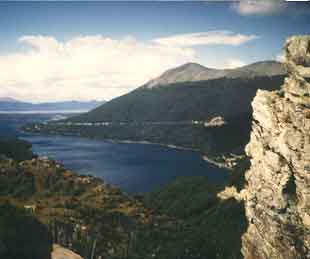 In the afternoon, we drove through the most magnificent mountains to a wonderful little farm where they fed us lamb, potatoes, salad, ice cream and delicious coffee. The coffee was prepared by our host using his own recipe. He was very proud to share with us just how he did it. He said he poured burning sugar into the coffee pot, added the rind of an orange, cinnamon and a dozen different liquors from around the world. Then he added a piece of wood in the pot which soaked u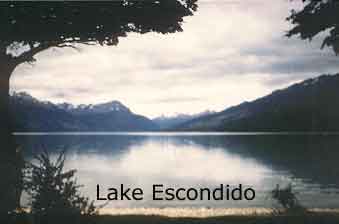 p the alcohol.

We topped off the afternoon with an hour at the lovely and peaceful Lake Escondido. Quoting from the travel brochure, "The drive to the lake is one of unparalleled beauty. Mighty glaciers have left deep wide valleys interspersed with fjords, and pine forests. The lake itself is picture perfect with its sapphire hues contrasting starkly with the velvet green of the forest and the surrounding white capped mountains." They did not exaggerate! That is exactly as it was!

Later that afternoon we left Ushuaia and flew to Rio Gallego for two nights in Calafate, a resort situated on Lake Argentino at the entrance of Glacier National Park.


Day ten was glacier day for us at the incredible Perito Moreno Glacier. In route, we drove up into forest country and, for miles, skirting the lake, we could see the glacier in the distance. From time to time we stopped to get pictures. As we neared, we started seeing a rainbow over the lake, which became more and more vivid in color as we approached.


Perito Moreno Glacier must be experienced from both ends. First, this mighty glacier spills into an enormous lake. We visited the right side in the morning, before lunch. At this side, the waters from the lake have broken through the glacier forming a tunnel, and cascading into the gorge over the rocks for, perhaps, 100 to 150 feet, to join up with a river. I would guess the descent drops about 75 to 100 feet to join that river. There are several tourist lookout points, at different levels, going down into the gorge. As one descends, one is constantly looking up at the glacier on the opposite shore not more than 75 feet away. The roar of the water is deafening. The glare from the white icy cliffs of the glacier are blinding. The ice bridge over the tunnel is expected to collapse at any time and people stand there for hours waiting for it to happen. We stood and watched for about an hour, and I must admit it was quite fascinating. Parts of the icy cliff kept breaking off while we were there, but no tunnel collapse.



After lunch, we returned to the bus, drove over to another section of the lake and boarded a speed boat large enough for our entire tour group. We then went out on the lake to view the glacier from the lake side and watch it "calve." "Calving" occurs when pieces of the glacier break off and form icebergs. There are two types: the bergs that break off above the water level, and the "shooters" that break off below the water and come shooting up and breaking the surface of the water before dropping back down. At least that's what they told us at the Mendenhal Glacier in Alaska. But the Mendenhal is much smaller than the Perito Moreno. In fact, as we were drifting in the water near the Perito Moreno, we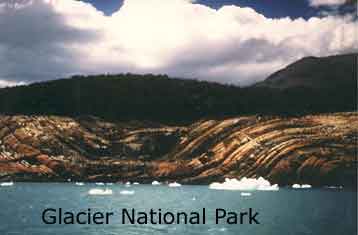 discovered how very deceiving the prospective can be unless you have some point of reference. And we fortunately got that point of reference. Someone exclaimed, "Look! Over there! Mountain climbers!" We looked and were shocked to see they looked like ants. They were perhaps, ten times smaller than we would have expected. Translated: the Perito Moreno was ten times LARGER than we thought it was.

The next morning, we boarded our bus and left Calafte and Argentina for Chile, and later, Peru.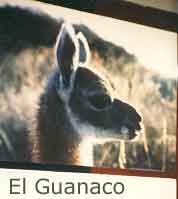 And so, goodbye Argentina! Argentina with its majestic mountains, fantastic forests, lovely lakes, rushing rivers and long ,boring rides and flights to get to the three brightest spots in my memory book, the Magellan Penguins, the Perito Moreno Glacier and the lovely little little town of Ushuaia. Adios Argentina!
THINK GLOBALLY - ACT LOCALLY - PRAY FOR WORLD PEACE